One of the best things about the newly released DVD The Best Of The Johnny Cash TV Show: 1969-1971 is the reminder, if we need it, that good music comes in many forms.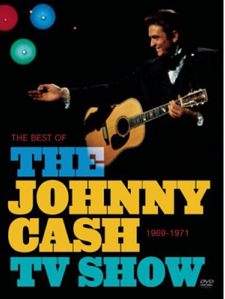 It doesn't have to be country or rock or gospel or classical or any other particular genre to sound good and to move us.
Cash's variety music program aired near the end of the tumultuous 1960s, not far from Vietnam, Woodstock, and Sesame Street. There were only three network TV stations then; broadcast standards were a lot more conservative. Cash, with his populist, Everyman approach, sometimes pissed off the ABC executives with his thoughts on drugs, rock 'n' roll, religion, or whatever else seemed to pass through his active mind.
He alternated on the Ryman Auditorium stage in Nashville with such diverse musicians as Bob Dylan, Pete Seeger, Bill Monroe, Louis Armstrong, Jerry Lee Lewis, Carl Perkins, Stevie Wonder, Tex Ritter, Ray Charles, Derek and the Dominoes with Eric Clapton, and June Carter Cash and the Carter Family. Kris Kristofferson, who introduces Cash on the disc as "the true voice of America," is another of the more than 60 performers featured on the two-DVD, four-hour collection.
Mixed in among the solo vocal performances are nearly 20 duets, including Cash and Armstrong on the Jimmie Rodgers hit "Blue Yodel No. 9" — Armstrong had played trumpet on the 1930 recording session of that song. The occasionally adventurous camera angles make up for the often corny stage sets, while the pictures of so many then-fresh-faced icons from more than 35 years ago are sharp reminders of the passage of time and the passing on of so many creative souls. Still, so much of this American music — and even some of the corniness — holds up today.-Tom Geddie