Javier Bardem made his American debut and snagged an Oscar nomination all in one bang when he portrayed the gay Cuban poet Reinaldo Arenas in the 2001 biopic Before Night Falls.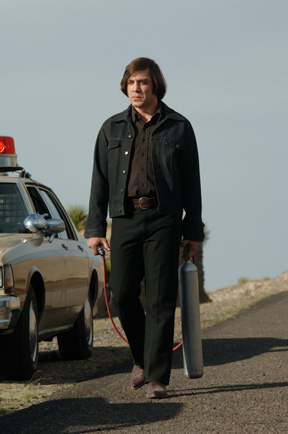 Before that, he compiled an impressive career in his native Spain, playing such widely divergent parts as a sexually omnipotent thug in the black comedy Jamón Jamón, a sexually inexperienced nerd in the farce Mouth to Mouth, and a crippled cop in the lesser-known Pedro Almodóvar thriller Live Flesh. He has been somewhat less consistent in the six years since, giving a terrific performance as a murder investigator in The Dancer Upstairs and lending a touch of elegance to the stereotypical role of a drug kingpin in Collateral. He also did an undistinguished starring turn as a euthanasia activist in The Sea Inside and an unfortunate supporting one as an Inquisition cardinal in Goya's Ghosts. This week, you can catch him in two new movies that showcase his substantial and frustratingly mercurial talent.
In the Coen brothers' No Country for Old Men, Bardem portrays Anton Chigurh, a psychopathic killer of uncertain ethnic origin who nominally works for drug dealers but operates very much as a law unto himself while prowling the backroads of West Texas in 1980. Chigurh wastes few words and carries a bolt-shooting air gun hooked up to an oxygen tank that works just as well to blow out door locks and kill people with a soft hiss. The Coens film the actor to emphasize the length of his face, the point of his chin, and the width of his cheekbones, giving him a death's-head appearance that's framed by a ridiculous haircut worthy of David Cassidy in his 1970s pomp. Perhaps because of this, Bardem spends most of the film underplaying, but he goes all out in the opening scene, in which Chigurh, deprived of his weapon of choice, uses the handcuffs on his wrists to strangle a sheriff's deputy. As the two men roll around on the floor, the camera finds Bardem's face lit up in maniacal ecstasy. He looks like he's having the greatest orgasm of his life. Yeah, that's scary.
The movie's based on a Cormac McCarthy novel, and no wonder the Coens chose this particular one to adapt to the screen. Though the book isn't McCarthy's best, it's certainly his most Coenesque, often reading like something the author tossed off after marathon viewings of Blood Simple and Fargo, washed down with a bottle of tequila. The story begins when welder Llewellyn Moss (Josh Brolin) goes antelope hunting on the plains and comes across five cars' worth of dead men, a pickup truck full of drugs, and a satchel case containing $2 million in cash. He takes the money and by doing so gets Chigurh chasing after him with his air gun. Don't come into this expecting the cute-and-cuddly Coens from The Big Lebowski or O Brother, Where Art Thou? This movie marks a return to form for the siblings after the rather toothless charades of their last three features. The main bulk of the film concerns the cat-and-mouse game played out in cheap motel rooms and small-town main streets between Chigurh and Moss, who thinks of himself as a dumb redneck but is actually much smarter than he gives himself credit for. Following McCarthy's lead, the Coens stop to detail the meticulous measures taken by these supremely tough, resourceful, and determined men to achieve their ends — Chigurh uses a torn shirt and some cotton balls to blow up a car. The killer's laconic nature goes hand in hand with the Coens' storytelling methods; long stretches of the film have no dialogue, and the whole movie goes without background music. This places all the focus on the action and the knife-edge virtuosity with which the Coens build suspense, especially the bit in a hotel room where Moss pieces together that he's being tracked and that Chigurh has entered the hotel and is walking to his door.
The Coens are pretty straightforward in their treatment of the source, which is why they don't transcend the book's limitations. Grim-faced Terrell County sheriff Ed Tom Bell (Tommy Lee Jones) cleans up the messes and futilely tries to head off the carnage before it happens, but this character's sorrowful viewpoint never emerges as a meaningful commentary on the action. Bell's musings on the nature of violence aren't enlightening, nor are Chigurh's pseudo-philosophical rants about the workings of fate. The latter falls into line with the Coens' view of the world as a chaotic and violent place where people can only hope to survive for a while. However, this feels incomplete when placed next to Fargo (still their best film to date), in which some of the characters found it possible to create a pocket of goodness in an evil world and build a heaven in hell's despair.
Still, there's no denying the movie and this character's power to shake you. The implacable Chigurh dominates the proceedings like no other Coen villain before him, and when you leave the theater you can't help feeling that he's really out there, driving the state highways with a stony expression on his face and ready to blow a hole in the head of some cash-register jockey who says the wrong thing to him in casual conversation. Bardem makes Chigurh a scarier bogeyman than any recent horror film has come up with, and in what's shaping up as a banner year for lean, mean, and coldly logical thrillers, he helps make No Country for Old Men stand with the best of them.
---
The other Bardem film this week is also a literary adaptation that does its share of maundering about fate but to even lesser effect. Wildly popular novels sometimes make for crappy movies, while classic novels tend to become reverential and boring films, but seldom are truly great books turned into truly bad movies. That, however, is the sad destiny of Gabriel García Márquez' much-loved Love in the Time of Cholera, which deserves far better cinematic treatment than it gets.
Spanning the 1880s to the 1930s, the film follows Florentino Ariza (played by Unax Ugalde as a teen and Bardem as an adult), an aspiring poet destined to become a Cartagena shipping magnate. As a young man he falls in love with rich man's daughter Fermina Daza (Giovanna Mezzogiorno, the beauteous Italian star of Facing Windows and the original version of The Last Kiss). Even after she rejects him and marries an epidemic-quelling doctor (Benjamin Bratt), Florentino carries a torch for her over the next half-century while having affairs with 622 other women.
The filmmakers here face a daunting task in trying to find a cinematic equivalent for the author's gorgeous, lush prose and his voluminous asides on history, sociology, science, art, and other facets of life in turn-of-the-century Colombia. Director Mike Newell and screenwriter Ronald Harwood aren't up to this job, and though they've both shown skill and craftsmanship in their previous work, they're too foursquare and tasteful to evoke the elemental passions in the material. For some reason, they have the film performed in English, despite the Latin setting and cast. John Malkovich did the same thing when he directed The Dancer Upstairs, as a strategy to make his actors uncomfortable and feed into his story's atmosphere of paranoia and fear. There's no such rationale here, and even though the American-bred supporting actors (Bratt, John Leguizamo, Hector Elizondo) are at ease with the English dialogue, the performances are still all over the place. The only one who really does anything with her role is Catalina Sandino Moreno, sexy and playful as Fermina's cousin Hildebranda.
The movie does look pretty, at least, with Brazilian cinematographer Affonso Beato capturing the setting in all its rioting colors. However, you won't even be able to enjoy it for its set decoration, so numerous and egregious are the movie's miscalculations. The wedding-night scene between Fermina and her husband is horribly written ("This will be a lesson in love"), and the pacing is sluggish.
Even more glaring is Bardem's  disastrous performance. García Márquez renders Florentino's youthful romantic suffering in comic terms, but the actor plays this aspect of the character so broadly that he seems to have stepped out of a sketch on Hora de la Risa. Bardem fails to make us empathize with the character's pain because he's so whiny and shrill in the early going. In the movie's later scenes, the obsessive rigor with which Florentino nurses his affection goes missing beneath the increasing layers of age makeup piled on Bardem's face and body. The actor's failure here doesn't diminish the work he does in the other movie, but it does help turn a luminous and wise novel into something stupid and dull.
 No Country for Old Men
Starring Josh Brolin, Javier Bardem, and Tommy Lee Jones. Written and directed by Joel and Ethan Coen, based on Cormac McCarthy's novel. Rated R.
Love in the Time of Cholera
Staring Javier Bardem and Giovanna Mezzogiorno. Directed by Mike Newell. Written by Ronald Harwood, based on Gabriel García Márquez' novel. Rated R.