For local mod-rock trio Ransom, everything has happened fast.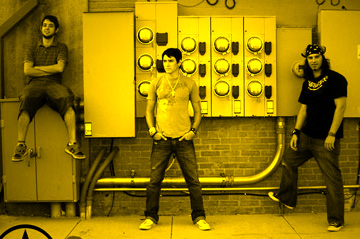 About a week after the two current songwriters had their first jam session, they found and immediately hired drummer Matt Bell. About a month later, the band performed its first show. A few months and a few more gigs later, Ransom was in a van on the way to Los Angeles to set up shop in a studio across the hall from where The Smashing Pumpkins were recording. "I didn't want to believe it," said Ransom bassist Phil Holveck. "I know so many people who had worked so hard," with the implication that sometimes hard work matters naught without a little good luck. To top it all off, sound engineer Rob Brill had become a fan. Brill, who has twiddled knobs for The Strokes, Paul McCartney, and Cher, among others, was just about to start trying his hand at production when he heard some Ransom tunes. He invited the band to Henson A&M Studios in Hollywood for a bargain-rate 12-day session. The result is All 4 You, a gem of a melodic mod-rock album released in late September. "I believe in what we're doing," said Holveck. "Otherwise, we wouldn't have put up the money," noting that while Brill worked for free, the band paid for all of its other expenses, including travel, boarding, some studio time, and disc pressings.
Hollywood, the guys in Ransom agree, isn't all that. "Bands here could kill in L.A.," said singer-guitarist Ransom Rhodes, who by day works for a construction company and who began playing music in high school in Godley, south of Fort Worth.
But most bands here, in Rhodes' opinion, aren't as committed to their scene's diversity as are their neighbors on the Left Coast. The problem, he said, is that there doesn't seem to be room for the kind of melodic rock that he traffics in. Bands here are either extremely heavy or extremely indie, which is why the guys in Ransom are beginning to feel a little alienated.
Their minor frustrations get a workout on one particular song off All 4 You — Rhodes' favorite, "Breathe," which Holveck says is partially about "being on the outside looking in and not really part of the team." "I believe that I can make a difference," Rhodes sings, "a difference in this world / I don't want to turn away / and I don't want to change." His crystalline voice resonates with the kind of purity and honesty that can drive home such an otherwise maudlin sentiment.
Rhodes and Holveck co-wrote all of the material on All 4 You. Rhodes is "creative, while I am philosophical," Holveck said. "Basically, he starts on an idea, and I fill in the gaps. I try to add a layer of meaning to open it up — songs can have many meanings to people." Holveck, who splits time between the band and his job at Bell Helicopter, added, "The songs are our gift for the world, for everyone who wanted to do something." Rhodes appreciates all of the help he's gotten over the years, most notably from his mentor and former Jibe bassist Corey Tatro. Rhodes chose the album's name as a way of saying thank you. "It's all for everyone who has been there from the beginning," he said, "everyone who supported us." In addition to broadening their fan base to a regional level and having a label to call home, the guys in Ransom are dedicated to maintaining the inner-band harmony they feel. "We're all very laid-back," Rhodes said. Asked whether the band could use a second guitarist to expand its capabilities, Rhodes hesitated but said he wouldn't want to "ruin the flow — bands tear themselves apart. Two years into it, we still do everything together. We hope it stays that way." Although Holveck would love to ditch the day job and take his music on the road full-time, he intensely appreciates the here-and-now. "We're happy now. We're a family, and I wouldn't trade my experience for anything."
 Ransom
Fri (acoustic) w/Revolte and The Cast at Cowtown Sports Bar, 7108 Camp Bowie West, FW. 817-570-7910.