When Adonis Rose arrived in Fort Worth a little more than two years ago, he found the jazz scene here a little lacking.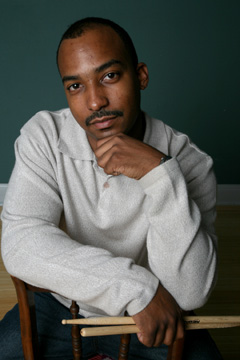 Sure, Cowtown is home to some of the more famous names in the industry, especially Ornette Coleman and the late Dewey Redman. As for an economically viable jazz market, though, there wasn't much here, in Rose's opinion. The New Orleans drummer and composer, displaced by Hurricane Katrina, promptly set up shop here. He founded the Fort Worth Jazz Orchestra, a nonprofit group dedicated to conducting jazz-awareness workshops for younger players around town and playing gigs. The band, which includes saxophonist and Fort Worth native Quamon Fowler, has a residency at Bass Performance Hall's McDavid Studio.
Rose also began lecturing at the University of Texas-Arlington and recently has begun raising money for Jazz@FortWorth, a nonprofit vehicle through which he hopes to bring national high-profile jazz musos to town to partake in summer camp-like training sessions. Two artists he has his eye on are bassist John Brown and pianist Mulgrew Miller. "This will be a great opportunity for kids in Fort Worth," he said. "Most young jazz musicians never get one-on-one exposure with players of this type."
When Rose and his wife arrived in North Texas, along with a crowd of other New Orleans refugees, the closest lodging the couple could find was a hotel room in Irving. Over the next few weeks, the Roses drove around the Metroplex, looking for a place to call home, temporarily or permanently. They weren't impressed with Dallas, but Fort Worth, he said, seemed "quiet and laid back. … New Orleans and Fort Worth are similar." Both cities, he said, have a "big city/small town feel." Rather than the other way around, Rose now believes Fort Worth "chose him." Instead of leaving to do a planned Broadway show with multi-platinum performer Harry Connick, Jr., Rose decided to stay here and get to work.
One of the first people he connected with was saxophonist Tim Ishii, interim director of jazz studies at UTA. The two player-teachers hope to raise the profile of UTA's jazz program to that of the University of North Texas', one of the most lauded jazz programs in the world. Fostering new talent, Rose said, is key to any city's scene. "I didn't want to see musicians just working at restaurants," he said. "Lots of cities don't have the resources to support music, but Fort Worth does. … With five museums and a beautiful hall [the Bass], I'm optimistic."
A critical need is to improve local jazz musicians' earning power. "I'd like to see a lot more music happening," he said. "It's progressively getting better. I'd like to have the guys in my orchestra on salary, like a symphony orchestra. They should be able to support their families. We're taking baby steps now, but I have a vision." His calling here may not be high profile, but in the jazz world, Rose is a sought-after commodity, mainly as a studio musician for national jazz recording artists. He also is now a record-label honcho. In October, he started House of Swing Records, whose first release, Untouchable, just came out and features Rose with his former band, the NO Vaders, doing Crescent City-style jazz. The record is his fourth as a bandleader. His previous three were released by the On the Verge record label.
In addition to creating more work for local jazzbos, Rose sees House of Swing as part of a positive national trend. By recording with HOS, or any other indie imprint, artists will be able to maintain creative control over their work while also reaping a lion's share of the (admittedly kitten-sized) financial rewards. For the record, Rose isn't dissing local players. He just has a problem with the short shrift they give themselves. "There are lots of great musicians in Fort Worth," he said. "They can play on the same bandstand as anybody. How can you take the talent and do something with it? I want to give Fort Worth an identity in terms of jazz." Part of creating that identity, he said, involves delving into Fort Worth's rich cultural heritage. Rose also is involved with the Fort Worth Public Library's relatively new Jazz Preservation project. "I want to learn, have an understanding of what [past local jazz greats] did and build on that legacy," he said. "I don't want to see all the hard work they put in being lost."
Adonis Rose and the Fort Worth Jazz Orchestra
Mon (New Year's Eve) w/the George McCollum Band at 9pm at Bass Performance Hall, 555 Commerce St, FW. $60 including buffet and champagne toast.
817-212-4280.