It seems that Dan's Seafood, a scrappy little neighborhood joint just north of I-20, is determined to make you break at least one of your New Year's resolutions, specifically the one that says cut back on fried fast food.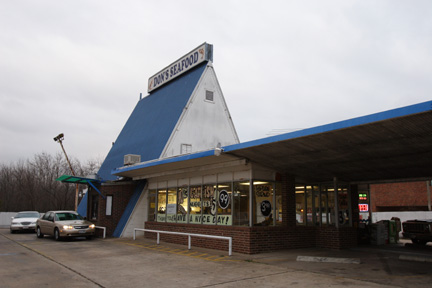 But this independently owned and operated purveyor of catfish, shrimp, oysters, chicken, hush puppies, and gizzards wants to help you succeed at another resolution: saving money. Don's is located in an old building topped with a very tall arch that, at one point, must have housed an original Whataburger (circa 1959) or some other fast-food chain outlet. Even the parking spaces – widely spaced out front – suggest that carhops, precariously balancing trays of burgers and sodas, once ruled this spot a la American Graffiti.
Not that Don's décor is from the 21st century either. Old-style slogans still adorn the walls and windows, advertising fried chicken, fish, french fries, and hush puppy dinner combos. During a recent visit, invisible speakers piped in Christmas carols whose melodies competed with the sizzle of the deep fryer. That glorious invention provides, by far, the dominant method of preparation here. And if you're in the right diet-wrecking mood, Don's offers fast, simple pleasures.
Deep-fried fast food has a litmus test similar to pornography: You must experience it for yourself to see if it's crossed your line of personal standards. Some folks adore the oily, crumbly, finger-lickin' fried stuff. Others shudder at the mess. Don's Seafood errs on the greasy side, true, but their butterfly shrimp – huge bad boys split into halves, then deep-fried in peppery-brown bread crumbs with the tail left on – were scrumptious and hearty. A half-dozen was more than filling, even without the ho-hum french fries, which appeared to have loitered too long in the freezer before they were cooked. Lovers of the oyster, that legendary shellfish of supposed aphrodisiac qualities, will be pleased to learn that Don's sea pellets are covered in a light, less crumbly, less oily, blond cornmeal coating that allows the sea-meatiness to come through. The satiny gems come to the table in various shapes, none bigger than a golf ball. A half-dozen barely constitutes an appetizer serving. If you want to fill up, order more.
Don's Seafood offers two different fried fish fillets: catfish and pollack. The catfish, whether in fillet or nugget form, proved to be too grainy and, well, fishy for these 'buds, an effect that the whiskered bottom-dweller has on many people. The pollack, an alternative to slightly more expensive cod, was much smoother, less salty, and less encumbered by the ripe flavor of the wharf. The hits and the misses are all of a piece at Don's, a ma-and-pa eatery that's here to fill your belly, not challenge your imagination.
Don's Seafood
Fried oysters (12) $6.79
Catfish nuggets (10) $3.69
Butterfly shrimp (6) $3.69