Daniel Badillo and his wife Rose know how to run a restaurant.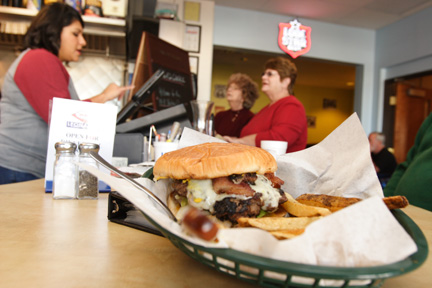 Until a few months ago, they ran the always-packed-at-lunchtime 7th Street Station Grill. After four years, though, their lease ran out, and they had to find another location or give up the ghost. Fortunately, two of their friends had a little spot available just a few blocks from the original space. The Badillos took it, and lovers of simple and simply superlative homemade fare are all the richer.
Daniel and Rose's new project, M&O Station Grill, is a throwback diner. In addition to a counter, there's a partitioned dining room with about a dozen '50s-style laminate tables and gold-speckled blue vinyl chairs. The walls are covered in black-and-white prints of an earlier Fort Worth, and the area of the kitchen that's visible – a la a Woolworth's counter – is a mass of gleaming chrome. Even the one-seater bathroom is nice, darkly lit with deep blue highlights. The name M&O was chosen, Rose said, to honor the former owners of the long-gone Leonard's Department store: Marvin and Obie Leonard. For decades, Leonard's was the largest retail operation of its kind in the Southwest. One of the friends who convinced them to take the space was Marvin's daughter, Marty Leonard, who runs the lovely Leonard's Department Store Museum right next to M&O.
As wonderful as the diner itself is – the Fonz would be proud to eat here – the food is even better. Daniel, who chef'ed for 20-plus years at the Fort Worth Petroleum Club before opening 7th Street Station, has created a simple menu of high-quality homemade food. All told, the regular menu has four sandwiches, two soups, and chili, 10 burgers (including a vegetarian patty and chicken-fried steak on a bun), four entrée salads, and two desserts, plus a couple of daily specials. Everything sampled on a recent visit was an absolute winner in its class.
The tuna salad on sourdough turned the idea of tuna as diet food on its head: Topped with provolone and mixed with minced onions, pickles, and pesto mayo, the sammy was exquisitely rich. The accompanying tomato basil soup was out of this world. No blender-made tomato paste, milk, and basil here. M&O's version of the harvest classic had the body of hearty chicken stock, and with seared onion and garlic, fresh tomatoes and basil, and a bit of cream, the bowl sang. The kitchen did justice to the mushroom-and-Swiss burger, a half-pound patty ordered with mustard, lettuce, tomato, onion, and pickles. The grilled meat was fatty enough to satisfy a craving for grease but not enough to make you feel guilty afterward. The fresh, sautéed slices of fungi were piled high under a thick layer of the silky cheese. The seasoned hand-cut fries that came along for the ride were also delicious, though Badillo wouldn't give up how he seasoned them.
The daily special was a pork chop plate: a half-inch-thick boneless chop periodically basted with a balsamic dressing as it cooked and topped with caramelized diced onions. The pork had the buttery flavor of a slab of baked loin, and the seared dressing gave every bite a wicked zing. As good as the dish was, though, it was almost overshadowed by three of the best sides in the city: sliced, roasted sweet potatoes that were smoother than butter and just as decadent; fresh green beans with diced onion dressed in the same balsamic as the chop, which could easily be eaten as a full meal, no kidding; and a portion of black-eyed peas in a bit of chicken stock with a touch of ham, onion, garlic, and tomato. If Daniel and Rose Badillo can be that excellent on a consistent basis – and any former 7th Street Station Grill regular will tell you they can – then M&O may become a destination. The only pity is that the place closes at 8:30 p.m., because it definitely would rank among the best post-last-call spots in the city.
M&O Station Grill
Marvin's tuna salad w/soup $7.97
Swiss and mushroom burger $8.29
Grilled pork chop plate $7.95