After fronting bands in Austin, then going solo in Los Angeles, singer-songwriter and native Dallasite Bob Guittard made his journey back to Big D in 2002 to launch Flat People.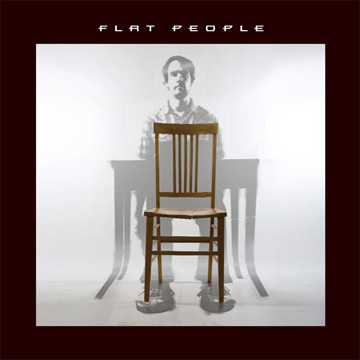 His new band went through a variety of line-up changes, all while recording and polishing new songs at his home studio. One day late last year, though, Guittard finally decided to share his songs with Dallas producer Salim Nourallah. The band now has a somewhat steady line-up, and several familiar North Texas artists are featured on Guittard's new, eponymous album, including Nourallah, Warren Barry, Daniel Hopkins, Ward Williams, Chris Holt, James Driscoll, John Duffilo, Rip Rowan, Rick Nelson, Rich Williams, and Graham Cathery.
The result is a highly infectious, varied collection of honey-dripped quiet rock with a slight veneer of country and folk, sounding at times like Pink Floyd morphing to Beck, a not-so-drug-addled Camper Van Beethoven, and perhaps a little Wilco, if John Lennon had shared songwriting duties. As sweet and sing-able as Flat People's melodies are, they have a dark streak, which alone merits hitting the replay button again and again, to allow the potential of each track to unfold and be fully absorbed.
One prime example of FP's beautiful, underlying darkness can be found in "Oh, Conspiracy," which includes some lovely XTC-tinged harmonies atop upbeat electric strumming. While the opening strains immediately conjure up snapshots of Buddy Holly glasses and notions of a simpler time, the lyrics immediately contradict such innocent imagery: "Shapeshifter leader, a lizardry breed / They're part of the machine / No, nothing's as it seems" and also "Socially dead, isolated, and serene / Lights out, water off / Black copters cleaning house / Yeah, I think we're all done for." But the sonic dichotomies, in Flat People's hands, never sound forced or contrived.
Some of the lyrics are not as sinister as those of "Oh, Conspiracy" but are simply quaint variations on well-worn motifs, like unrequited love. In the delightfully twee vignette "My Heart is Beating Warm," Guittard begs, "Won't you come with me? / I won't do you no harm / Why can't you show me anything? / My heart is beating warm … You touch me like a rose / I cut you like the thorns." They're simple lyrics, sure, but they're given weight by the tone, tension, and subtle atmospherics. There's actually a connection between the black 'copters and broken hearts. The lead track, "Sensitive Clumsy Astronaut," in addition to being one of Flat People's more overtly rocking numbers, introduces the album's overarching theme of alienation and may perhaps remind some listeners of Harry Nilsson's "Spaceman" or David Bowie's "Space Oddity" in vibe. You don't have to think too much to enjoy Flat People – the melodies will tease a smile out of even the grumpiest Beatle fan – but there's a wealth of sly depth for listeners who aren't afraid to read between the lines.-Tom Urquhart
Flat People
(Hit Records)