Five years ago, Catfish Whiskey was all about the party.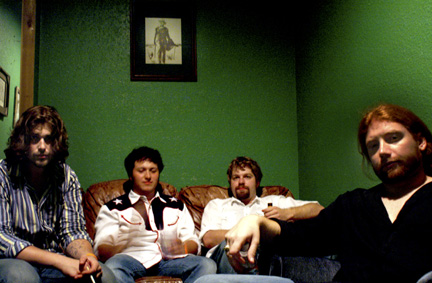 The Fort Worth foursome's weekly soirees assumed a buzz just as big as their busy, bluesy jam music. Today, the party has fizzled out, enabling them to focus entirely on their songwriting. On Blood and Bones – Catfish Whiskey's recently released debut album – the band has tightened the reins on the jams, orchestrating every note and putting serious intent behind the positivist vibe they want to share.
The band's roots can be traced to an open-mic jam in 2003 on University Drive near Texas Christian University. By 2005, frontman Keegan McInroe had recruited a five-member core with which he wrote stacks of good-timey tuneage. Along with his merry pranksters, McInroe, while still a TCU student, hosted a weekly gathering at The Moon Bar, nearby on West Berry Street, inviting different guest musicians each week. Now with a rather solid line-up in his corner and a TCU diploma in philosophy and religion under his arm, McInroe has almost completely shed his wild lifestyle, as Blood and Bones may indicate.
Throughout their steady gigging, the Catfish Whiskey guys always found time to write new material. So when time came to record Blood and Bones, the band had a wealth of original music to choose from. The result, said fellow TCU alum and bassist Travis Dixon, follows a thematic arc. "There's some serious stuff going on there," he said.
McInroe was more specific. Blood and Bones is "an existential search for truth and a sense of what really matters," he said. The album is "a call to think."
Most of the 12 blues-influenced tracks deal with hard questions about life. The band chose to start the album with "King Solomon Blues" to pay homage to the legendary wise man. "Solomon's life is a mix of politics, religion, power, and, in the end, lust and murder," McInroe said. "It's an old story, but it's very relevant today. … The same struggles bring people to the same kind of situations … fights for power and jockeying for position. How do you get it back to reason?"
After a thorough education, a long run on the party circuit, and extensive travel, McInroe believes more strongly than ever that music is a powerful tool of enlightenment. "I've had an interesting life," he said. "A lot of spiritual, supernatural things that are normally intangible have happened to me," in particular, an experience he had in New Orleans last year that he describes only as "dark swirlings." "I've been blessed," he said.
Catfish Whiskey's more mature and sober sound can be partially attributed to new directions in percussion. McInroe started the band with rock drummer Matt Lombard, who left two years into the project to start The Red Herrings. Catfish Whiskey ran through several replacements before settling on Johnny Goodson, formerly of Texas Music singer-songwriter Jordan Mycoskie's band. Goodson's pure country style helped calm down what once was a hyperactive outfit prone to extended soloing. The drummer, McInroe said, got the band "in touch with rootsy music."
Catfish Whiskey still does some jam band-y stuff, courtesy mainly of skilled ax-man Mike Maftean, but now it's tempered by heavy doses of blues, folk, and country. And storytelling, lyrically or musically. "Everything is song-oriented now," said McInroe. Producer Evan Jones does Catfish Whiskey's sound justice on Blood and Bones, recorded at his home studio in Fort Worth.
Goodson and Dixon both have day jobs, while McInroe and Maftean make most of their income via music; McInroe also works with Time2Fly, a Dallas booking agency. Catfish Whiskey's success, McInroe said, is owed in part to the musicians who sat in during the band's Moon days and brought friends. "We stepped up a sense of community in the scene," he said.
Though McInroe and company have toured the region extensively, they plan on expanding their stops to include, well, everywhere.
Catfish Whiskey
Tomorrow (Thu) w/A Partial Freakout at The Lakewood Bar and Grill, 6340 Gaston Av, Dallas. Free. 214-826-3888.