A fearsome black bust of a horn-helmeted samurai glares out from an alcove near the sushi bar of the recently opened Ronin Sushi and Sake in Montgomery Plaza.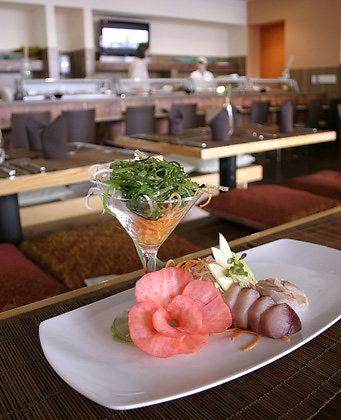 "Ronin," in Japanese, means something like "adrift on the sea," although the word historically refers to the late feudal-era warriors who had lived past their heyday and become "masterless samurai," wastrel soldiers whose patrons had been dishonored and who wandered the countryside looking for freelance security jobs, frequently resorting to criminal gigs.
During a quiet lunch service just before last week's official opening, the chefs at Ronin's bait bar didn't seem at all rudderless or without direction. Most of the waitstaffers, though, looked a little anxious, milling around and fidgeting, the weight of the oncoming rush no doubt weighing heavily on their minds (and rightfully so). The restaurant's décor is noticeably subdued but in a good, minimalist way: pillows for seat cushions in the central dining area, glass vases full of water and colored pebbles on the tables, and bamboo tablemats – that's it.
The restaurant's large menu contains all of the sushi, sashimi, and stuffed rice-and-seaweed rolls that sushi lovers or likers would expect: tuna (fatty and otherwise), salmon, yellowtail, scallops; miso soup, seaweed salad, black pepper calamari, sea salt-encrusted edamame; and the list goes on. But since sushi restaurants, though a great deal pricier, have become nearly as commonplace in Texas as, say, Szechuan beef, new establishments must distinguish themselves via the originality of their rolls, especially here in Fort Worth, where the big fish is Piranha Killer Sushi, thanks mainly to its outrageously fun and tasty improvisational creations.
Pre-opening jitters or not, the Ronin chefs did a damn fine job, starting with a four-piece order of a mysteriously named sushi item, "super white tuna," served on a glass tray. The plump strips were eggshell white, with just the slightest rosy tint. When asked, the spiky-haired waiter consulted the chefs, then returned to say that the name somehow referred to the flavor. Instead, or additionally, "white" seemed to describe the texture: almost melt-in-your-mouth creamy, with a fresh, insistent tuna flavor.
The original rolls sampled – wavy and as long as samurai swords – were superb. You should always try a sushi restaurant's signature roll to see if it's definitive or at least adventurous. The Ronin was filled with choice plugs of shrimp, cream cheese, and tender eel, topped with curved slices of plump raw tuna and rich avocado, and drizzled in faintly chocolate-y brown eel sauce and a divine avocado puree. The Why Not? Roll contained smooth salmon, avocado, and thin, crunchy spears of asparagus. Bits of salty-fishy chopped seaweed lounged regally on top.
The best roll at Ronin may be the one called the Latino. Delicately splashed with lime juice, the endearingly named item featured crunchy shrimp tempura, avocado, and cooked crabmeat, and a luscious mayo-like aioli sauce with a soothing ginger tang. The crowning detail was the finely chopped cilantro sprinkled all over. The cilantro worked so superbly with the crab, avocado, and shrimp that you wonder why the Mexican-food staple doesn't appear on more sushi menus. Maybe the Latino will lead Ronin's chefs to completely shake off the master of tradition staring over their shoulders.
Ronin Sushi and Sake 2100 W 7th St, Ste 171 in Montgomery Plaza, FW. 817-332-0040. Mon-Sat 10am-2pm and 5-11pm. Closed Sun.
Latino roll $14
Ronin roll $12
Why Not? roll $12