About an hour and a half before he is to pop his light frame onto the back of a 1,500-pound bull, Kyle Miller stretches to get ready.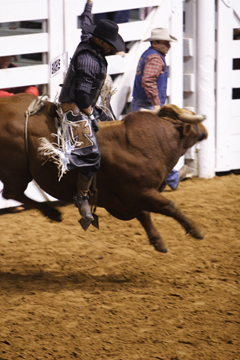 He seems calm about the eight seconds or less he will spend in the spotlight in the Fort Worth Stock Show Rodeo because, he says, "after you do this a while, the fear is less and less." You know you can get hurt, he says, but if you think about that, "you lose that concentration you need, and the bad things that can happen to you get worse." What bad things? In Miller's case, torn knees, a punctured lung, a smashed face, fractured skull, broken hands, and then all those bruises and cuts no one pays much attention to. As Blue Jeanes, one of the rodeo clowns working the Fort Worth arena, says, "This is the most dangerous sport in the world, and the riders are the [lowest] paid athletes."
The clown is right on that one. Bull riders average one injury for every 15 times they get on a bull. Since they go to about 75 rodeos a year, with two or three rides per rodeo, most riders can count on being injured more than 10 times a year. For that, most of them earn less than $25,000 a year gross – before entrance fees and travel costs are subtracted. In 2007, according to the Professional Rodeo Cowboy Association, the top-earning bull rider made about $229,000 in PRCA-sponsored events – but the 50th-ranked rider pulled in just $22,000. And yet bull-riding is one of the fastest-growing sports in the world, a hot item on sports TV, with millions to be made by top practitioners in the glitzier non-PRCA events.
So why does a guy like Miller do it? He only started riding bulls at 19, after he lost his golf scholarship ("I was partying a little too much") at the University of Kansas. "I was back home near Houston, just kind of wasting my life. You know, sitting around in my underwear in my apartment, drinking beer and watching TV. I had some friends doing rodeo, and I just decided to try it. At that point I would have jumped motorcycles or parachuted out of an airplane, just to get moving again."
And with that, he is moving again. Time to get out of the cramped bowels of the Will Rogers Memorial Coliseum and into the chutes. Miller, 29, has drawn a bull named Medal of Honor, and the bull draw is important. Judges score both the cowboy and the bull, so even a great effort on a sluggish bull can produce a disappointing total. The riders try to keep track of the bulls, but Miller knows nothing about Medal of Honor, nor do the riders around him. "All I know is I have an innate ability to make bulls do stupid things," Miller says.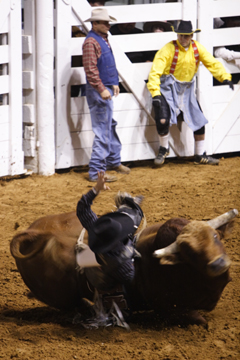 When his turn comes, Miller is focused. Medal of Honor is thrashing around in the chute, but Miller concentrates on getting his hand tight in the rigging. Handlers in the back tighten the ropes around the flanks, something that gets the bulls higher up in the air. He waits as long as he can to lower himself onto the bull's back, to keep from getting his legs smashed. In the arena, the clowns and pickup riders are trying to get the last rider's bull out of the arena. But soon the gate is open, and Medal of Honor bounds out to cheers from the fans. It's over in two seconds. Leaping out of the chute, the bull falls, rolling over on Miller's right leg. For a few seconds, Miller can only lie there beneath the animal's bulk, until Blue Jeanes taunts the bull to get up and chase him. Miller stumbles to his feet, limping badly, only to have the bull come after him. He climbs the gate in obvious pain and hangs onto the top rail while Medal of Honor takes a few more swipes. Then he stumbles out of the arena to a metal folding chair in the back room. Nothing is broken or torn, but he's in plenty of pain from the waist down.
Miller qualifies for a re-ride at the end of the night, because the bull didn't do his part. He passes on that, though – having been thrown before the 8-second buzzer in his first two rides, his chances at money are slim, and his pain level is already high.
Days later, Miller is philosophical about his Cowtown experience. Rodeos that require three rides before the finals – a "three-header" – are tough on all the contestants. Either way you cut it – staying in Fort Worth for three weeks or spending money to travel back and forth between this and other rodeos – is expensive. Many other rodeos have gone to shorter time periods between rides and now require only two rides before the finals. Then there's the size of the purse. Potential winnings here have not grown much in decades, while entry fees have risen consistently through the years to $445 per bull rider, $150 more than saddle bronc riders. Still, the Fort Worth rodeo is a PRCA-sanctioned event, and any money earned will help a rider qualify for the National Finals Rodeo at the end of the year in Las Vegas, the high-paying rodeo version of the Super Bowl.
In Miller's case, he paid his $445 entrance fee, spent about $700 on travel, got bucked off all three bulls before the buzzer, and therefore made no money at all. "My legs were black and blue for days. I had to soak them in warm water and then ice them down every day," Miller said, as he got ready to head off to another rodeo in South Texas. "I've had a lot of injuries the past few years, and it has been tough to qualify for some of the bigger events. People ask me why I keep doing it. There is only one answer: When you stay on that bull for eight seconds, there is no better feeling in the world. You'll just have to take my word on that." The question really isn't why he does it – few rodeo cowboys make enough to really justify the risk, the hassle, and the wear and tear on their bodies. But what is beginning to bug some bull riders is why a historically important rodeo in Fort Worth, one that's a key part of the city's living history and features one of the hottest sports in the country, is falling behind the times – not only in prizes, but in entrance fees and amenities. For better or worse, the answer seems to be "tradition."
There's a good reason that bull riding is the last competition of the night at rodeos. It's the big draw, the stakes race, the main event on the fight card – the one that many people find most exciting because the riders face the greatest risk. For the same reason, separate bull-riding competitions – sponsored by Professional Bull Riders and similar groups – have sprung up in the past decade. Thanks to the glamour and TV exposure, a top bull rider at one of those events can make $30,000 to $60,000 in a two- or three-day period. Some big-city rodeos, including Fort Worth, have gotten in on that action, including special bulls-only PBR events within their regular PRCA performances. In some other cities, competitors no longer have to pay entrance fees because rodeo organizers figure that drawing higher-quality competitors is more important to their bottom line than squeezing a few hundred bucks per person out of each rider. And the rodeos are putting more of their own money into the winners' purses.
---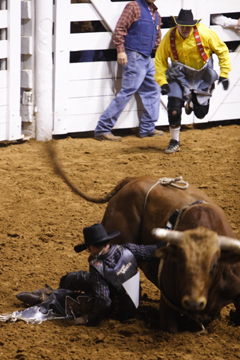 But in Fort Worth, the bottom line is that at one of the most storied rodeos in the country – 112 years old – rough-stock riders are still competing mostly for one another's money, rather than getting any appreciable benefit from the $3 million in ticket sales – not to mention concessions and sponsorships – that they help pull in every year. This year, 113 bull riders paid $445 each to compete in Fort Worth rodeo. Those entrance fees totaled slightly more than $50,000, and some of that went to judges and other expenses. Rodeo administrators added about $20,000, but the pot still came to only $60,000 – including "day money" for the winners of each round and bigger payouts for the overall finalists. Another $32,000 in prize money went to winners in the two-night "Bulls Night Out" competition, a lower-level PRCA version of the bulls-only contests. By comparison, Denver charges bull riders a smaller entry fee than Fort Worth ($375). The general rodeo purses are slightly higher than here. but Denver also offers a $100,000 payout for its PBR-sponsored bull-riding session. In San Antonio and Houston, the rodeos include two nights of bulls-only events, with prize purses of $150,000. According to the PRCA, Fort Worth now ranks fifth in total purses for the entire rodeo among the major PRCA rodeos – far below the top-money rodeos in Houston and San Antonio. And Cowtown drops to 11th in the list for the purse amounts contributed by the rodeos themselves.
San Antonio has not only increased the purse for its bull events but, starting this year, will waive entry fees for all contestants. The move has many rodeo promoters in a tizzy, though they won't say so publicly. "We want to make sure that the best cowboys come to San Antonio," said Pam Rew, executive assistant for the San Antonio Stock Show, though she said her town isn't trying to compete with other rodeos for contestants. "The more money [the contestants] can keep in their pockets, the more rodeos they can compete in, and the better all of the rodeos become," she said. Shanna Weaver, publicity manager for the Fort Worth Stock Show & Rodeo, wrote in an e-mail that the goal here is to "provide a great rodeo for our contestants as well as a family entertainment outlet for our spectators and in the meantime keep it all affordable." She said Fort Worth has no plans to increase the purse size or waive entry fees. While rodeo executives say publicly they are not competing with each other for contestants, it does seem logical that the top competitors in this injury-prone sport are more likely to risk their bodies for more money than for less. With competition from the PBR and other bull-riding organizations, getting the good riders to show up at these longstanding rodeos – with higher fees and lower purses – could become increasingly difficult.
In the high-dollar sports world, bull riding seems to be now in about the spot where NASCAR was 10 years ago – on its way to the big leagues. Professional Bull Riders Inc. now has three different leagues (based upon earnings and prowess) and drew 1.6 million fans to its events last year. Purses have hit a combined $9.5 million for the three PBR leagues, and many events are televised on Versus, NBC, and Fox. "We're not rodeo because we are so different, a cross between a Rolling Stone concert and a NASCAR race," PBR chief executive Randy Bernard told the Boston Globe recently. PBR events, he pointed out, include music concerts, laser lights shows, and soldiers rappelling from arena rafters. No one is predicting that star bull riders will abandon Fort Worth or other lower-payout rodeos any time soon – not unless the PRCA changes its rules. A rider's winnings at PRCA events count toward eligibility for the National Finals Rodeo, to which the top 15 money-winners are invited. Last year's winner, Wesley Silcox of Utah, took home about $118,000 at the Las Vegas rodeo.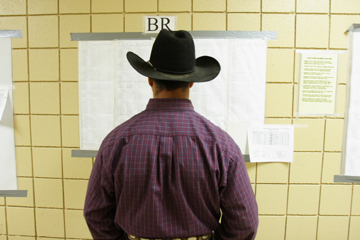 Luke Haught, a 23-year-old from Weatherford who won this year's Fort Worth bull riding finals as well as the Bull's Night Out competition, said Cowtown's rodeo is still very important in his world. Haught finished 16th in the PRCA in prize money last year, missing the National Finals cutoff by about $700. This year, the $10,000-plus he won in Fort Worth will put him that much further on the road to Las Vegas. "I keep my options open with the PBR and CBR (Championship Bull Riding, another bulls-only group) events, but my goal is to make the National Finals Rodeo, so Fort Worth is a place to ride to place higher," Haught said. "Winning more than $10,000 here can move you up. But if they are to keep up with San Antonio and Houston, a new arena would help." In Fort Worth, "Our challenge is limited seating in our beloved coliseum," Weaver said. San Antonio holds its rodeo in the AT&T Center with a capacity of about 18,000; the Houston Rodeo holds theirs in Reliant Stadium with a capacity of 69,000. The Will Rogers arena holds only about 5,800, so ticket sales are far less here than in the other cities.
That's one of the arguments that Fort Worth Stock Show officials and local political and business leaders cite for building a new rodeo arena near the current stock show grounds. If Fort Worth can sell 12,000 to 14,000 tickets each night of the rodeo, that could go a long way toward increasing purses and lowering or removing entrance fees for competitors.
Tuff Hedeman of Morgan Mill was a four-time world bull-riding champion who started the PBR in the early 1990s. He has since retired, cut his ties to PBR, and founded Championship Bull Riding. CBR will hold 10 events this year, most of them single-day bull-riding competitions with big pay-outs. Hedeman said "tradition" is holding the Fort Worth rodeo back in many respects. "While other rodeos are trying to move themselves forward, there is always the philosophy in Fort Worth that they have tradition," Hedeman said. "Well, tradition is wonderful, but you still have to move this in the right direction. Just because they did it one way back in the '40s is not the reason to do it now. It just seems dated to me, and most of the bull riders I talk to say the same thing." "Bull riders are always looking for the place they can win the most money," he said. " When I won the [Fort Worth] stock show in 1984, I won about $10,000. It's still about at that level now. So in 20 years, they haven't even raised the purses. But they keep raising the entry fees, and I would think that big-time rodeos wouldn't be doing their business that way. Once you get to the major-league level of rodeo, [riders] shouldn't have to pay fees." Hedeman is hosting one of his CBR events at Will Rogers on March 8, with a field of 40 riders and a total purse of $50,000. "I kind of look at it this way," he said. "Do bull riders want to spend one day riding with a total purse of $50,000 against 40 other riders, or do they want to spend three weeks working against 100 other riders with a total purse of $60,000? Fort Worth may have a legendary rodeo, but if they don't keep up with the sport, they may become less important."
---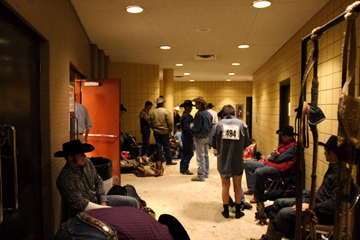 Considered as entertainment, rodeos have always been on the campy side, and that's certainly where much of the Fort Worth rodeo landed in the last three weeks – women in spangled costumes riding around with flags, chuckwagon races, and clowns doing their shtick as the bulls try to toss them in the air. One clown did a clogging routine. The orchestra played the 1965 hit "Hang on Sloopy" while the bull riders tried not to get trampled. There was a monkey who rode a dog, and the two of them herded sheep. And as the monkey rode off into the sunset aboard the dog, the orchestra played "Jesus Christ Superstar." If all of this seems a bit dated, many rodeo organizers nonetheless believe it's what the fans want. However, officials in some cities are modernizing the entertainment they offer, to make the rodeo experience attractive to a younger crowd. Houston combines its rodeo with concerts by major stars such as Tim McGraw, Toby Keith, and kid favorite Hannah Montana/Mylie Cyrus. San Antonio brings out Brooks and Dunn, Alan Jackson, and kid favorite The Jonas Brothers.  Fort Worth doesn't even try any concert entertainment these days. "We cannot afford to have big name entertainment," Weaver said. "We are a rodeo, not a concert."
Leroy Shafer, chief operating officer of the Houston rodeo, had a different view. "If we don't set this up for the fans as both a sport and entertainment, so they know who both the entertainers and athletes are, we aren't doing our job," he said. "Paying them [competitors] good money is part of that process. Otherwise it is just a Wild West show, and that is not what we want to do. If you keep doing the Wild West show, you won't being doing this very much longer in these times." "It does seem a little bit dated," said Allen Helmuth, a bull rider out of Ellensburg, Wash., as he prepared for his ride in Fort Worth. "This rodeo is still up there, I guess, maybe in the top 10 of the country. But among the big winter indoor events, you can't compare it to Houston or San Antonio or Denver." And when the cowboys compare, they look around at the conditions where they arrange their gear and change their clothes, and it is quite apparent that those running the Fort Worth rodeo think less is more. The bronc and bull riders share a hallway where they sit on a tiled floor and lean against cinder-block walls. There are some metal folding chairs, but not nearly enough for the number of riders. No locker rooms to change in; in fact, with so many family and friends running through, the guys have to put their pants on in front of many women and children. If they have to use the bathroom, they must go out into the concourse and share with the beer-drinking, corny-dog-eating fans.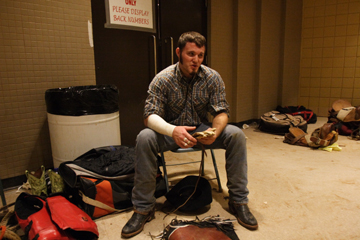 "A lot of the big rodeos have a hospitality suite for the cowboys – you know, a place where you have some privacy and can get some food," Helmuth said. "I don't know why they don't do that here. It might be nice after paying that big fee if we could to get something to eat before we get on that bull." The men sitting around on the floor and getting ready to ride were acting their age. Most were in their 20s, guys who played high school football or wrestled, not big enough for most college sports, but still competitive. They seemed more interested in text messages on their cell phones than spinning bulls, and they liked hip-hop music as much as country-western. So they sat on the floor and waited their turn. D.J Base out of Kansas wondered out loud if anyone had ever ridden a bull named Brass Knuckles. The bull is a "crazy motherfucker, he kicks back more than spins," one cowboy answered. Then some of the riders start comparing funny audio-text messages they received over the holidays. Like the one about the guy whose present was a Hummer with a grill (put your own joke in here, but be sure to use braces).
Tony Booth, 37, of Stephenville is too old for these guys, and he laughed while he watched them. He is in the later stages of his career, a former Fort Worth rodeo champion just looking to get to the National Finals Rodeo one time. "When you are young in this sport, [bull riding] is the only thing that matters, and it is easier," Booth said. "I can still do this, but the injuries take their toll. I just want one more chance." Then it was time for the pre-ride prayer by the Rev. Garry Cate, pastor of Fort Worth's North Point Cowboy Church. Cates prayed that "the blood of Jesus will cover every rider" and that "every jump that bull makes will give you peace and glad tidings." After the prayer, it was back to the bawdy audio-text messages and taping arms and legs.
In the rides that night, D.J. Base survived Brass Knuckles, which was more of a spinner than a kicker, and won $555. Tony Booth got bounced, and so did Allen Helmuth. "I bombed, that's all you can say," said Booth, who got thrown on all three rides. He shoes horses on the side in Stephenville and is considering retirement soon. "Right now, I am having a hard time qualifying for the CBR and PBR. So my only hope is to get into the National Finals Rodeo. But you still have to stay on the bull. And at the point you begin your ride, you have every chance of finishing first." Booth grew up in Saginaw and went to Boswell High School. He won the Fort Worth Stock Show and Rodeo bull riding in 1998, earning about $10,000. His highest ranking for the National Finals was 27th in 1993 (with about $24,000 in earnings for the year). In each of the past several years, he has made only a few thousand dollars from rodeoing because of injuries and the luck of the draw. "This rodeo is still very special because I grew up here," Booth said. "But I really think they might need to change things a bit. It is one of the weaker-paying big winter rodeos out there right now, and most of the cowboys make their decisions on where to go based upon how much money they can make. I didn't make anything here, but that is my own fault. But most cowboys are looking to San Antonio and how they are waiving the fees. Because at least with that, you can ride and not lose so much."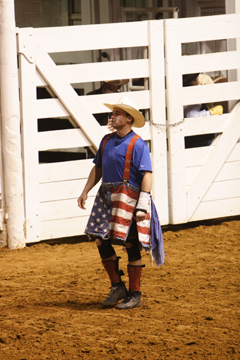 Anyone who wants to ride a bull can, even if you are old and fat and have never been on a bucking bovine. Just send a $500 check to the PRCA, and they will let you ride in some of the little county-fair rodeos they sponsor. Earn $1,000, and you can move up and maybe ride in Fort Worth or Denver or San Antonio. The PRCA runs 650 events every year, and part of its mission is to stock these shows with both bulls and riders. While the PBR and CBR try to get the bigger stars, the PRCA is sort of like baseball, where the minor- and major-league teams all have to be filled. Consequently, the purses and fee structures are left to the promoters of each rodeo. And at most rodeos, more than half of the entrants lose money in the process. Some get a thousand dollars or so if they win one of the three go-'rounds, some win a few hundred if they win their day's event, but many talented cowboys put their bodies on the line and get nothing. Dale Yerigan is a former bull rider and president of the International Professional Rodeo Association based in Oklahoma City. The IPRA is just another of the groups pushing rodeo and bull riding, with about 300 events per year. But Yerigan sees some problems looming in the sport, especially in bull riding. "With the PBR and CBR stealing the best riders, it has hurt bull riding," Yerigan said. "We need to look at how we can raise prize money, but many of these little rodeos can't. It is nice that a rodeo like Fort Worth contributes their $20,000 or so into the pot, but it is still the cowboys paying the cost of their sport. This has been the case for so many years, but maybe we need to look how to change that."
---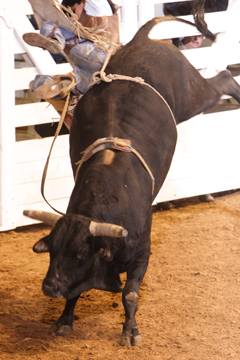 Drew Walters, 25, has seen many sides of the bull riding world in his eight years of riding competitively. He grew up in a small town in Mississippi, with 32 kids in his high school graduating class. "In our town, there was no movie theater, no place to go and hang out, so riding bulls in high school just became a fun hobby for us," he said. Walters' bull-riding skills earned him a scholarship at the University of West Alabama (about 20 colleges field rodeo teams), where he recently graduated with a B.A in history. He is working on his master's in education, and hopes to teach history in high school someday. He rides bulls on weekends and is unsure whether he will continue once he completes his degree next year.
Walters knows he won't be doing his hobby forever. And part of the problem is the cost. The PBR pays cowboys to compete rather than the other way around, he said, but you have to be a full-time competitor to make that circuit. Part-timers can ride in the PRCA, he said, but only about the top 30 cowboys each year make money. "I'm not saying they should be guaranteeing us money," he said, "but we keep these rodeos going, and I think it might be good for them if they did not make us pay to participate." Still, he loves it. On this night, he drew a spinning bull named Pogo. As the chute opened, the bull twisted in a fast circle, the horns coming dangerously close to Walters' face. He stayed on until the buzzer, then landed on his feet.
One successful ride out of three didn't move him up high enough to get into the finals or make any money. But the smile on his face told it all. He beamed to the cheers of the crowd, arms raised, giving the thumbs-up to some of his friends in the crowd. He had conquered that beast that wanted to throw him and stomp on his head, and he had earned the respect of his bull riding friends, the only ones who understand this emotional high. That eight seconds of danger and speed is still attractive to lots of competitors, and maybe they'll keep paying for the chance to get that feeling every once in awhile. But the reality of sports in the 21st century is that it is entertainment and TV programming and a moneymaker for sponsors. "This is becoming a sport that the public is drawn to," said Hedeman. "Fans want to know who the riders are – they want to get involved that way. The old way of doing it just assumes the fans could care less about who is riding. The major rodeos should step forward and elevate the sport. Because if they don't do it, other people will, and traditions might go away."
You can reach Dan McGraw at
dan.mcgraw@fwweekly.com.