A lot of burgeoning artists are fortunate enough to inherit their parents' record collections and discover music they missed during its first go-around.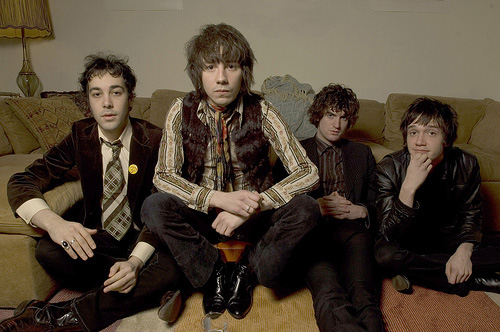 But few young'uns, it's fair to say, can digest yesteryear's music so completely as to become part of it. The Redwalls aren't the first young rock band to sound like they've arrived from an earlier time period, but they certainly are unique in how utterly and absolutely comfortable they seem to be in days gone by. Though the Chicago quartet could never be credited with reinventing the rock'n'roll wheel, their talent is undeniable.
Brothers Logan and Justin Baren are the main songwriters, and they seem to have perfected the art of the Lennon-McCartney vocalismo, which they dress up with the raucous stomp of the Rolling Stones (circa 1965). Although the Redwalls' records are strong and have sold well, the band's pitch-perfect yet still loose and destructive live shows probably deserve most of the credit for their appeal.
Touring the country since last November in support of their most recent, eponymous album, the Redwalls have opened for indie-rock giants like Oasis, Keane, Wilco, Rooney, and the Polyphonic Spree. The brothers Baren and company also have torn across the country on their own steam – at one point, they stopped to make an appearance on the Late Show with David Letterman. Next week, they'll play an already sold-out gig at L.A.'s legendary Knitting Factory and then make a beeline for Fort Worth. They've played Dallas before, yes – many times – but never here, and Lola's Saloon, with its grungy authenticity and distinct Cowtown flavor, will no doubt make for a good how-do-you-do. Openers are local giants Black Tie Dynasty. For more information, visit www.theredwalls.com. – Joshua Loewen
Wed, Feb 27, at Lola's Saloon.