As their name suggests, Dirt&Earthyvibes rely on some down-home growling and rowdy hippie-style hand drums.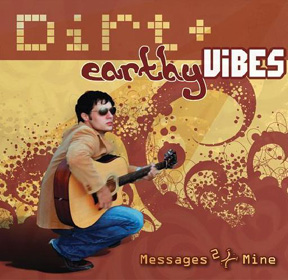 Surprisingly, though, on the Grapevine foursome's second album, Messages 2 Mine, the grooves are even more intense on the pleasant, poppy numbers. The varying degrees of passion and restraint here complement frontman Dirt's sweeping, emotive lyrics and his immense vocal range. He can go from a guttural shout to a falsetto, Prince-like wail seemingly at will (and he's also a heckuva harmonica player).
Dirt's virtuosic readings aren't show-offy. Rather, they serve a vital purpose – sometimes the way in which he delivers a word or phrase is the difference between angry and happy or reverent and just plain zonked. The guy certainly knows how to pen a tune. Most of the tracks here pivot on strong hooks and have an undeniably catchy singalong quality. The leadoff song, "Welcome 2 Our World," features a repetitive chorus and is not gussied up by slick instrumentation – everything is straightforward and bereft of flash. The quick-hitting "Sunshine" also is a bare-boned toe-tapper, thanks mainly to Dirt's rumbling, bluesy, arena-rock guitar and drummer Bamface's Brit-Poppy beat. Guess you could say the song is trad-rock for ADHD sufferers.
Special kudos to percussionist China Maze, whose congas take a delirious beating here but never fail him. Though the album includes several carefully crafted tunes that reveal solid songwriting skills, other tracks could have used a little more structural complexity. However, there's no denying that Messages 2 Mine is full of enthusiasm and maturity, a rare but blessedly welcome mix. – Caroline Collier
Messages 2 Mine
(Self-released)