Imagine, if you will, that all rock music stopped being made after 1975. No new wave, no thrash, no indie, no lo-fi, no '80s glam, no alternative nation.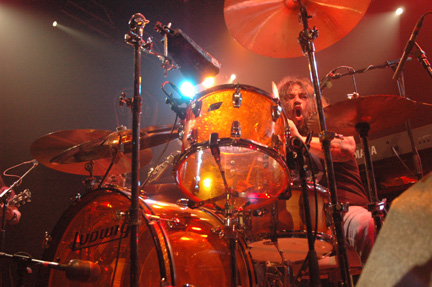 Just the thick power chords, groove, and exploratory ethos of outfits like Foghat, Grand Funk Railroad, and Ted Nugent – bands and performers who weren't just getting stoned and rocking out. (Except Sweaty Teddy – he rocked out, totally, but was an alleged teetotaler.) No, they were getting stoned, rocking out, and selling zillions of records and getting airplay on just about every commercial radio station around. Fort Worth's Blood Of The Sun can imagine it. Since forming in 2006, BOTS has managed to summon the bluesy crunch of seminal bands like Grand Funk and Cactus with the studied aggression of Deep Purple, and, in the midst of a minor stoner-rock revolution, deliver the kind of tunes your uncle would listen to while flying around the neighborhood in his '73 Barracuda.
"We're not revivalists," said drummer, lead singer, and frontman Henry Vasquez, sleeved out in Led Zeppelin and John Bonham tattoos. (Incidentally, Bonham's name comes up a lot when talking about Vasquez, especially in regard to Vasquez' talent and playing style.) "For us, this is real and just a mix of the '70s hard rock all five of us grew up on." Blood Of The Sun formed out of the ashes of past local greats Sourvein, Archie Bunker, and Storm At Sunrise. Vasquez, organist/keyboardist organist/keyboardist Dave Gryder, and guitarist Ty Tompkins wanted to replace stoner-rock's dirge-like tendencies and overwrought metal with groove-laden sounds, primal rock to smoke – and occasionally dance – to. There's some Black Sabbath in there, sure. But there's more Purple, UFO, and Thin Lizzy. "The melodic approach was what we were looking for," Vasquez said, "not totally heavy but something bluesy but still hammering down."
The band's 2006 self-titled debut was an attempt to shake the "stoner-rock tag," as Vasquez calls it. At times loud and propulsive, stoner rock also is prone to long, trippy, self-indulgent solo passages, a fun tack to which BOTS was not entirely invulnerable. "Past the Dawn," for example, is a tip of the stovepipe hat to Robin Trower's "Bridge of Sighs," replete with references to all things cosmic, dude. A minor quibble, though, considering the entire record revealed a band that had a shocking ability to shift tempos seamlessly and nail down furious endings. About a year later, Roger Yma joined on bass, and the band pounded out In Blood We Rock on Arlington's Brain Ticket Records. BOTS had tightened up tenfold, and all of the tracks are right around the five-minute mark. Also, the new/old sound was more distinct, more refined, more BOTS-ish.
With two platters under its belt, Blood Of The Sun started playing regionally and, more significantly, overseas. In places like Germany, Holland, Italy, and the U.K., BOTS is a major draw, especially at Holland's Roadburn Festival, the premier showcase of dirty, fuzzy tuneage. The people overseas, Vasquez said, "actually listen to records, not just collect them. They are much more exposed to music and festivals and take the time to check it all out." As with most heavy bands, you can't really judge them by their records alone. You have to see them live, and Blood Of The Sun is quite a sight. Modeled after – of all bands – Asia, BOTS situates Vasquez' kit up center-stage, with keyb's player Gryder's rig down centerstage and elevated. Ty and Yma, along with new guitarist Eric Schmidt (ex-Speedealer and Pervis), hover on the sides. "Initially, it was done because of the set-ups of small clubs, but now it's just a cool-looking aesthetic," Vasquez said.
And since Vasquez drums and sings (think more Don Brewer than Don Henley), he probably should be front and center. Plus, having him close to the audience lets drum dorks in the crowds get off on his fancy stick- and footwork. Part Bonham, part Carl Palmer, Vasquez is pounding but also jazzy. Now with a solid lineup in place, Blood Of The Sun is getting ready to tour Europe and finish recording Texxas Jam, with the help of the Nuge's former lead vocalist and guitarist Derek St. Holmes. (His is the voice on "Stranglehold" and "Hey, Baby.") St. Holmes will sing lead on some tracks. "I went to Guitar Center, where he was teaching kids how to play, and we spoke," Vasquez recalled. "I gave him our disc, and, about two months later, I saw him at a Dallas guitar show and said, 'Hey, let's do a record.'"
Vasquez is underplaying the complexity of the achievement, of course, but the fact remains that the guys in Blood Of The Sun are on their way. The proof is in some demos of the new record and also in the band's recent show at the Granada Theater in Dallas, opening for original stoner-rockers Blue Cheer. The sound was urgent and up-tempo, with a rollicking vibe slathered in groove and melody a la the first three ZZ Top records. "We just wanted to up the ante on each song and really kick in the tempos, because, live, that is what everyone responds to," Vasquez said, acknowledging that a lot of metal-boogie bands think their slow-churning parts are trippy when, in actuality, they're just soporific. "We just want to be able to tour on this new record, and, with Holmes being a notable on it, maybe someone like [former KZPS/92.5-FM Lone Star DJ] Redbeard or another jock will be prone to give it a listen and realize that this band is in their backyard," Vasquez said. "And if one track hits radio, you know how that can work out." l
Blood Of The Sun
Fri at Dallas Doom Daze Metal Festival at Across the Street Bar, 5625 Yale Blvd, Dallas. 214-363-0660. Fri, Mar 28, at Lola's Saloon, 2736 W 6th St, FW. 817-877-0666. Sun, Mar 30, at the Aardvark, 2905 W Berry St, FW. 817-926-7814.