The word "tao" is often translated into English as "the right way." This word has suggested a personal code of behavior, even an entire worldview, within some Asian spiritual disciplines for thousands of years.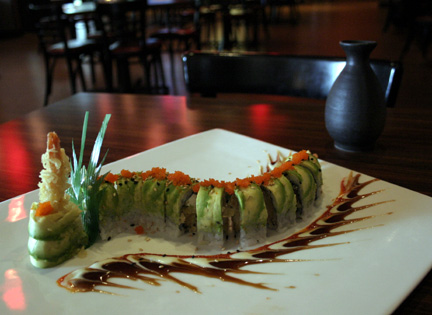 But in Fort Worth, circa 2008, it can also mean that a Japanese restaurant has quickly found its way with a skillful and varied menu of the raw and the cooked. As a belief system, Taoism has never ruled out success in business – so long as you sincerely apply the right mental and physical discipline. After just a couple of months in a busy storefront south of Hulen Mall, Sushi Tao has achieved an excellent harmony of attentive service, skillful presentation, and imaginative fare. So far as the turbulent restaurant industry goes, this joint seems to be following a time-tested lesson: Give the patrons the best you've got, and you'll likely find that "right" path.
During the day, Sushi Tao is a dimly lit restaurant that gets brighter, albeit in an artful way, as the evening approaches. A loose, nursery-like mobile of red glass lamps is the ceiling centerpiece. At our meal, the servers hustled like battlefield medics to attend every table. Sushi Tao offers robata dishes – charcoal-grilled meat – as entrées and tantalizing appetizers. We began with negima: four squares of juicy but surprisingly un-fatty duck pieces sharing space on a wood skewer with tangy green scallions. Drizzled in a musky brown sauce, the duck engendered a Pavlovian response and was more of a choice amusement for the palate than a hearty, temporary hunger-neutralizer appetizer. It did the job in the flavor department, however.
The kani salad was basically a savory seafood slaw: long cords of thin, skinless cucumber mixed with threads of crab meat, tossed in a light mayo dressing with a hint of wasabi. A little crown of tobika – the tiny red-gold flying-fish eggs common in sushi – lent a crunchy charm to the item. The signature rolls were to die for, too, although they bucked the trend of some local sushi establishments by being modestly stuffed and lightly adorned. No gut-busters here but some real flavor champs. The Freedom Roll featured a pairing of lightly fried banana and crab meat – the banana delivered a soothing, non-desserty aftertaste – with a topping of shrimp and avocado slices, sprinkled with sesame seeds.
Lobster fans shouldn't get too excited about the Mango Lobster Roll. The sumptuous crustacean is tempura-fried and packed in small bits alongside cream cheese and a sprinkling of smelt eggs. But the doughy, lightly sweet mango folded on top had the texture of a new, hard-to-define variety of sea fruit. The Hulen Roll was perhaps the sturdiest and tastiest of the bunch, with silken, bone-white tuna outside battling for taste supremacy with plump, almost translucent, wasabi-spiced scallops inside. The fare at Sushi Tao seems all about balance, contrast, and thoughtfully conceived combinations. There's something spiritual in that, but pay a visit yourself and try to pin their mantra down.
Sushi Tao
4954 Overton Ridge Blvd, FW. 817-294-7200. Mon-Thu 11am-10pm, Fri & Sat 11am-11pm, Sun 1-9:30pm. All major credit cards accepted.
Kani salad $5.95
Negima robata $3.50
Mango lobster roll $13.95