Singer-songwriter Elizabeth Wills recently relocated to her hometown of Fort Worth after a few years working a non-musical gig in the gorgeous mountain city of Aspen, Colo.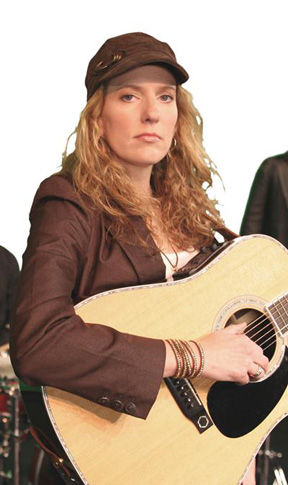 But hers is not the tale of an "almost-was" musician returning humbly and gratefully to her roots after an Icarus-like attempt at national success. Wills is coming back on her own terms, with more artistic support and national exposure than this prodigal thirtysomething artist has ever known before. "I've worked very hard, but I've also been very lucky," Wills said. "The time off has really invigorated me." It also has provided her with a new album, a new recording label, and a growing presence on satellite and broadcast radio playlists.
Wills was raised in a musical household. Both her brother and father played drums and jammed with local musicians for kicks, and young Elizabeth began taking piano lessons at the age of six. As much or more than all those factors, though, were the artists that her mother constantly played on the stereo. Joni Mitchell, Willie Nelson, Joan Baez, and Stevie Wonder were, creatively speaking, almost like beloved aunts and uncles for the young girl, their songs an inextricable part of childhood memories.
Wills eventually learned acoustic guitar and began writing songs. By the time she graduated from Nolan High School, she was already playing in coffeehouses and clubs in Fort Worth, Denton, and Dallas. Poised atop a stool, nimbly strumming her guitar, she looked and sounded older than she was. Early on, she had ditched hipper-than-thou cynicism for lyrics that talked about strength in adversity and the beauty of friendship. Her voice, though, had more of an R&B sizzle than your average earnest folkie. She caught the attention of local music writers, and by 1998, when her first professionally produced and mastered CD was released on Dallas' Crystal Clear label, people were declaring that Wills was on a one-way escalator that led straight to the national stage. Her flirtation with the corporate music suits, however, was a long, frustrating, and ultimately fruitless one.
Over the years, she said, she talked with several major-label reps. "Nobody seemed to be interested in helping me develop as an artist over the longer haul," she said. "The unspoken message was, 'We want to put all our muscle behind your first album being a big hit, and if it's not, then, "Next!"' There wasn't a feeling of being supported, you know?"
Although she never stopped writing songs, Wills voluntarily stepped off that alleged escalator. She had friends in Colorado, and she loved the mountains. She played her last local gig – as an opening act at Bass Performance Hall in 2004 – and the next year she relocated to Aspen. She got a job in the city's recreation department as an assistant supervisor for youth sports programs. Hiking and horseback riding took up her leisure hours.
She said she was happy to take a break from the music business, though not at all from music itself. "I think that's because I always knew I'd come back to it," she said. "I'd always play an occasional gig in Aspen." She also became friends with Melissa Wight, who hailed from New York City and still had musician pals up there. When Wight heard Wills play for the first time, she declared that Wills simply had to return her full-time focus to her music. Wight was such a fan that she established a small indie label called Erian Records, eventually employing a staff of three or four to assist with promotion and production. Wills would be the nascent label's first artist as well as its selling point. Erian eventually secured a distribution deal with Fontana/Universal for Elizabeth's first CD in 10 years, which she began recording a year ago.
In the meantime, Wills heard that her drummer friend Mitch Marine, an alumnus of the University of North Texas who had played with Brave Combo, was coming through Aspen in his new capacity: manning the skins for Dwight Yoakam. Wills opened for Yoakam at a club called the Belly Up, and the instant she hit the stage, "I had that rushing sensation that was like, 'Yes, this is where I'm supposed to be.'" The new album, Fly, is already available as an EP via iTunes and other digital stores; the full-length will hit the web and brick-and-mortar retailers by late spring. It's a sultry blend of self-effacing folksiness, insta-hook melodies, and shiny pop instrumental arrangements, all anchored by Wills' rich, wise vocal style. The album got production and co-writing assistance from some unusual sources, namely New York's Track Masters, a.k.a. the hip-hop production duo known as Poke and Tone. Poke had heard Wills strum out a handful of new tunes in a New York City hotel room. Though Wills said that she and Poke can't be more different – he is an African-American man from the North and she an Anglo Texas woman – their connection was instant and powerful.
"He was the first person to hear the same sound that I heard in my mind while I was playing [songs] in bare-bones form," she said. "He fleshed the music out, gave it spine and rhythm and sophistication." So far, the collaboration has proven effective. Tunes from Fly are in drive-time rotation in 13 national radio markets, including Los Angeles, San Diego, Albuquerque, and Denver and also can be heard on XM satellite radio's Hot-AC show "The Loft." This summer, Wills is expecting to tour as an opening act for a couple of different marquee performers, though nothing has been finalized. After her long ride to the national stage, though, what's most important to her is sticking to her guns on lyrical content. "I want to write about coming from a place of hope rather than feeling trapped, of choosing to try and be a better person rather than acting out of fear," she said. "There are enough experts in [musical] cynicism. I say, 'Uncle! Enough! Let's try to put some different thoughts out there.' "