The dark wood tables and booths at Brix Pizza and Wine Bar are surrounded by a single line of tall, imposing wine bottles.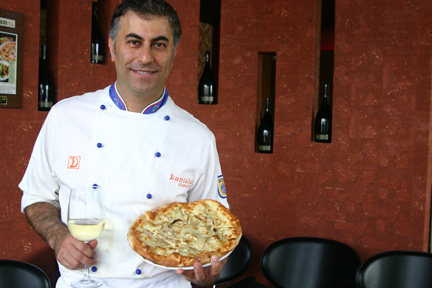 They look like soldiers or guardian angels standing lookout over the patrons to make sure they have an enjoyable sip-and-chew from the wine selections and recipes of owner-chef Daniele Puleo. Your buds would have to be scalded from too many chain pizza slices not to revel in the uniformly excellent pizza, panini, and vegetable dishes here.
The two pies we ordered were nothing short of spectacular. Brix's pizza comes in 10-inch and 13-inch sizes and with just one crust style: Sicilian thin. But this isn't the brittle, over-baked, cracker-like wafer that ruins too many thin crusts. It's soft and chewy, with little air-pocket domes full of steam from the brick-fired oven. The 4 Formaggi included mozzarella, parmagiano, gorgonzola, and velvety goat cheese. You'd think the sharp parmagiano and gorgonzola would be battling it out for supremacy, but the victor was the smooth, musky goat cheese in hot dollops.
Equally stellar was the prosciutto e rucola, with paper-thin slices of pungent ham, shaved strips of prickly, melted parmigiano, and whole, stem-on leaves of arugula. The prosciutto had tasty threads of fat that provided sensuous harmony to the bitter arugula.
The phrase "panini sandwich" is somewhat redundant, effectively translating to "bread sandwich." In Italy, panini can mean a variety of different baked loaves. At Brix, the panini is nearly an inch thick, chewy on the outside, cakey on the inside, and striped with grill marks from the oven. The Firenze is the kind of veggie sandwich that veggie-heads fantasize about but few Italian joints would think to sell. It's got thin slices of yellow squash and zucchini, narrow spears of asparagus, tomatoes, and red onion, and it's all grilled and brushed with a zesty basil pesto.
The Palermo, named after owner-chef Puleo's hometown, is a hearty delight of buttery avocado wedges, mozzarella, strips of grilled white-meat chicken breast, romaine lettuce leaves, and a thin spread of mayo across the two panini slices. The side of accompanying french fries was the only disappointment. They were pillowy and flavorless and revived bad memories of the frozen taters from elementary school lunches past.
It may seem like nitpicking, but the limp fries stood out sharply amidst one gustatory victory after another. So let's just say that Brix was just one bad spud batch away from perfection. All restaurants should be so lucky.

Brix Pizza and Wine Bar
Firenze $8.75
Prosciutto E Rucola $13.00
4 Formaggi $11.00