A whole slew of events this week is going on thanks to the More Life Festival.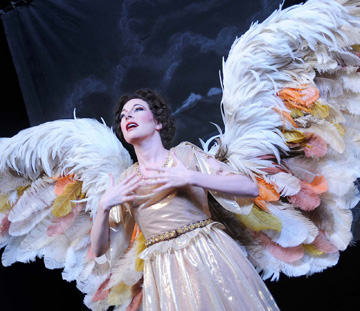 The result of three different AIDS organizations working together, this series is designed to raise awareness and also to show patrons of the arts a good time. Contemporary Dance/Fort Worth and Stage West are collaborating on a stage work that will open this weekend at Sanders Theatre, though details are sketchy at this point, so that's all we can say. We can tell you more about Deborah Jung's Angels at My Door, a book that she co-wrote with local children whose lives have been touched by HIV or AIDS. She and her co-authors will be on hand at Fort Worth Central Public Library to read from this book.
Over at Scott Theatre, two different shows will receive one-time performances on Saturday: Rob Bosquez' play Julie From Nowhere, about a 15-year-old girl living with AIDS, and the musical comedy revue If It Feels Good, It Must Be Wrong. The most interesting event, however, is the one kicking off Fort Worth Opera's 2008 festival. Transylvanian composer Péter Eötvös (pronounce the last name EHT-vosh) debuted his opera version of Tony Kushner's play Angels in America in Paris four years ago and in America two years ago, to mixed reviews. Now it takes the stage for the first time in North Texas, so local music-lovers can judge for themselves this work whose source material would seem to readily lend itself to operatic treatment.
Check Calendar listings for dates, times, locations, and ticket prices for these events.