Acknowledging that The Trinity Session was their defining album and that 20 years have passed since it was released, the Cowboy Junkies re-recorded the entire album and have just released it as Trinity Revisited.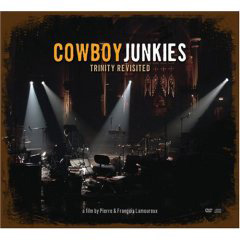 The ostensible goal was to improve upon that classic, and, by all appearances, the band has. With its country leanings haunted by a quiet rock 'n' roll soul, the band has always been a little bit south of the mainstream. When siblings Michael, Margo, and Peter Timmons and bass player Alan Anton recorded The Trinity Session in 1987 (releasing it a year later), they did the whole thing in a few hours around one microphone at the Church of the Holy Trinity in Toronto. This time, they brought in guest musicians Ryan Adams, Vic Chestnut, Natalie Merchant, and Jeff Bird and re-explored the songs during a one-day recording session that filmmakers Pierre and Francois Lamoure shot for an accompanying DVD.
While the thoroughly modern footage can be intriguing, the music – old and newly "discovered" – remains the core. On both their own dozen songs, presented in the same sequence as on the original album, and in covers of others' classics, the Cowboy Junkies display a depth of artistic growth that should but doesn't always come with experience. They've still got that often forlorn sound, and it shows from the first cut, a reinterpretation of the traditional "Mining for Gold," to the last.
Whether on their own songs or new interpretations of classics by Hank Williams ("I'm So Lonesome I Could Cry") or Lou Reed ("Sweet Jane") or their reworking of Richard Rodgers and Lorenz Hart's "Blue Moon," Cowboy Junkies deliver a record that is as thoroughly compelling and involving vocally as it is instrumentally. – Tom Geddie