Canadian J.W. Jones' fifth CD, Bluelisted, flavors electric blues-rock with bits of old-style R&B and even, from time to time, swaggering rockabilly.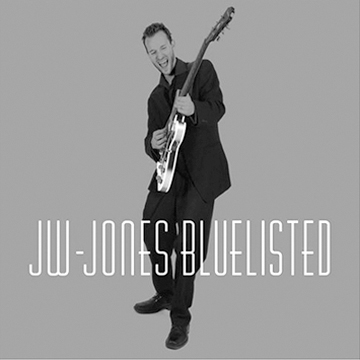 When he sticks to that blues-rock material, the sound is good but tends to get a little formulaic. When he and his guests here, including guitarists Little Charlie Baty and Junior Watson, play a little more loosely, interesting things happen, and, more often than not, they work. The guitars are accompanied by the usual arrangement of bass and drums and, while the fretwork is the thing, the traditional configuration also allows some harmonica, saxophone, and keyboards to pop in from time to time. The CD marks the first-ever recordings of Watson and Baty, who have a combined 70 years of experience.
Jones, who started out as a drummer, has played guitar with both of those West Coast fixtures and with blues-fraternity brothers The Fabulous Thunderbirds (Kim Wilson produced Jones' third disc), Anson Funderburgh & The Rockets, Rod Piazza, Hubert Sumlin, and others. The 14 tracks here are a mix of Jones' own songs and covers of staples such as Riley King's "That's Wrong" and "Waiting on You" and Richard Berry and Joe Josea's "Mad About You." Still, Jones' own "Wasted Life" is one of the album's highlights.
The band is tight on the standard stuff, and a little messy (which isn't always a bad thing) on the closer-to-experimental material and the old-style swing instrumental "Heavy Dosage."
Bluelisted probably was a lot of fun to record and certainly is a solid listen for anybody who's into the electrified version of the blues, a genre that drew its inspiration from the era when rural acoustic music migrated to the electric city. – Tom Geddie