Restaurants come and go, and in Southwest Arlington, the turnover is especially pronounced.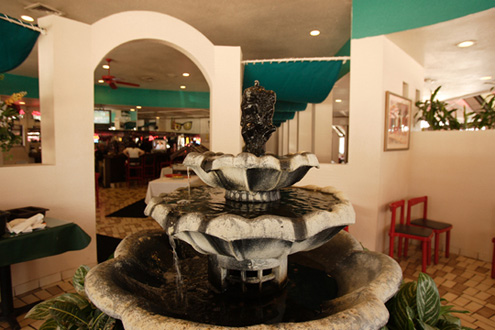 Two great places where I waitressed in my teens no longer exist, victims of chain restaurants nearby, no doubt. So when a non-chain Southwest Arlington establishment approaches its 25th anniversary, there's cause for pause. It had been years since I visited Café Acapulco, but walking in, I had kind of a flashback. Not to my youth, when the drinking age was 19 and we would gather after a shift at the late, lamented restaurant above the café for cheap margaritas. No, I flashed back to a restaurant on the Mexican border outside of Del Rio. The memory of the name has faded, but the place had a little fountain in the center and plastic green-and-red tablecloths, just like Café Acapulco.
I also flashed back when I saw the menu – the prices evidently haven't been updated since 1984. The $3.50 non-happy hour margarita I got while scanning the menu was as cheap as most restaurants' happy hour version. I was charmed and bemused to see on the bar menu that Café Acapulco also serves a "Brandy Alexander." Seriously, I didn't know people still drank those.
The menu consists of two brightly colored pages of simplicity. Purists will blanch when they see the "queso hamburguesa" on the menu. However, we don't have a lot of purists in Southwest Arlington, so the menu is free to be more Tex than Mex. There are only a few appetizers: six different kinds of nachos and fried jalapeños. My gringo spouse doesn't like anything too spicy, but he ploughed into the cream cheese-stuffed jalapeños like they were candy. For a pre-packaged, previously frozen ap, they were tasty and came with a generous scoop of homemade, fresh, chunky guacamole.
The café's several seafood dishes lean heavily on the shrimp. The Acapulco Flameado is basically surf and turf: a mélange of steak, shrimp, green peppers, and onions, doused with a shot of Everclear and set on fire tableside. While the presentation was impressive, the beef looked and tasted like Doritos. The butterflied shrimp, though, were succulent and full of flavor, which was odd, considering that seafood usually dries out, not beef. The veggies had beautiful grill marks but were actually underdone – not so yummy. The tortillas, ordered as a side, were not homemade – another bleah. The dish also came with more of the guacamole and a healthy serving of frijoles refritos.
While I'm on the subject of beans, I could swear that the frijoles at Café Acapulco were made in the traditional style. They tasted deliciously lardy, with that smooth texture that usually comes only from beating the beans into submission along with a hydrogenated animal product. However, I was assured that the beans were 100-percent vegetarian and cooked in vegetable oil. So although the beans were delicious, I can't call them "lardy." The Chef's Favorito platter came with a queso enchilada, a beef enchilada, and a beef tamale, along with more of the beans and some unremarkable rice. The queso enchilada was a winner, with just enough melty cheese and a nice thick corn tortilla wrapper. The con carne enchilada was OK, but the beef tamale was overcooked and dry.
Surprisingly, the small bite I got from my son's soft beef taco was truly tasty and the meat flavorful and spicy. I don't know how Acapulco's cooks season their ground beef, but I wanted more of it.
I was also pleasantly surprised to learn that two desserts – flan and sopapillas – are homemade. In fact, the sopapillas are freshly made to order, so they take a few minutes to arrive at your table. The creamy, slightly cinnamon-y, caramel flan was a silken puddle of perfection. The sopapillas were huge, perfectly puffed, and almost too hot to eat – not that the temperature stopped us. Covered with cinnamon, sugar, and honey, they were worth the mouth burns, a wonderful end to a meal that had its ups and downs.
Café Acapulco's fare is reasonably priced. The lunch specials, served daily, run between $6 and $9. The most expensive dishes don't break $13. The service is quick, and the location – on the corner of Green Oaks Boulevard and Pleasant Ridge Road – must be one of the draws. Despite the plethora of Tex-Mex chains that have sprung up throughout Arlington, Café Acapulco has stood the test of time. Maybe the magic is in the flan or the frijoles. Or maybe Acapulco owes its success to the prices. Regardless, no matter how old you are (or aren't), at Café Acapulco, you can party like it's 1984.
Café Acapulco:
Chef's Favorito Platter………………$7.35
Acapulco Flameado………………..$12.39
Fried jalapeño………………………… $5.99
Flan……………………………………….. $3.65
Sopapillas………………………………..$3.75