All over the Fort, old neighborhoods are being rediscovered and redeveloped faster than you can finish this sentence.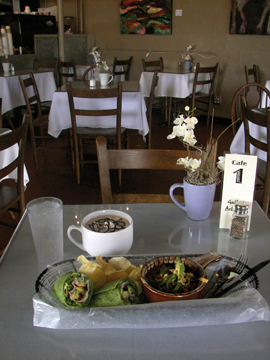 In this new reality, a friendly local café usually either closes down or adopts a new identity to accommodate "the winds of change" circa 2008. Miraculously (a.k.a. so far), nothing has dramatically changed at Gallery Art Café, located at the admittedly barren intersection of South Jennings and Pennsylvania avenues. Previously known as Coffee House Gallery, the corner-store spot served a double mission: offering a daily menu of freshly made sandwiches, wraps, soups, and salads as well as almost two dozen different coffees, lattes, espressos, mochas, and cappuccinos.
Under new ownership and now called Gallery Art Café, the restaurant has expanded the breakfast and lunch offerings and maintains its reputation as a kind of South Fort Worth speakeasy for folks seeking a reliable neighborhood caffeine fix. It's more of the same but definitely improved, based on a recent late-lunch visit. Two of the café's wraps proved to be among the freshest, tastiest creations on the menu. The Della Bella Wrap was a bulls-eye summer lunch delicacy that featured a thin, soft wheat pita roll stuffed fat with bright field greens with skin-on red tomato chunks, moist and crispy spinach leaves, a dusting of pungent feta cheese crumbles, smooth curves of avocado, and a mother lode of tender portobello mushroom nuggets marinated in a potent kick of balsamic vinaigrette sauce.
The Cats Wrap is so named because of its main player, tuna salad, and is composed of solid white pieces of albacore Charlie in a sweetish mayo sauce. Tasting wonderfully homemade, the salad was accompanied by cool romaine lettuce shreds, tomatoes, thin red onion slices, and the same folded wheat pita that had that satisfyingly bitter spinach tucked inside. Both wraps were served with a choice of potato chips – baked, salty spud crisps in abundance – or a side salad, which included more of the same red and green leafy explosion of tomato and romaine, with that finely crumbled feta and equally tiny, greasy bits of bacon. While relatively modest, these side salads weren't afterthoughts. Add the sour-fruity house raspberry vinaigrette, and Gallery Art Café deserves gold stars for attention to detail.
Most of the sandwiches were good, not great. The Salvador Deli on toasted wheat bread was not the exotic creation that its clock-melting mustachioed namesake might suggest, just a sturdy BLT (heavy on the crisp, wide strips of bacon) with a thin-sliced deli stack of ham and turkey meats: tasty enough, but not a lot of ambition or creativity on display. The Picasso was even less revolutionary: a flat grilled chicken breast with a trace of fat left around the edge, wedged between two grilled, crunchy sesame seed Kaiser rolls. Fridge-fresh romaine, tomato, and thin red onion hoops were arranged on the side, with individual "fancy" packets of ketchup and mustard, which was a nice, Waffle House-ish touch, but probably not worth any blue ribbons. Everyone's Favorite, on the other hand, was a glorified grilled cheese sandwich – with heavy emphasis on the glory part, please. Thick, sharp cheddar and mellow provolone oozed over the sides of the sourdough bread and included meaty bacon and luscious extra fixings of grilled jalapeños and onions: truly an aesthetic experience.
Gallery Art Café:
Salvador Deli…………………………..$7.95
Della Bella ……………………………..$7.95
Cats Wrap……………………………….$7.95