With their new album, the guys in Exit 380 have reached a creative milestone that few groups imagine, especially if those groups started out as cover bands.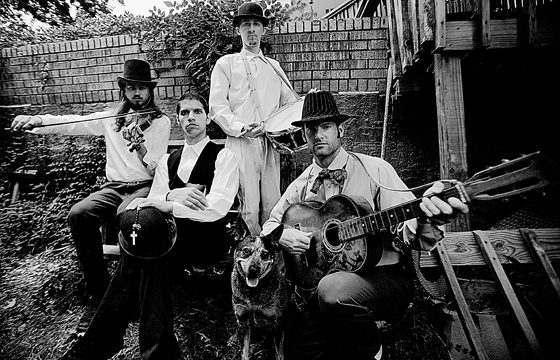 The Life and Death of Mr. and Mrs. Alexander Stone is a concept album with a vague, CD-length plot. Although occasionally precious, the disc also is affecting and even hypnotic, and it earns the elegiac tone with real melancholy for one lonely lifetime shared by a married Texas couple in the 1930s. Lead singer-songwriter Dustin Blocker is the mind behind much of Exit 380's surprising success. They regularly pack clubs throughout the Southwest and have sold thousands of CDs via their web site and at their raucous, fan-friendly live shows. What has really sustained Exit 380, however, is a relentless march toward ever-higher artistic climates.
"Sometimes I listen to the first couple of CDs [released in 2000 and 2003]," the raspy, bass-voiced Blocker declared cringingly, "and I think, 'How did we manage to get any fans?' I'm glad they heard something we didn't. But we've always wanted to take the experiment to the next level, even if the jump was small." The 29-year-old Blocker was born in Fort Worth but spent much of his youth in San Angelo, where his father was music director of a large Protestant church and his mother was a music teacher. His musical diet consisted of church hymns and a smattering of Christian pop. The menu changed dramatically when he graduated from high school and, in 1997, moved to Denton to study at the University of North Texas. The unholy influences of secular, guitar-based gods – classic rockers like Black Sabbath and Led Zeppelin and '90s standard-bearers like Nirvana and Pearl Jam – expanded his horizons but didn't crush his spiritual leanings.
"I had this idea that rock music, like all art, should talk about the same things that religion does," he said. During his college musical baptism by Plant and Vedder, the singer-songwriter "found out that great rock bands already talked about those things. But they didn't use the church words that divide people." He wanted to sing about living and dying, hope and despair, choice and fate, youth and old age, and he wound up doing so in local clubs and house parties, in a cover band called Exit 380. "That's where we built our fan base," Blocker said, noting the countless hours he and his fellow instrumentalists logged playing other people's tunes in watering-hole jam sessions. "We honed our live skills way before we had any artistic discipline. It was all about 'Look how sweaty I can get onstage!' And we always made a point of mixing with people [afterward], hitting the bar for beers, and talking to everybody who'd seen the show."
Soon Exit 380 – Highway 380 is the main drive through UNT – began to veer away from other people's tunes and toward their own. Blocker composed more new material and included it in live sets. As band members came and went, bits of jazz-flavored improv, greasy blues riffs, and articulate country picking worked their way onto the stages and into recordings. Steadfast players Jon Hutchison on bass and Aaron Borden on guitars fueled the adventurous direction, but even Blocker said the band lacked focus in the three original full-lengths that were released between 2000 and 2006. (Exit 380 might be self-critical, but they've rarely lacked confidence – they also released a "best of" compilation in 2005.) By that point, they'd earned a reputation throughout Texas, Oklahoma, Arkansas, Kansas, and Tennessee as a bar band with a ferocious live presence and a varied, tenderhearted musical sensibility.
Listeners to The Life and Death of Mr. and Mrs. Alexander Stone will be struck by Dustin's most obvious influence as a vocalist, Eddie Vedder. Blocker doesn't deny that Vedder's leonine combo of roaring outrage and breathless purring has shaped his own. "He was the only singer I heard whose voice was deep enough for me to follow along with the notes," Blocker said. "I could sing the same parts he sang." But finally: "Every musician has big influences, and you just hope that you can take them and make something new." Exit 380 has reached a new technical level with Mr. and Mrs. Alexander Stone. After years of giving over their sound to producers and engineers, Blocker and company self-produced, -engineered, and -mixed the entire CD during a nine-month period at the Fort Worth home of guitarist Borden. This was a scary leap down the rabbit hole for all of them: Bassist Hutchison played piano and organ parts after many years of not touching the keyboards. In its twangy, brooding Depression-era tale of a marriage haunted by mortality, the album is an intimate family affair. Some of the bandmembers' relatives performed on the album and will perform with the band during its upcoming string of shows.
"We want these shows to be as much live theater as live music," Blocker said, noting that only songs from Mr. and Mrs. Alexander Stone will be performed. ("No old stuff.") A total of 10 players onstage will re-enact the mythical Stone marital saga. The players have been rehearsing together in three- and four-hour sessions. Blocker hopes it will all fit together onstage. But mostly he's betting on a principle that's been vital to Exit 380's progress so far: "The stranger we get, the better we get."
Exit 380 w/Wolf-Rayet and Remington Rafael
Sat at Lola's Saloon, 2736 W 6th St, FW. $6. 817-877-0666.