There's a lot going on right now that we need to pay attention to, and none of it is fun: a shitty economy, a U.S. presidential campaign that's annoying and superficial, and the final days of Dubya's corrupt, inept administration. To borrow a title from a famous book, a lot of people share the sense that they're waiting to exhale.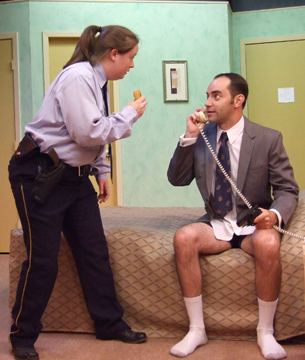 Maybe that's why the laughter reached a frenzied level at times during Saturday night's performance of Unnecessary Farce, an area premiere courtesy of Circle Theatre. The theatergoers were eager to surrender their attention to something so boastfully frivolous. The title of Paul Slade Smith's wild, shticky comedy is in a way redundant. Part of the definition of a farce is that it lacks redeeming social or political value. This genre exists solely for the pleasure of audiences that want to catch actors in various compromising positions – in their underwear, panicking at the business end of a pistol, frantically trying to make a wrong situation right. Seven skilled performers did all that and more in a sublimely goofy production helmed by director Robin Armstrong.
The first draft of Unnecessary Farce was written in hotel rooms while its author toured as an actor with a national company of Phantom of the Opera. While that doesn't sound initially promising, a certain throwaway quality is vital to the spirit of the show, which is set in – surprise! – two adjoining motel rooms in an anonymous city. To summarize the plot is both pointless and spoiling. The show relies on certain turns of event and details to advance the mayhem, but like all creatures of the farce species, the mayhem itself is really the point and could ensue in many different theatrical scenarios. Circle's production involves two police investigators (Chad Gowen Spear and Becca Shivers) who are trying to catch the mayor (Gary Moody) in a videotaped sting operation confessing embezzlement to an accountant (Jennifer Pasion). It turns out the suspected financial crime is not so simple. There's a larger scheme involving an organized crime syndicate, which draws in the mayor's bodyguard (David H.M. Lambert), the mayor's wife (Deborah Brown), and a tall, menacing stranger with a funny accent and a Scottish kilt (Justin Flowers).
That all sounds very vague, but if you're to get any satisfaction out of watching people thrash around in bed, attempt to dial a telephone with their arms and legs bound, or repeatedly get slammed in the head by opening doors, then you need to let Unnecessary Farce gradually confess its own small, absurd secrets. Director Armstrong is also credited in the program as "violence designer," and there's an abundance of harmless physical calamity that the performers execute with gleeful precision. While the actors never appear to break a sweat, the timing and bodily coordination required to contain all of this havoc, especially on Circle's small stage – not to mention simultaneously in the set's two rooms -should not be underestimated.
The cast displays as much adroitness with dialogue, gesture, and facial expression as with the slapstick. Over-the-top is the stylistic effect here, but it never feels forced or oppressive. Upon leaving the theater, audiences are likely to pick one or two favorites in this enthusiastic buffoon septet. I vote for Lambert as the mayor's security detail who's hilarious as both a would-be Lothario and a sniveling dealmaker when threatened at gunpoint. As the assistant investigator who's claustrophobic and who never quite mastered the use of handcuffs, Shivers demonstrates great, befuddled Everywoman appeal. Flowers, an actor I've come to associate with intense dramatic roles at Stage West, proves his comic mettle as a bagpipe-toting killer with a tendency to trip over his own brogue.
Unnecessary Farce offers delirious irrelevance that feels especially appropriate to the hot, humid fugue that is August in Texas. For anyone tired of angsty, elaborately themed DELETEs that force audiences to trot behind in search of multiple meanings, Circle Theatre's current staging will provide a much-needed playground. There's no need to pursue this show – it will happily follow you, wearing nothing but underwear, a pair of handcuffs, and a silly, inviting smile.
Unnecessary Farce
Thru Aug 23 at 230 W 4th St, FW. $20-30. 817-877-3040.