With a stellar new EP in pocket, The Campaign can mount a pianistic-rocking run at the Big Time.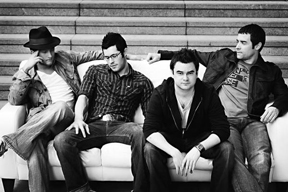 By JIMMY FOWLER
After forming in mid-2006, the pop-soul outfit The Campaign quickly earned a reputation for both novelty and sheer professionalism. First there was the oddity factor. Lead vocalist Tyler Wood on keyboards, Paul Jenkins on bass, and Blaine Crews made for a piano-driven trio with nary a guitar within earshot. But anyone who caught the threesome at their best witnessed guys who were wildly kinetic, able to deliver fierce funkalicious grooves and sweet three-part harmonies while reveling in cheerful onstage antics.
The Campaign released its second, eponymous EP earlier this year, and the change in style was, well, noteworthy. Some six months earlier guitarist Clayton Fike was added to the lineup. His precise, shimmery fretwork – as deliciously close to '80s New Wave as any Killers' song has gotten – dominates three of the five tunes on the disc, all produced by local genius Will Hunt. Wood, who's distinguished himself as a stellar practitioner of blue-eyed soul, lets his voice relax and recline in spacey multi-tracks. The Campaign is pleasurably sleek, contemporary, and radio-ready, proving that this quartet sounds at ease in unexpected territory. But does it signal a definitive new direction?
"No," said 25-year-old Wood simply, with a raspy laugh. "My philosophy has always been, a good song is a good song. I don't think our strength was only due to my keyboard playing." In fact, he said, quite the opposite: "Having a great guitarist like [Fike] opens up the possibilities of what we can play. It's always been important for us never to get trapped in one sonic vein."
---
Wood spent years toiling as a solo singer-songwriter in Austin before coming to Fort Worth to head The Campaign in its three-man version. Wood, Jenkins, and Crews had debated adding a guitarist since the band's inception. The novelty of relying exclusively on keyboards became as much a hindrance as a calling card – a good deal of piano-phobia still exists among music lovers who insist that you can't really rawk without an axe in the mix.
Still, The Campaign has hardly put the ivories in mothballs. Wood points to a contemplative rocker on the new CD called "Taking My Chances," in which his rhythm piano work rises to the fore. He remains the primary songwriter, and every tune he pens gets worked out at the keys. Woods' simple, authentic lyrics remain an essential ingredient of The Campaign.
"I'm the opposite of abstract in my songwriting," he said. "I like to have one message in every song that people can relate to. That's why I like country music lyrics. The songwriter picks a cliché and then plays with it by writing around it. I'm happy to write a song that's just about a guy who's afraid to approach a girl in a club."
As far as the apparent smoothing out of his trademark "white boy turned blue" vocals, Wood said that it's all a matter of balance. He reveres singers like whiskey-throated U.K. superstar James Morrison and bearded soul-folkie Ray Lamontagne. But Wood said he's grown weary of sounding like he's merely doing a "soul singer" impersonation with his own vocals. "I think – I hope – that as I've started to mature, I've realized that I didn't want to overdo that gruff, swoony quality," he said. "It'll always be there in different songs we play," but right now one of The Campaign's major goals is to demonstrate its stylistic versatility.
National exposure is also at the top of the band's 2009 to-do list. The Campaign's manager has been tirelessly circulating the band's CD to the usual suspects: A&R reps for corporate and indie labels, song publishers, tour promoters, you name it. Earlier this year the guys expanded their touring horizons around the state and outside of it, headlining shows in Louisiana, Oklahoma, and Arkansas. Wood has enough faith in The Campaign's live chops that he's willing to play for anyone who can provide a widely seen showcase. He knows the group is not easily labeled, but he likes the term "groove band" – their top priority is always the hook, the killer lick, the instantly memorable chorus.
Wood also is one of the few young musicians around who has something good to say about major labels. Horror stories are legion about alleged mistreatment of Super-Talented Local Band by Uncaring Corporate Suits, but Wood said: "I'm a little mystified by this anti-label bias. I mean, c'mon, the music industry is a business like any other business. It's unfair, like life is unfair. Bands that suck can get promotions, and bands that're great can get fired. But if you're signed by a label, and they put out a bunch of money, then they want a return on their investment."
For him, the U.K. band Travis and the Austin singer-songwriter Bob Schneider are examples of what artists can accomplish after rocky relationships with their own labels. "If you have one or two songs that people like, and then you're cut loose, people will still come out to see you," he said. "If you can build your own following with the live shows, then you'll have a career regardless."
Although he wouldn't reject living the life of a Coldplay member, Wood said The Campaigners are not gunning to be global pop celebs. Earning a comfortable living making full-time music would be just fine with them. "If we can get that first opening slot on a tour with a national band, I really think we can hook 'em," he said.