Bertha Coolidge gigs are about as infrequent — but as blazing — as falling stars, mainly because the band is truly only a band when all four members are in town at the same time. Multi-instrumentalist Joey Carter and guitarist Paul Metzger spend most of their days in the Fort. But drummer Rich Stitzel lives in Chicago, where he inventively keeps time for more outfits and in more styles than you can count, and bassist Aden Bubeck plays in country upstart Miranda Lambert's band.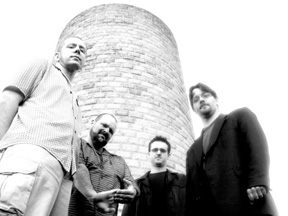 To accommodate the band members' comings and goings, Bertha's music is left open to improvisation. Always.
The whole idea behind Bertha is to let each member do what he does best. Which isn't as potentially hazardous as it may sound, considering that they've been playing together for about 10 years. "It's just so fun," Carter said. "It's like a comfy chair."
Bubeck and Stitzel played for years with local singer-songwriter Brad Thompson. Along with Carter on vibes, the pair would sometimes sit in on saxophonist Michael Pellecchia's Sunday night jazz jams at the old Black Dog Tavern on Throckmorton Street. After Metzger joined the mix, the four decided to begin working together in a free-jazz state of mind.
They started out by playing Tuesday nights at the indie-rock bar The Aardvark, where, Carter said they "basically practiced." Within about a year's time, the quartet had developed a strong live show. A gig at the late and lamented Caravan of Dreams was recorded and released as Live at the Caravan of Dreams, voted album of the year by Fort Worth Weekly readers in the paper's 2002 music awards. To date, Live is the only jazz album to earn the distinction.
Though the band relies on jazz structures and progressions, there's more than just souped-up versions of old straight-ahead standards happening here. There's also a lot of Mahavishnu-oriented fusion-rock. For Metzger at least, Bertha lets him mine "his inner '80s-rock star," which means he can trade in his normally finessed approach for mildly distorted shredding.
When orchestrating Bertha material, Metzger said, he likes to "think about the strengths of the band — it's about where we come from when we are a functioning unit, which lends itself towards groove."
Of course, the brunt of said groove production falls to the rhythm section. Stitzel, often furiously streaking from one side of his kit to the other, is a pounding though extremely fluid player, and Bubeck is excellent at tempering the beats by laying down big, steady, no-nonsense riffs. "He's so solid," Metzger said. "A lot of bass players want to be trumpet players. They obscure the function of the bass. … [Bubeck] is a real pleasure."
As if one member's living in Chicago wasn't enough to hamper future Bertha gigs, Bubeck is planning to relocate with his family to Nashville, to be closer to Lambert's base of operations.
North Texas' loss might mean Music City's gain. Nashvilleans, Bubeck said with a smile, "would dig it too."
What will be interesting about Bertha's upcoming string of local gigs is that the foursome will set aside some time to do some recording. An offer was extended to them by legendary local musician/producer Johnny Reno, whose regular backing band includes Carter and Metzger.
Bertha Coolidge doesn't seem to be going anywhere anytime soon. "It's a long-distance relationship," Carter said. "There's no financial pressure. We play on our own terms. … If we played more often, would the spontaneity go away? We don't know."