Singer-songwriter Josh Davis is known for his casually masterful, blues-inflected country tunes. His two biggest influences are iconic troubadour Merle Haggard, whose songwriting Davis constantly holds up as the standard, and the pioneering electric bluesman T-Bone Walker, whose tattooed likeness covers most of Davis' forearm. But the person who originally got Davis passionate about music was a decidedly more flamboyant showman than either Walker or Haggard.


"Man, I really wanted to be David Lee Roth when I was a kid," said the Fort Worthian, his raspy voice rising with enthusiasm. Davis remembers when the media began to push 1984, the then-current album from Van Halen, the hard-rock quartet for which Roth sang lead vocals. "I was hooked," he said. "People assume now because of my guitar playing that [VH guitarist Eddie Van Halen] was my hero, but it was David."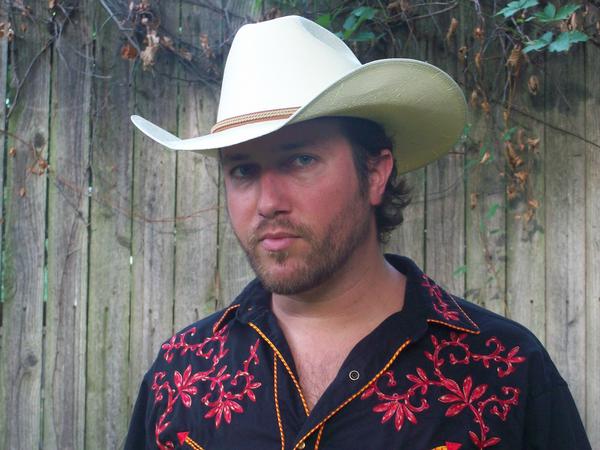 You won't catch Davis doing any of clown-prince Roth's leaps and splits, but even now there is a hint of old-school arena-rock crowd pleasing in the instantly memorable melodies that Davis writes and performs. His fourth solo album, Fighting for Last Place, has just been released, and he's in the midst of finalizing his first European distribution deal. The CD is crowded with heartbreak songs, which is no coincidence, since Davis' heart was recently "destroyed," he noted with a mischievous chuckle. Musically, the tears in his beer on Fighting are flavored with a little Buck Owens and, for raunchy spice, some Rolling Stones.
Davis sounded far older than his 33 years during a recent telephone interview from Los Angeles, his latest stop on a 16-city mini-tour with his five-piece band. The self-taught guitarist has essentially been a working professional musician since the age of 15. He started off in a metal band and gradually worked his way into the North Texas blues scene, gigging with musicians decades older than he was, including the legendary Robert Ealey, Hash Brown, and Holland K. Smith. By the age of 23, he was signed by Topcat Records … along with a 12-piece swing band he'd assembled (a whole 'nother story). Although he's never had a formal lesson, Davis has gone through a very rigorous, total-immersion curriculum in the school of music.
"I was so green when I started out, like everyone is," he said. "But in my case, I had to practice the hell out of my guitar to be able to stand up there with these people who'd been doing it for so long.
"I've got a lot of experience for a guy my age, in all areas of the business," he continued. "I challenge anyone who says they want to be a musician to learn how to book a tour on their own, gather the musicians, rehearse, and hit the road. There are expectations to be met."
Eventually, all of the responsibility Davis had taken upon himself became burdensome. He formed the celebrated and recently defunct country-rock outfit Speedtrucker with his buddy Mike Cox in 1999, in part because he wanted to be "just a band member" again. He also felt a need to further explore the twangy Americana stylings of one of his heroes, guitarist Roy Nichols, who had played with Haggard. For the next seven years, Speedtrucker regularly sold out local and national clubs. Their CDs sold thousands of copies. They opened for a very frail Waylon Jennings, who remained seated at the mic during his short sets, not long before he died. They also were, according to Davis, one of the hardest-drinking bands on the scene. Band members brought fifths of Jack Daniels onto the stage and liberally partook during performances, a habit, it should be noted, that Davis has not continued as a solo artist. "Now my name is on the marquee, so if I come out on stage wasted, I'm the only one they're going to remember," he said.
In 2006, Davis' buddy and Speedtrucker lead singer Cox developed multiple sclerosis, and the group disbanded rather than replace him. Members still get together and do benefit shows for MS research, however. As for Davis, he simply picked up where he left off — touring relentlessly and recording his own material — except that this time he'd completed his next transformation, into a country artist with traditional influences (called by some, ironically enough, "alt-country"). (Such is the age of Nashville, Inc.) He also has developed a songwriting routine that's unique.
"I'm always carrying words and melodies around in my head," he said. "Some people write one song at a time. When I sit down to write, I hammer out a dozen songs at once. Once my head is full, I just turn on the faucet and empty it out."
That was pretty much how he composed Fighting for Last Place. The album feels like an exceptionally confessional batch of tunes from an artist whose friends have always remarked about how much intimate personal detail he discloses in his material. Some of the stories could have happened only on the road, like his brief marriage to a Brazilian flight attendant who didn't speak English. (Davis never learned to speak Portuguese, so at least they had that in common.) She'd seen him perform in Brazil and contacted Topcat Records, saying that she wanted to meet him. They hooked up in Dallas, got hitched … and then discovered their personalities were way too different to sustain a marriage. They still stay in touch, though.
As for Davis, he's more determined than ever to build a following out of the state and out of the country. Once the new distribution deal gets his CDs in European stores, he expects to tour there. He loves Fort Worth — he's got an apartment downtown — but establishing far-flung fan bases are part of his master plan.
"Some bands get really popular in Texas, they play for 2,000 people a night, but when they cross the border, nobody knows who they are," he said. "If their popularity in Texas drops, they're done for. I'd rather be able to draw 200 people in out-of-state clubs and get my name out there. It's about career longevity."