With the weather turning cooler, it's a good time to stay indoors while pursuing a good time. Two sports events are going down on Saturday night in northeast Tarrant County, so you'll have to choose.


The Dallas Invitational Judo Tournament is a regional qualifier for the 2012 Summer Olympics in London – yes, the qualifying for that event has already started. Competitors (in this sport, they're called judoka) in different weight classes and both genders will be looking to gain points for a spot on Team USA and also for some cash prizes. You might want to brush up on your Japanese. This is a Japanese martial-arts form, so referees all over the world give commands to the fighters in the language.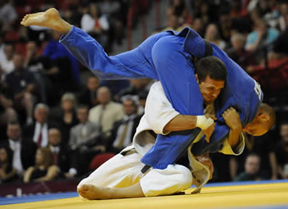 If that's not your style, maybe you'll go for indoor soccer. In case you don't know, indoor soccer is to regular soccer as arena football is to regular football. The athletes' skill level isn't the greatest, but the smaller, walled-off field leads to a faster-paced, higher-scoring version of the sport that can be massively entertaining. North Texas has a new team in the Professional Arena Soccer League called the Texas Outlaws, who share NYTEX Sports Centre with the Brahmas and feature some former Dallas Sidekicks players like Patrick Shamu and Marcus Marquez. They play their second home game ever, against Calgary United.
The Dallas Invitational Judo Tournament is at 7pm Sat at Hilton DFW Lakes,
1800 Hwy 26, Grapevine. Tickets are $5.
Call 817-481-8444.
The Texas Outlaws kick off at 7pm Sat at NYTEX Sports Centre, 8851 Ice House Dr,
N Richland Hills. Tickets are $10-28.
Call 469-464-5684.