If you've never heard Tuvan throat-singing before, you'll be left wondering how one human voice can seemingly produce two, three, or even four distinct pitches at the same time. The practice has roots in the spiritual beliefs of animal herders in Tuva, a remote region that's now an autonomous republic within the Russian Federation. The vocal ensemble Alash perform this unique musical style at noon at SMU, Owen Arts Center, 6101 Bishop Blvd, Dallas. Admission is free. Call 214-768-2787.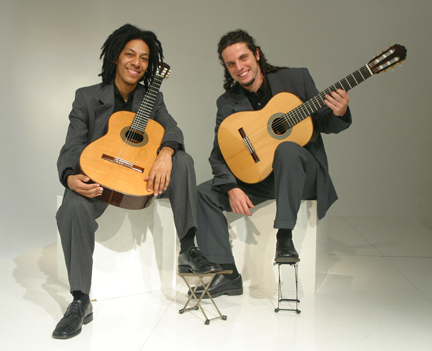 The Brasil Guitar Duo (made up of João Luiz and Douglas Lora, both São Paulo natives with impressive hairdos) come to Fort Worth Classic Guitar Society to perform a program heavy with Brazilian music, including some original compositions by Lora and an arrangement by Luiz of Bach's French Suite No. 3. The concert is at 7:30pm at Modern Art Museum of Fort Worth, 3200 Darnell St, FW. Tickets are $25. Call 817-498-0363.
Runway Theatre's new production Night Watch has nothing to do with the recent Russian superhero movie by that name, though this story was made into a movie back in 1973 starring Elizabeth Taylor. The thriller about a mentally unstable woman who thinks she has witnessed a murder is by Lucille Fletcher, better known for her radio plays (Sorry, Wrong Number and The Hitch-Hiker). Let's see how well it holds up on stage. The show runs Mar 20-Apr 5 at 215 N Dooley St, Grapevine. Tickets are $12-15. Call 817-488-4842.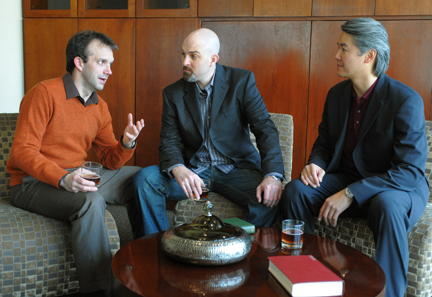 Just as the three friends in Yasmina Reza's play Art argue about the meaning and value of a white-on-white painting, so theatergoers have argued over whether Reza's play is a probing commentary on aesthetics or merely a sophomoric exercise in bashing easy targets. You can join (or rejoin) the debate when Circle Theatre puts it on this weekend. The show runs Mar 19-Apr 11 at 230 W 4th St, FW. Tickets are $10-30. Call 817-877-3040.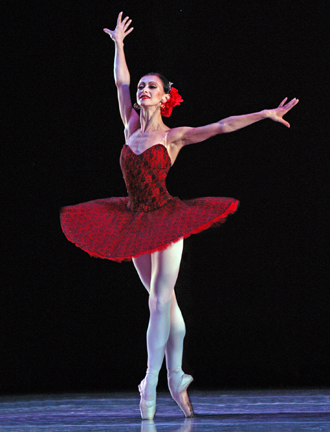 Fort Worth Symphony Orchestra offers some enticing rarities this weekend. Shostakovich's crushing Tenth Symphony is counterbalanced by Diego Luzuriaga's Responsorio, a splashy contemporary piece inspired by Ecuadorian folk music, and the pleasing Cello Concerto by Eugen D'Albert, who ironically was considered one of the great pianists of the late 19th century. The concerts run Fri-Sun at Bass Performance Hall, 555 Commerce St, FW. Tickets are $10-78. Call 817-665-6000.
Frederick Loewe was a Viennese expatriate, yet in his career as a musical theater composer in America he successfully imitated Scottish music (in Brigadoon) and French (in the film Gigi) to popular effect. Ponder that while you're listening to his Spanish pastiche "The Rain in Spain" during Artisan Center Theatre's production of My Fair Lady. The show runs thru Apr 11 at Belaire Theater, 420 E Pipeline Rd, Hurst. Tickets are $7-16. Call 817-284-1200.
An artist who can make still-life drawings of fruit and flowers look moody and menacing, Donald Sultan comes to the Modern's Tuesday evening lecture series to discuss his work and promote his book, Donald Sultan: The Theater of the Object, which looks back on his career of charcoal drawings and paintings taken from iconic images and newspaper photos of disasters. The lecture is at 7pm at 3200 Darnell St, FW. Admission is free. Call 817-738-9215.