25 ? WED
Chicago native Stuart Dybek is a poet and short-story writer with a great eye for realism (like many other writers from Chi-town), but he also has a tendency to strike surreal notes, as in "Death of the Right Fielder," which subverts the conventions of stories about athletes dying.

The author is at UNT today, where he'll be answering questions about his work at 4pm at UNT Auditorium, W Hickory St between avs A & B, Denton. Then he'll read from his work at 8pm at Gateway Center, N Texas Blvd between Eagle Dr & Highland St, Denton. Both events are free. Call 940-565-2050
26 ▪ THUR
Theatre Arlington's new show, Are We There Yet?, has nothing to do with the movie starring Ice Cube and a couple of kids. (Strangely enough, though, the play debuted on stage a few months after the movie came out.) This musical revue uses songs to depict the lives of married couples at various stages of parenthood. It should be entertaining, but it'd be cooler if the show had some early '90s-style gangsta rap like Cube used to do. The show runs Apr 27-May 26 at 305 W Main St, Arlington. Tickets are $10-15. Call 817-275-7661.
27 ▪ FRI
One doesn't usually think of the tuba as a jazz instrument, but the heavy brass piece can take the place of a string bass very well, especially for outdoor performances. This weekend's TCU Jazz Festival will feature tubist Howard Johnson, who will perform with various ensembles and give free clinics to fellow players of the instrument. The festival runs Fri-Sun at 2800 S University Dr, FW. Admission is free. Call 817-257-7602.
28 ▪ SAT
Spring Gallery Night springs itself on us this evening, with relatively few gallery shows opening but one-night shows running at most of the usual places (Galerie Kornye West, Arts Fifth Avenue, Studio 5) and a few unusual ones (DMS Architects). The most intriguing one looks to be F6 Gallery's The Girl Show, featuring all female artists. Check our Calendar section for times, locations, and contact information.
29 ▪ SUN
Did you know that The Rocky Horror Show has been recorded in at least nine languages? UNT is putting it on this weekend, presumably in English, so we suggest that the next local troupe to produce Richard O'Brien's musical perform it in the Korean, Finnish, or Icelandic version. Odds are, the show's devoted fans would have no trouble at all following the action. The show runs Mar 27-Apr 5 at University Theatre, Welch & Chestnut sts, Denton. Tickets are $7.50-10. Call 940-565-2428.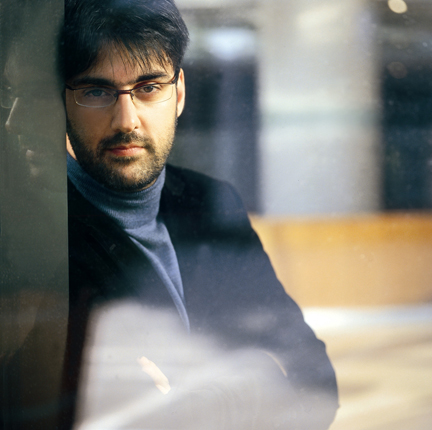 30 ▪ MON
Three violin sonatas in wildly contrasting moods and styles will be played by the Greek violinist Leonidas Kavakos at Bass Hall this evening. The up-and-coming 21-year-old will be accompanied by Italian pianist Enrico Pace in Beethoven's joyous Third, Shostakovich's tormented one, and Richard Strauss' luxurious, seldom-heard one. The performance is at 7:30pm at 555 Commerce St, FW. Tickets are $20-90. Call 817-335-9000.
31 ▪ TUES
It doesn't have the local charm of Rahr Brewery (see this week's cover story), but the Dogfish Head Craft Brewery of Milton, Del. is bringing some of its beers – excuse me, "off-centered ales" – to Flying Saucer this evening for a vertical tasting, meaning that different vintages of the same beer type will be sampled. (We're resisting the urge to make a cheesy joke about beer tasters remaining vertical.) You can sample the beers at 7pm at 111 E 4th St, FW. Admission is $35. Call 817-336-7468.