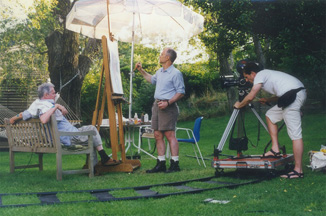 How do you keep a classic play like Our Town from going stale? It's simple – turn it into an opera. Of course, it helps to have one of America's best living composers write the music. That would be Ned Rorem, widely acclaimed as the master of recital songs but a relatively inexperienced hand when it comes to full-length operas, Our Town being only his second. The piece debuted in 2006, and this weekend it enjoys its regional premiere at UNT.
During his life, Thornton Wilder was repeatedly approached about an opera version of his most popular stage work, and the playwright always resisted, even turning down the likes of Leonard Bernstein and Aaron Copland. It wasn't until 2001 that the opera's librettist and Wilder family friend J.D. McClatchy convinced Wilder's estate to let Rorem adapt the play.
The choice of composer couldn't have been more apt. Rorem's music is known for its spare elegance that nevertheless taps into deep wellsprings of emotion, and by all accounts his version of the story stays true to the play's small scale and its examination of the outwardly unremarkable lives being lived in Grover's Corners, N.H. This opera is yet another example of the astonishing quality and quantity of work that Rorem is still producing at the age of 85. In addition to the opera, UNT will also present a concert of his songs and chamber music on Sunday.
Our Town runs Fri-Tue at UNT Lyric Theater, I-35E & Av D, Denton. Tickets are $15-35. Call 940-369-7802.