Bunching all of its performances into an extended, three-week span in festival style has proved to be a financial boon for the Fort Worth Opera. This year's go-'round starts Saturday with a sold-out performance of Carmen in Bass Performance Hall. General Director Darren Woods said that season subscriptions and new-patron sales are ahead of projections, and group orders have come in from around the country. Rossini's take on the Cinderella story will be first heard on Sunday afternoon, and Dead Man Walking, a contemporary opera by Jake Heggie, will debut here early next month. (A fourth production, the holiday-seasonal Amahl and the Night Visitors, will be performed later in the year.)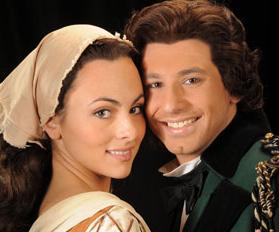 Mezzo-soprano Beth Clayton makes her local debut as Bizet's sensuous Carmen, a role she sang last season everywhere from New York City to Wales to Calgary, as well as in Santa Fe and Austin. Her Don José will be tenor Roger Honeywell, and Morgan Smith will sing Escamillo. John de los Santos has been promoted from his usual post as the company's occasional choreographer to full-fledged stage director here. Music director Joseph Illick will conduct the Fort Worth Symphony in the pit.
David Gately will stage-direct Cinderella, with guest conductor Scott Bergeson presiding in the pit.
In a journey reminiscent of La Traviata, which went from book to play to opera in 10 years, Dead Man Walking has gone from book to acclaimed film (starring Susan Sarandon and Sean Penn) to opera in about the same length of time. The story of a nun who tries to help death-row inmates find salvation through confession was adapted by Terrence McNally and set to music by Heggie in 2000. Mezzo-soprano Robynne Redmon will sing Sister Helen, and Daniel Okulitch will be the prisoner, a role he performed with the Calgary Opera, the same company from which the production was purchased by the FWO. Gately again directs, and Illick conducts.
The Fort Worth Opera Festival is thru May 10. Check our Calendar for dates, locations, and times. Tickets are $19-154. Call 817-731-0726.