Enrica Tseng, who took her final bow as principal dancer with Texas Ballet Theater last season, and her husband, Chung-Lin Tseng, also a former principal with TBT, are now focusing on a company they founded a couple of years ago, the Ballet Center of Fort Worth. The performing arm of the school, Ballet Frontier, will give a program on Saturday in Scott Theatre using dancers from TBT along with senior students.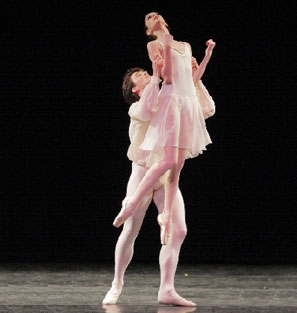 The varied program will include the Texas premiere of Straight From The Heart, choreographed by Roy Tobias, a pioneering dancer with George Balanchine's fledgling New York City Ballet, and four works by Chung-Lin: Mahler Symphony No. 4, Love Songs, Seasons, and Variations on a Rococo Theme. The Mahler ballet uses the second movement of the composer's 4th Symphony, and the choreographer's Songs collects three pieces by folk singer-songwriter and Fort Worth native John Denver. Seasons is set to a recording of Vivaldi's Four Seasons made by the New Vivaldi Ensemble of Taiwan, a company whose members play oriental instruments along with traditional European violins. Variations uses Tchaikovsky's familiar series of variations for cello and orchestra.
After retiring from NYCB, Tobias lived in Korea for 20 years and created more than 200 works for the Universal Ballet Company of Seoul, a group with which Enrica danced for eight years before coming to Fort Worth. It was there that the Italian-trained dancer met her husband, who is Taiwanese but had moved to Korea after graduating from the Hong Kong Ballet. Classical dance is a remarkably international community.