WED ? 13
The Drum Corps International event called DCI 2009: The Countdown is a broadcast of performances by six drum corps from across the country. Viewers can vote on which one will be this year's champion. Here's what we don't understand: The performances aren't live but rather taped from previous years, going back to 2004. How do they get to compete for this year's champion? Can we do American Idol like this? The broadcast is at 7:30pm at various local movie theaters. Check Calendar for locations. Tickets are $15-22. Call 213-639-6166.


THU ▪ 14
Movie theaters continue to think of new ways to entice you in, this time with stand-up comedy. Stand-Up 360 is a series of seven concert films running over the course of 14 weeks, with each film showcasing a different set of comics. You won't be able to heckle them, but you also won't have to put up with cigarette smoke. The short sets also mean that if you don't like the comic, you don't have to endure him or her for long. The first film of the series screens at 8pm at Rave Ridgmar, 1888 Green Oaks Dr, FW and Rave North East Mall, 1101 Melbourne Rd, Hurst. Tickets are $15.
FRI ▪ 15
Fort Worth Symphony Orchestra ends its concert season with a performance of Leonard Bernstein's Symphonic Dances from West Side Story. If the mambo isn't enough to get you in, the 25-year-old German-Italian violinist Augustin Hadelich (who just won the Avery Fisher Career Grant) will be the soloist on Paganini's First Violin Concerto. The concerts are Fri-Sun at 555 Commerce St, FW. Tickets are $10-78. Call 817-665-6000.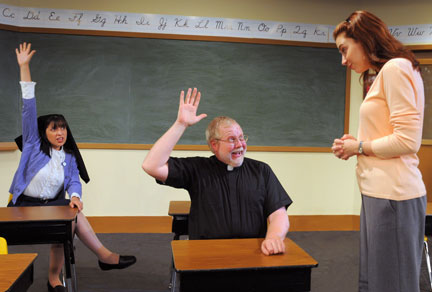 SAT ▪ 16
What's the deal with all the plays about nuns? The same weekend that Artisan Center Theatre is opening Nunsense, Circle Theatre debuts its production of Tom Dudzick's Hail Mary!, a comedy about a young novice who challenges her Mother Superior over questions of religious fundamentalism. All we need is a production of Doubt now. The show runs May 14-Jun 13 at 230 W 5th St, FW. Tickets are $10-30. Call 817-877-3040.
SUN ▪ 17
The likes of Ray Wylie Hubbard, the Raybans, and the M-80's will be performing at Main Street Days, which celebrates its 25th anniversary as Grapevine's summer's eve festival. As usual, they'll be promoting the local wines and offering food. But which wine goes best with funnel cake? The festival runs Fri-Sun in historic downtown Grapevine. Admission is $5-20. Call 817-410-3185.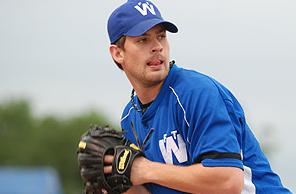 MON ▪ 18
The Fort Worth Cats open their season at home this week. After a series with the Grand Prairie AirHogs, the Cats then play host to the Sioux City Explorers (not to be confused with the Sioux Falls Canaries, who dethroned the Cats as American Association champions last year). Now that the Brahmas have won their league title, it's time for the Cats to retake the championship and make Fort Worth into the country's minor-league sports capital. The series runs May 18-20 at LaGrave Field, 306 NE 6th St, FW. Tickets are $15. Call 817-226-2287.
TUE ▪ 19
The New Philharmonic Orchestra of Irving winds up its season this evening with a performance of Brahms' First Symphony and the overture to Carl Maria von Weber's opera Oberon. The really interesting item on the program is Ginastera's Harp Concerto, a 1956 piece heavily influenced by tango and malambo, with the Argentinian composer frequently writing for the instrument as if it were a guitar. The concert is at 8pm at Irving Arts Center, 3333 N MacArthur Blvd, Irving. Tickets are $8-15. Call 972-252-2787.