Since opening in Arlington a couple of years ago, Pierre's Mardi Gras Café has regularly hosted jazz-and-blues bands — owner Roosevelt Pierre has sometimes jumped onstage and sung with them. But as he was performing one night not too long ago, a speaker blew out, producing what Pierre called a "sonic boom" in his ear.


"I've played in different bands since I was five," the 51-year-old said. "I've been around loud music most of my life. It has gradually chipped away at my hearing. And then when that speaker went, it took out what was left [of my hearing]."
Roosevelt, an accountant with a business degree from Loyola University, is currently undergoing medical tests to see if cochlear implants are right for him. In the meantime, his primary means of understanding the world are wife Wendy, 43, and a software program that translates speech into words that can be read on a computer screen. Going almost completely deaf would be an enormous setback for anyone, of course, but for Pierre, a man who craves spirited exchanges with friends, employees, and customers, the timing couldn't have been worse. He and Wendy have been actively scouting a second Pierre's location, in Arlington or Fort Worth.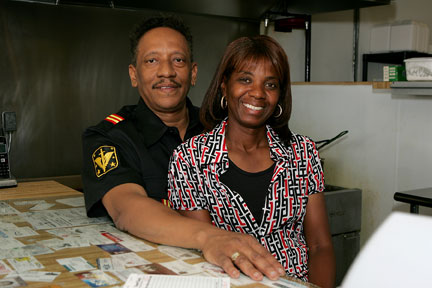 The Pierres have known disaster. The couple relocated to North Texas four years ago after fleeing New Orleans just two days before Hurricane Katrina hit. In the Big Easy, the Pierres ran a successful mobile lunch service that delivered Cajun/Creole staples such as red beans and rice, jambalaya, étouffée, and seafood po-boys, and Wendy had contracts with at least a dozen different retail businesses across New Orleans — they sold her handmade coconut and chocolate praline candies. The Pierres were on the eve of opening their own restaurant when the infamous storm arrived.
"Before we left, I stood in the middle of the street and said, 'This is the last time the city is going to look like this,' " Pierre recalled. "I've been around hurricanes all my life. When you live like that, you get jaded about storm warnings. But I knew this one was going to be different."
The Pierres followed Roosevelt's mother to Dallas and shortly after settled in Euless, where they opened the first Pierre's Mardi Gras Café in 2006. They were almost immediately successful as restaurateurs and caterers, prompting a move to the larger South Cooper Street space in Arlington. A combination of marketing, customer relations, and basic psychology has been the key: When someone ordered a fried oyster po-boy, Pierre would say to the customer, "Hey, man, do me a favor and tell me how this gumbo tastes" and offer a sample. Invariably, that customer would return for a po-boy and some gumbo.
As far as the food itself goes, Pierre believes his Mardi Gras Café secret is that he gives each dish its own unique spice identity. Too often, Nawlins-style cooking gets lost in a blandly hot blur of "on-yon" and "peh-pah" clichés.
"People think that everybody from New Orleans knows how to cook," said Pierre, who got intensive personal kitchen training from his mother, a professional chef. "That's not so. A lot of bad Louisiana cooks will just keep throwing cayenne pepper into the pot, just like the chain restaurants do. When your tongue burns bad enough, that's supposed to mean it's 'authentic.' "
Although Pierre won't reveal the precise seasoning combinations that his staff uses, his own largely improvised Mardi Gras Café recipes rely on what he calls "the holy trinity" of Louisiana flavors: onion, bell pepper, and celery. The right alchemical touch of the trio in harmony with other players like smooth pork boudin sausage, sweet crawfish flesh, or rich Camellia brand red kidney beans will hook people who'd otherwise never bother to visit the French Quarter, he believes.
Before Pierre and Wendy received his diagnosis of "sudden hearing loss" earlier this year, they were hoping to open that second Pierre's on Division Street in Arlington. Complications arose, including the fact that the building was listed on the city's historic preservation list. Now the Pierres are talking to various property owners in Fort Worth. The goal would be to land a site either downtown or on Camp Bowie Boulevard by the end of the year. A Cowtown version of the Mardi Gras Café would also include a full bar with wine, beer, and spirits. (Mardi Gras Café is BYOB.)
But first things first: The Pierres want Roosevelt to regain as much of his hearing as possible before they go forward with serious negotiations. Another concern is the pool of quality kitchen talent available for his specialized combo of Cajun and Creole traditions.
"Ever hear that old saying 'You can't teach a basketball player to be tall'?" he asked. "Well, not everybody knows how to prepare this kind of food. It takes dedication and a lot of practice. You have to stay on top of everything every minute in the kitchen. Wherever we open, we've got to keep that."