Just as an analogy, say your beloved accidentally shattered your killer-cool vintage-retro atomic-starburst hors d'oeuvres platter, which you now realize is your absolute favorite serving piece of all time. So naturally you go to your best friend to bawl your broken heart out ("How can I possibly host a New Year's Eve party without that platter?

The six-months-away holidays are totally ruined.") – but since your best friend is your beloved, the very thing that caused your pain is now appeasing it. It's disorienting. You find yourself caught in this endless hiccupping-sobs loop to the beat of the head-pats: That feels nice. But you hurt me. That feels nice. But you hurt me.
That's how Chow, Baby felt when it stopped by its favorite Vietnamese restaurant, pretty Pho Bella, only to find that it had suddenly disappeared. Why is nobody observing the rule that Chow, Baby's favorite restaurants are not allowed to vanish without warning? It's disorienting. In its place (4023 E. Belknap St. at Beach Street) is Pho Ngon, which does serve up a pretty good pho ("small" $5.25) – soothing in its rich, beefy brothiness, yet every consoling sip was also a painful reminder that Chow, Baby wasn't going to get shrimp mousse (the late Pho Bella's specialty) that night. That tastes good. Wah. That tastes good. Wah. What Chow, Baby did get at Pho Ngon was decent but not extraordinary Vietnamese fare: spring rolls ($3), vermicelli bowls, rice dishes, the usual range of pho options.
There was one interesting dish, an appetizer called shrimp dragon ($4.25): four biggish shrimp individually wrapped in wontons with cream cheese and scallion, with the shrimp tail sticking out as a handle. Reinvented crab Rangoon, sort of. And this room, which has gotten a sorely needed fresh coat of paint, is still one of the prettiest on Belknap. But against its competition along Vietnamese restaurant row – Tu Hai, Pho Nam, Phuong, Pho Hung, Hop(e) – Pho Ngon is satisfactory, but it's not killer atomic-starburst. Wah.
He Hopped a Train but Left His Po-Boy for Us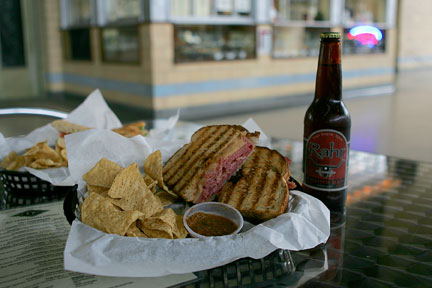 Might as well milk the analogy: Johndavid Bartlett is the atomic-starburst platter of Fort Worth chefdom because, let's see, because he's killer-artistic as well as utilitarian, and he doesn't last forever.
His late ventures include the delish deli that operates inside the Fort Worth Community Arts Center; the promising but short-lived Shiraz; and the retro pizza-and-dogs menu at the old Black Dog Tavern. Also he was the chef at My Martini way back when Chow, Baby liked My Martini (2003).
Johndavid is no longer affiliated with the six-month-old T&P Tavern (221 W. Lancaster Ave., in the back, just keep wandering) – maybe he broke too many dishes, Chow, Baby didn't ask – but you can still go there to dig into his Cajun pot roast po-boy ($7.49). It's pretty much the same one he made at the Black Dog: long-simmered beef, smoky Gouda, and caramelized onions on a French roll. Other hits on this menu of mostly sandwiches (and beer, lots of beer) are the punchy curried chicken salad ($6.49) with apples and walnuts, and a fine pressed Reuben ($7.99). The neat thing is, you get to order them from a Grand Central Station-like kiosk and chow down in the huge T&P concourse, an odd combo of grandly spacious and walled-in claustrophobic, to the moaning tune of passing trains. It's a bit disorienting, but also killer-cool.
Contact Chow, Baby at chowbaby@fwweekly.com.