WED ? 24
Nobody went to the film Angels & Demons hoping to learn about science, but moviegoers who found themselves interested by the science in Ron Howard's thriller can learn more when Kaushik De lectures. The UTA physics professor will give more insight into "the God particle" and other scientific issues raised by the movie. The talk is at 6pm at UTA Planetarium, 700 Planetarium Pl, Arlington. Admission is free. Call 817-272-1183.


THU ▪ 25
Mayor Moncrief may have already signed over this weekend to Ballet Concerto (see sidebar), but tonight he'll be at a ceremony to celebrate the grand opening of the Fort Worth Avenue of Light, a public art project with six stainless steel sculptures with colored lights lining Lancaster Avenue. The sculptures by Cliff Garten are meant to be another step in the rejuvenation of the neighborhood. The ceremony is at 8:30pm at Lancaster Av & Throckmorton St, FW. Admission is free. Call 817-298-3027.
FRI ▪ 26
Last summer SceneShop devoted an evening of dramatic readings to the short fiction of Truman Capote, calling the show Tru Enough. Now they're doing the same for Tennessee Williams, going by the equally cutesy title of Ten by Tenn. The show has a performance on Saturday afternoon at the Modern, but tonight's performance is at 7:30pm at UTA Fine Arts Bldg, 502 S Cooper St, Arlington. Admission is free. Call 817-923-9500.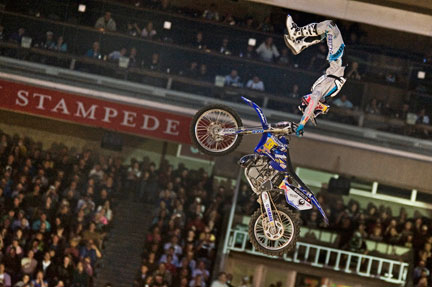 SAT ▪ 27
Motocross riders from eight different countries will be at the Stockyards tonight for Red Bull X-Fighters. The touring event will be making its only American stop here in Fort Worth. If you want to catch their next show, you'll have to go to Madrid. Local celebrities, including the Dallas Cowboys cheerleaders, will be on hand to gawk at the gravity-defying motorcycle stunts on display. The show is in the Historic Fort Worth Stockyards, E Exchange Av, FW. Tickets are $20-50. Call 214-957-5990.
SUN ▪ 28
It's been said that Dame Edna Everage is the only celebrity whose interior decorator and gynecologist are one and the same person. The purple-haired Australian diva is at Bass Hall this week to dish the dirt as she embarks on the first of what's sure to be many farewell tours in Dame Edna – My First Last Show. The show runs thru Sun at 555 Commerce St, FW. Tickets are $25-69. Call 817-332-2272.
MON ▪ 29
Even if you can't tell cremello from perlino, you can still appreciate the American Paint Horse Association's Summer World Show, taking place at Will Rogers Memorial Center. The animals with their distinctive spotted markings will be on display right up until the Fourth of July with a newly expanded class list that highlights youthful competitors. The show runs Jun 24-Jul 4 at 3401 W Lancaster Av, FW. Admission is free. Call 817-834-2742.
TUE ▪ 30
Artie's Playhouse, the children's theater arm of Artisan Center Theater, launches two new shows this weekend. Lynn and Helen Root's cowboy comedy The Man With Pointed Toes returns by popular demand, and it's joined by RumpleStealSkin, Tania Mayes' new take on the Rumpelstiltskin story. The shows run Jun 26-Jul 18 at Belaire Theater, 420 E Pipeline Rd, Hurst. Tickets are $5. Call 817-284-1200.