An article in Time magazine last March asked, "Is William Kentridge the perfect artist for these post-crash times?" We don't know the answer to that question, but the 54-year-old white Jewish Johannesburg native has been winning raves for the exhibition William Kentridge: Five Themes, which was organized by the San Francisco Museum of Modern Art and has been touring the country. Now that show makes a stop at the Modern Art Museum of Fort Worth.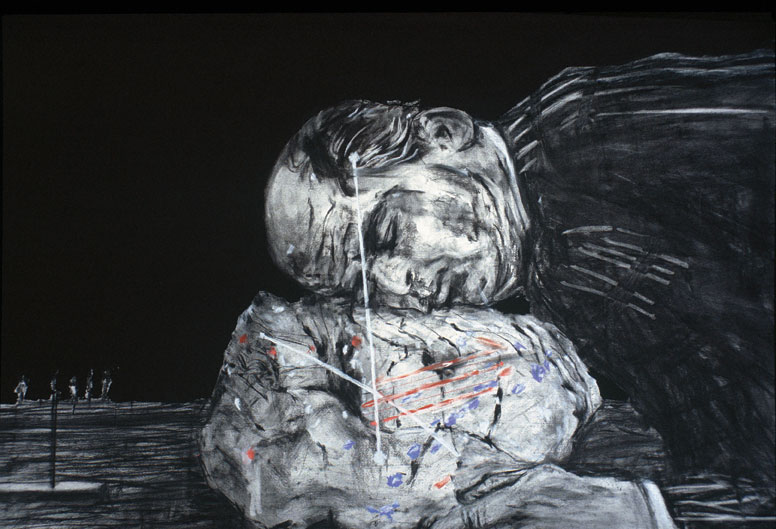 Kentridge has worked in many different media, including etching, sculpture, and collage. A former actor, he has achieved renown for his stage designs, especially in his direction of opera productions, which tend to incorporate charcoal drawings and giant puppets. Even more famous than these are his animated films made from charcoal drawings. Rather than draw separate sheets for each frame of the film, Kentridge depicts motion by simply erasing and drawing over the picture on the same sheet, leaving the erasure marks visible in the finished film. His short films address, frequently in searing terms, the blasted landscape left by apartheid. (The artist's own parents were lawyers revered for defending the victims of the government's racial policies.) His best-known work is a series about the characters of the fat real-estate mogul Soho Eckstein and his nemesis Felix Teitlebaum, who envies and hates Soho and works to undermine him. It's quite a coup for the Modern to snag a show devoted to this rising star of the art world.
William Kentridge: Five Themes runs Jul 12-Sep 27 at Modern Art Museum of Fort Worth, 3200 Darnell St, FW. Admission is $4-10. Call 817-738-9215.