The World Football Challenge comes to Cowboys Stadium, but it isn't bringing the football you're thinking of. It's a tour by four top-level soccer clubs playing a round-robin tournament in various U.S. cities to get in shape for the upcoming season. On Sunday evening, the Arlington facility hosts a match between English powerhouse Chelsea FC and Mexican team Club América.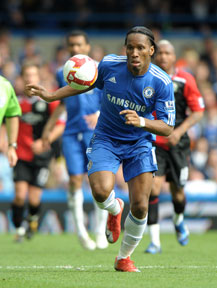 Owned by a Russian oil billionaire and reputed mob boss, Chelsea is laden with superstars, although rumors persist that their steadfast defensive anchor John Terry might be headed elsewhere in this offseason. He will be here, though, along with do-everything midfielder Frank Lampard, Ghanaian badass Michael Essien, speedy left back Ashley Cole, and monstrously strong Ivorian striker Didier Drogba. On the other side, the 10-time Mexican champions have been struggling lately and will be decided underdogs, though Colombian defender Aquivaldo Mosquera and midfield lynchpin Pável Pardo might be able to repel the Blues' offensive onslaught. If they can, look for Paraguayan scoring machine Salvador Cabañas to try to steal a winning goal for Las Águilas.
Both teams are breaking in new coaches. América is under the stewardship of former Mexican national-team coach Jesús "Chucho" Ramirez, while Chelsea is led by Carlo Ancelotti, recently fired from AC Milan. The soccer world is waiting to see how the Italian mastermind will reshape his new team. For North Texas soccer fans, this is a rare chance to see some of the sport's greatest players up close and in the flesh.
Chelsea vs. Club América kicks off at 6pm at Cowboys Stadium, 1 Legends Way, Arlington. Tickets are $30-125. Call 214-373-8000.