WED ? 22
Job skills are always good to have and especially so in today's economy. With this in mind, the American Advertising Federation is holding a page design workshop to teach people how to use software to become creative and graphic design professionals. The seminar is geared toward professionals, but anyone can register. The class is 9am-7pm at International Plaza Bldg, 4055 International Plaza, FW. The fee is $70-195. Call 817-915-0496.


THU ▪ 23
Today's the last day to attend the Asian Film Festival of Dallas, which means you can still catch Japanese anime legend Katushiro Ôtomo's latest animated film Mushishi (whose title refers to a traveling shaman who battles evil spirits) and the regional premiere of Wilson Yip's Ip Man, a martial-arts film that tells the story of the real-life Wing Chun master who would go on to teach Bruce Lee. The festival runs thru Thu at Magnolia Theatre, 3699 E McKinney Av, Dallas. Tickets are $7-12. Call 214-927-2743.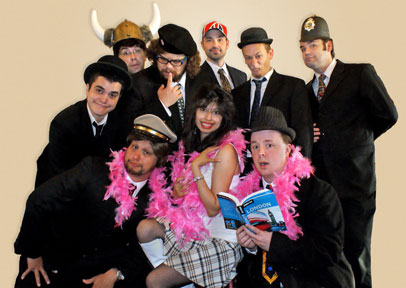 FRI ▪ 24
The sixth annual Monty Python Madness festival takes center stage in downtown Grapevine this weekend, and all the silly walks are for a good cause. The proceeds from sales benefit the Joey Wilkins Foundation to help individuals with spinal cord injuries. So, men, feel free to put on women's clothes and hang around in bars. The festival runs Fri-Sun at Historic Downtown Grapevine. Admission is free. Call 817-421-2311.
SAT ▪ 25
For most music-lovers, the languages of art song (songs meant to be played in classical recitals) are Italian, German, French, or increasingly English. TCU's Summer Institute for Art Song in Spanish looks to augment our knowledge of the repertoire in this language. This week's concerts include singer Antonio Vallejo and pianist Jorge Robaina, while next week's will feature a competition for singers performing the Spanish classical repertoire. The festival runs Jul 25-Aug 1 at PepsiCo Recital Hall, 2800 S University Dr, FW. Tickets are $5-10. Call 817-257-7602.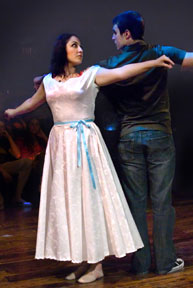 SUN ▪ 26
West Side Story recently received a grittier, darker, freely bilingual revival on Broadway directed by its 90-year-old librettist Arthur Laurents. Whether the new production at Artisan Center Theatre will go in this direction isn't known yet, but if the actors here are up to the show's considerable demands, it'll be well worth the trouble to see. The show runs Jul 24-Aug 29 at Belaire Theater, 420 E Pipeline Rd, Hurst. Tickets are $7-16. Call 817-284-1600.
MON ▪ 27
The Fort Worth Cats took two games out of three in Grand Prairie last week, then six of their players went back there to play in the American Association All-Star Game. Now it's the AirHogs who have to make the short trip down I-30 to play the Cats on their home turf. The series runs Jul 26-29 at LaGrave Field, 301 NE 6th St, FW. Tickets are $15. 817-226-2287.
TUE ▪ 28
Central Market already offers classes from time to time on wine appreciation and pairing wines with food. However, if you'd rather learn in the atmosphere of Bonnell's Fine Texas Cuisine, you can take their two-part wine seminar. Today's class focuses on white wine, while the class on the 30th emphasizes reds. The classes are at 6-8pm Jul 28 & 30 at 4259 Bryant-Irvin Rd, FW. Registration is $75 for one class, $120 for both. Call 817-738-5489.