The Stolen Shakespeare Guild takes a small step out of the Bard's body of work to put on Kiss Me, Kate this weekend. Written in 1948, this musical with songs by Cole Porter and book by Sam and Bella Spewack concerns a troupe of actors putting on a musical stage production of Shakespeare's The Taming of the Shrew. Some of the song titles are indeed taken from Shakespeare and refer to the play-within-the-play, including "I've Come to Wive It Wealthily in Padua" and "Where Is the Life That Late I Led?" (in which Porter manages to rhyme the words "virago" and "Chicago").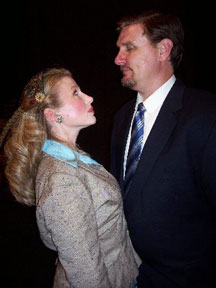 The songs in this show have held up very well, from the expansive showbiz anthem "Another Op'nin', Another Show" to the fast-moving jazz number "Too Darn Hot," with its sly references to a man who's been made impotent by the stifling weather. The supporting roles are made for dancers who can sing, but the leads are for classically trained voices. Their songs, which include the fake Viennese waltz "Wunderbar" and the romantic ballad "So in Love," have become favorites of opera singers. If you're finding this August too darn hot, you can find some sympathy from this show at FWCAC.
Kiss Me, Kate runs Aug 7-15 at Fort Worth Community Arts Center, 1300 Gendy St, FW. Tickets are $6-15. Call 214-789-8032.