So Kinky Friedman is making another stop in North Texas this week. On another campaign. For governor. Gee, didn't Static see this movie last month? No, wait, that was the latest Sandra Bullock flick.
Of course, the Kinkster always manages to make his visits entertaining. After all, he's the guy who wrote the Merle Haggard parody "I'm Proud To Be An Asshole From El Paso," and a mystery novel called "A Case Of Lone Star." The last time he ran for governor, Friedman spoke at a rally in the Stockyards. Arriving with a rather large pimple on the end of his nose, he surmised it was placed there by God as punishment for his support of gay marriage.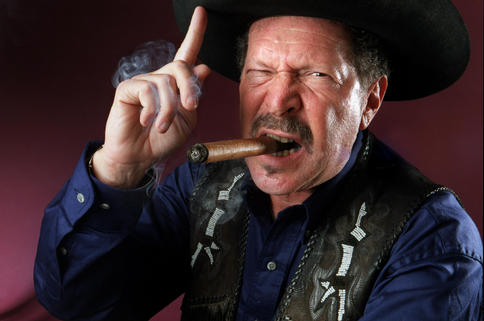 This time, his stop is at Ole Grapevine Cigar & Tobacco, where he'll allegedly sign autographs, pose for photos, talk politics, and promote his line of cee-gars. That would be his "original premium line" of smokes, with names like The Governor, Kinky Lady, and The Willie.
Friedman's press release talks about Honduran and Nicaraguan leaf, Costa Rican binders, and Ecuadorian wrappers – sounds a little like a pot farmer who's into S&M.
That's all fine. Static likes the man's music, his books, his larger-than-life persona, and the fact that he's the founder and prime supporter of the Utopia Animal Rescue Ranch. But Kinky, couldn't you be satisfied with that? Last time around, your ideas about what you'd actually do in office proved to be mostly smoke, fiction, and recycled bullshit, drawing just enough votes to help gum up the works in the general election and produce … you guessed it, our 39-percent governor, Rick Perry.
For the love of Texas, couldn't you just stay home this time?
If you can't, here are our suggestions for the line of cigars you really ought to be selling:
The Kinky Ego, a fat, smelly cigar made of rich tobacco but with a hollow center, providing a moment of pleasure followed by a long, bitter aftertaste.
The Perry Puff, made of 39 percent cheap tobacco plus a lot of sawdust, wrapped in a "Texas Secedes" flag.
The Spoiler, made from tobacco that's been aged too long in a fantasy world, secured in a faux Utopian binder. Perfect for the man who believes his own press releases.
And lastly, the Really Willie, rolled by Kinky himself on Willie's tour bus, and which, after smoking, makes you think you could actually be elected governor.