By the end of last weekend's performances, Amphibian Productions artistic director Kathleen Anderson Culebro must've been sick of all the jokes she was hearing about the production's title, Three Days of Rain. Amphibian revived Richard Greenberg's astringent, melancholy, and, yes, rain-soaked 1997 family drama coincidentally during three days of a genuine Fort Worth deluge. The authentic falling water effects inside the Sanders Theatre in the Fort Worth Community Arts Center were nothing compared to the flooding that playgoers encountered as they left the performances. Talk about environmental theater.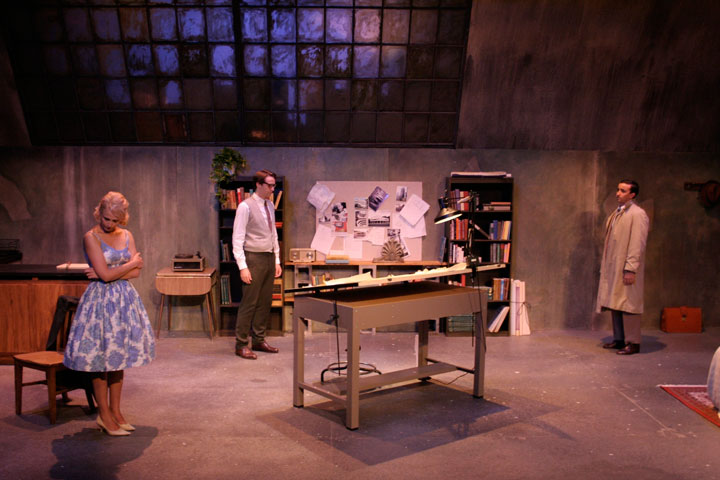 To extend the waterlogged simile, Greenberg's play about a trio of privileged thirtysomething New Yorkers trying to uncover the buried motivations of their dead or ailing parents can be as bracing as a cold shower. Everyone talks about how accepting responsibility for one's choices is the true sign of adulthood, but how many people ever reach that state? Certainly not Walker (Caleb Scott), a pretentious ne'er-do-well given to running away for long periods of time, and his sister Nan (Katya Campbell), who has reluctantly assumed the lifelong responsibility of being her brother's keeper. Their recently deceased father Ned was a world-renowned architect. Their mother Lina is a fragile Southern beauty ("Zelda Fitzgerald's less stable sister," as Walker jokes) who never recovered from her last breakdown. They were raised alongside suave and arguably superficial Pip (Mycah Hogan) as if he were a sibling, though he is in fact the child of their father's long-dead architectural partner Theo. The three gather in 1995 in a dilapidated New York loft on the eve of the reading of Ned's will. The fate of a legendary house designed by Ned and Theo looms large in Walker's twitchy mind. Family secrets seem to have been built right into the walls.
For the second act, Three Days of Rain jumps back to 1960, when struggling young architects Ned (Scott) and Theo (Hogan) were on the verge of greatness, and flirtatious, slightly overwhelmed usurper Lina (Campbell) came between them. Gradually, an interplay emerges among these three that parallels the later relationships among their offspring: Romantic and creative attractions are confused, fateful betrayals occur, and nobody quite gets what he or she wants. The beauty of Amphibian's supple staging is that the ambiguity becomes a fuel for suspense rather than a drain on the meager plot. We're curious about what comes next because the characters' motives are so tangled and half-hidden even to them.
Director Adrienne Campbell-Holt has coaxed gorgeously subtle emotional tones from the three out-of-town actors who each play a parent and a child. Indeed, the performers seem to reflect scenic designer Bob Lavallee's contrasting sets like chameleons: Dim, smeared, and a little grimy from neglect for the first act, then bright, sharp, and eager for a cleansing rain during the second. As needy, irresponsible son Walker and aloof, fearful dad Ned, Scott makes the tough choice not to soften his characters' unflattering qualities. Walker, in particular, can be downright repugnant in his manipulations, but it lends credibility to the production. Campbell has apparently little to do but be relatively mature and centered as daughter Nan and is then given potentially too much neurotic Southern shtick to display as pre-schizophrenic mom Lina. Campbell wisely grounds the latter in flirtatious charm rather than doomy, tic-laden foreboding. Hogan pretty much steals every scene as Pip, the cocky soap opera actor who refuses to believe that being miserable automatically equals being deep. As Pip's father Theo, he locates the rage that a talented young artist must feel when he realizes he isn't, in fact, brilliant.
Three Days of Rain has conspicuous flaws, not the least of which is the self-conscious, implausibly hyper-intellectual dialogue that streams out of the characters' mouths. I'm all for any well-read playwright who offers high-minded chatter in a contemporary universe of Twitterized digital murmurs, and when Greenberg marries his wit to the words, the results can be glorious. (When Nan notes how "well-adjusted" the self-satisfied Pip is, Walker counters that their friend is actually "precision-manufactured" instead.) But this script throws so many names and allusions at you — Freud, Heidegger, Sophocles, even Edna St. Vincent Millay and Maxwell Anderson — that the playwright begins to feel as show-offy and insecure as the cynical Walker. When Lina remarks that everyone she's met in New York is either a genius or a connoisseur, it could be a sardonic comment on Greenberg's cast of characters. This quality of educated ostentation drains some of the sympathetic quality from the adult children's universal dilemma: a hunt for just the right clue to explain their parents' obscure unhappiness and by extension, of course, their own.
Still, Greenberg mines some exquisite, uncomfortable, and familiar emotional territory in Three Days of Rain, and it's a tribute to how well he understands the unspoken but volatile cross-currents inside fractured families that the play is satisfying despite providing no hard and fast "answers" by the quiet close of act two. Amphibian's alert, in-step cast rescues the script from its excesses and thrillingly conveys the messy inner dynamics of the parent-child relationship, the mystery that forms us and follows us to our graves.
Three Days of Rain
Thurs-Suns thru Sept 20 at the Fort Worth Community Arts Center, 1309 Montgomery St, FW. $15-25. 817-923-3012.