When Avi Marco came to Fort Worth from Israel with his family in 2005, he had no friends and a limited grasp of the English language. His M.O. for exploring scary new places and faces was strong curiosity coupled with a passion to learn.


"I wanted to know all about these highways and intersections and big cars so I could drive wherever I wanted," he said. "I went to Wal-Mart and listened to people speak English. Everyone was very friendly to me, which was a little strange at first. In Israel, we don't wave at strangers."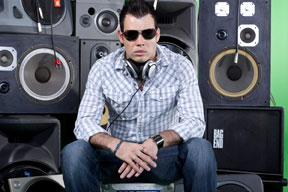 Within four years of moving to Texas, the 26-year-old Marco has become a sought-after club DJ, an ambition he's had since spinning tunes for friends as a teenager in his Israeli hometown of Rishon Le Zion. As DJ Avi, he's worked at the top clubs in Fort Worth — including the Red Goose, Aqua Lounge, Stone Canyon, and Club Chrome — and in Dallas, where's he currently employed as the resident weekend DJ at Aura Lounge.
What's more impressive is that Marco has established an outstanding North Texas club resumé after living only a few years in the states as a full-time college student — he's close to completing a degree in radio/television/film and business at TCU. Using Facebook and MySpace as persistent — even pestering — networking tools, he created his own connections from scratch, pun intended. His zeal for engineering propulsive dance-floor sounds, however, began when Marco earned the reputation back home as the go-to guy for party music.
In high school, Marco had an unslakable thirst for what he called "'90s disco": Ace of Base, Captain Hollywood, Madonna, and the Israeli duo Infected Mushroom, who introduced him to harder elements of trance and psychedelic electronica. Eighteen is the legal age for drinking in Israel, and Marco and his friends became habitués at clubs like Valentino and Club Nova, both in nearby Tel Aviv. He did a little work in the DJ booths there, but immediately after high school graduation, he was prompted by national service requirements to sign up for a three-year stint in the navy. Much of his time was served aboard a missile ship patrolling Israel's short coastline on the Mediterranean. "I had to grow up and learn to work with other people because there was nowhere to escape on a ship," he said. "I had to solve problems when they happened. But all of us learned how to work as a team."
He never saw battle, although he and his crewmates "stopped some small boats that were trying to smuggle weapons [into the Gaza Strip]."
Marco finished his brief military career as a high-school recruiter for the Israeli navy. In 2005, he moved to Fort Worth with his parents and younger sister after his father got a job at a defense firm here that has contracts with the Israeli government. Not long after that, TCU offered him a scholarship to study RTVF. By then, he had begun to explore the club scenes in Fort Worth and Dallas with an eye toward becoming a professional DJ, although he said his friends "didn't think it was possible."
Through social networking sites, Marco met the two people he considers his mentors: veteran DJs Eddie Black and Sean Michaels. They advised him on how to make a promotional CD and tipped him to Serato Scratch Live, a software program that links laptops with turntables, allowing DJs to use digital songs and songs on vinyl. Black and Michaels also counseled him on the techniques of crafting an evening's worth of club music: Build the songs like a series of waves ebbing and flowing, based on how many BPMs (beats per minute) each tune has. Start with Li'l Wayne or 50 Cent (hip-hop tunes typically have fewer BPMs), then graduate to danceable electronica like Daft Punk, then move into pure dance with Lady Gaga, and break the momentum with AC/DC or Guns N' Roses.
"A DJ's job is to make money for the club owner," he said. "That means selling drinks. Once you've got people going crazy on the dance floor, you've got to end that wave and send them back to the bar. Hopefully, you're making a name for yourself with the experience you create."
His first Fort Worth job was an hour-long guest spot at the Stone Canyon in 2006. However, he really turned heads with a Halloween night set at the now-shuttered Saffire Lounge. After working in most of the Fort Worth dance clubs over the last three years, he has moved on to various Dallas nightspots like Carson's Live, Lizard Lounge, Eden, and now, of course, his regular Friday and Saturday night gigs at the Aura. He's also played clubs in Houston and Austin. His biggest national gig so far has been, well, really big: He dee-jayed 2009's official NFL Super Bowl weekend parties in Tampa alongside celebrity hosts like Kevin Costner and Kim Kardashian. Organizers have asked him to return for the 2010 festivities in Miami.
Right now, Marco is focused on finishing his degree and promoting his local radio show, Monday Night Mix Down with DJ Avi, from 10 p.m. 'til 1 a.m. on KTCU/88.7-FM. There was initial resistance from some KTCU heads about a dance music show, but Marco convinced them that he was filling an important college-age niche amid the standard programming of classical, country, indie-rock, and classic-rock bands. The switchboards are now jammed most Monday nights with requests. As for the future, Marco is circumspect.
"I can't predict where I'll be five years from now," he said. "But my dream career would be signing with a label, producing my own songs, and flying to cities all over the world for DJ jobs."
Good luck to any international border that thinks it can withstand his mastery of the beat.
DJ Avi
10pm-2am Fris & Sats at Aura Lounge, 2912 McKinney Av, Dallas. 214-762-2872.
Monday Night Mix Down with DJ Avi
Mons from 10pm-1am on KTCU/88.7-FM.