In his Aug. 26 Fort Worth Weekly report, "The Big Takeover," Peter Gorman wrote about all the bad publicity that natural gas extractors have been getting lately. But the industry isn't worried: It has found other ways to generate good PR.

Consider the following Fort Worth institutions and organizations that have recently partnered with or received funding from Big Gas:
The Fort Worth Convention & Visitors Bureau (Chesapeake Energy), the Fort Worth Museum of Science and History (XTO Energy, Devon Energy, Enron Oil & Gas, Exxon Mobil, Encana Oil & Gas, etc.), the Fort Worth Independent School District (Quicksilver, Chesapeake, etc.) Texas Christian University (Chesapeake), the Botanical Research Institute of Texas (Chesapeake), Mayfest (Chesapeake), United Way of Tarrant County (Chesapeake), and the Fort Worth Zoo (Chesapeake). The complete list is a lot longer, and I think it would surprise a lot of people.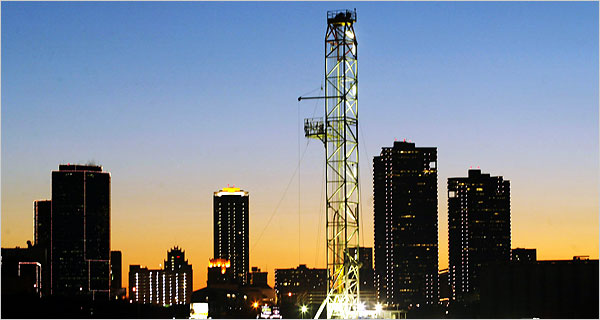 Many of these organizations violate their own mission statements by accepting such money. They moan about the economy and the challenges of fund raising and then point to the good work they do. All of them have wide-ranging influence in the community. And that's the problem. When corporations push their money across the boardroom tables, what they're buying is silence – and it's deafening. Lips remain sealed that need to speak up. Facts that deserve telling go untold. Conflicts of interest go unreported. Filling board chairs with gas drilling executives ensures that conflicts of interest are kept quiet. You need look no further than city hall to see how much silence can be bought with dirty dollars.
Most importantly, the public is cheated by these organizations. Does anyone expect the convention and visitors bureau to warn out-of-town visitors about the doubling of air pollution since drilling started? Will the science museum's new Energy Gallery show kids how XTO's proprietary fraccing fluid can kill wildlife and livestock on contact? Will BRIT explain on its web site how Chesapeake has destroyed thousands of acres of Texas prairie for pad sites? I think not.
Nor can the public rely on the Fort Worth Star-Telegram for complete and timely reporting. The paper's support of urban drilling and lack of hard-hitting reporting on the topic is unforgivable. The Denton Record Chronicle and the Weekly have done a yeoman job of filling the void, but neither can reach the large audience of the Star-T.
Thank goodness, then, for the good ol' Fort Worth Public Library, one of the few places untainted by corporate advertising, right? Wrong. About a year ago, library director Glenice Robinson broke tradition and allowed the comically misnamed Barnett Shale Energy Education Council to place pro-drilling fliers at all our libraries. Then in July 2009, library management allowed Chesapeake to display a scale model in the central library depicting a pastoral gas well operation. Chesapeake business cards and fliers were available on a nearby shelf filled with pro-drilling books.
Ms. Robinson told me she sees no ethical problems in allowing the Chesapeake exhibit to be placed in the library. However, she did agree to consider my complaint that the exhibit sugarcoats the realities of gas production. And she admitted that she has pursued Chesapeake and other drillers for big donations. But she said there was no connection between the exhibits and fliers on one hand and Chesapeake's money on the other.
There's more. Back in June 2008, someone decided the library needed re-branding. After paying a PR firm to design a new logo, management decided to remove the word "public" from the library's name. In a press release, library administrator Chris Dennis stated that "the word 'public' implies a place that, at one time, might have been viewed as institutional or restrictive."
Huh? You mean like public parks, public service, public art? What kind of twisted corporate logic is that? Perhaps it is only coincidental that the re-branding was paid for with a gift from a local foundation begun by the owner of a local energy firm whose wife sits on the Fort Worth Library Foundation.
Maybe I'm simply stating the obvious. Maybe most people have convinced themselves that it's OK for Big Gas to own Fort Worth. Maybe this is just more of the Fort Worth Way that's been going on since settlers burned out the natives and Amon G. roamed the Fort. Again, I think not.
Barnett Shale greed is different because we know better. We know that oil and gas can mess with human health and the environment. We know that Cowtown has become an oil and gas town, like Midland. The men and women who manage these institutions and organizations certainly know better. By accepting money from companies that pollute our city and put our safety at greater risk, they have helped legitimize them. Blinded by the need to raise money for their various causes, they have, in effect, deceived the public. If they really want to help make Fort Worth a better place to live, they should say no to Big Gas until Big Gas learns to Drill Right in Texas.
Don Young is a local glass artist and organizer of Prairie Fest and  FWCanDO, one of the earliest and most active groups opposing unregulated urban gas drilling.