Having spent several years as a member of the neo-soul vocal quartet Keingz Ransom and as a roommate of Keegan McInroe of Catfish Whiskey, Kewaithian Freeman is no stranger to the local music world. The frontman for Rabbit's Got the Gun has been waiting for his turn in the spotlight, and now that it's here, he's committed to it. RGTG, a ragtag cast of talented musos, has been in operation officially only since February's Mardis Gras, but the quintet hit the ground sprinting and has a lot going on.


Freeman, a Burleson native, grew up singing around the house with his mother, who traveled the world as a professional vocalist. He was passionate about music when he joined Keingz Ransom, a group that earned an audience with a major label exec in Manhattan several years ago. After that, however, the four singers watched their high hopes for stardom unravel. "It went stagnant," Freeman said of the project. "But it wasn't a talent issue."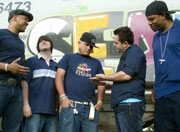 In 2006, while Freeman was working part-time at a local Red Lobster, he began jamming with a co-worker, guitarist Eris Xhakupi, a native of Albania. Their "group" never got off the ground, but the songs the duo wrote would eventually become early material for Rabbit's Got the Gun. The songwriters eventually picked up flashy shredder Joe Atkinson and Skard Soul bassist Justin Baisden, forming an odd amalgam of metal, soul, pop, hip-hop, and rock.
The band began writing material but was somewhat constrained without a drummer. Enter: Dallas drummer and producer Forris Massey, who has worked with marquee hip-hop artists such as the Yin Yang Twins and Manny Fresh. "It was a blessing," Freeman said of Massey's arrival. "He came out of nowhere."
Energized by Massey's tasteful stickwork, the band began looking to book a gig. Freeman knew Mike Maftean (of Catfish Whiskey and My Wooden Leg) from the scene, so he figured it would be OK to show up to one of Maftean's weekly acoustic jams at the Grotto and commandeer the stage, even though RGTG's tunes aren't exactly acoustic material.
"They can't show up anywhere without their half-stacks" of amplifiers, Freeman said of Xhakupi and Atkinson.
Maftean and Grotto owner Cody Admire agreed to let the guys crash the jam, perhaps because it was Fat Tuesday, there were a lot of people there, and, oh, what the hell. Rabbit's Got the Gun chose its name that night.
Admire loved the show so much that he immediately invited RGTG back to the Grotto to share a weekend bill with his band, Four Corners. RGTG recorded a demo and began giving it away. By early summer, the band was regularly playing Ridglea Theater and attracting about 300 fans per show. Relentless MySpace postings and connections in the service industry helped get out the word about the group.
Much of RGTG's business plan is a result of Freeman's observation about the unraveling of Keingz Ransom. "Every band has to have a leader, someone to take the reins when it comes to the small stuff," he said. "I utilize every networking tool possible … and you gotta strike hard while the ball is rolling."
Freeman was soon in a position to handpick bands to play shows with, including Villain Vanguard and Get Well, and to land some prime gigs, including one next month at the Ridglea with big-timers Spoonfed Tribe. "The Fort Worth scene is supported by musicians, and there is a very high standard," he said. "Our music was simpler in the beginning. We want something more musician-friendly now, stuff with more depth and complexity."
From its amped-up original material to covers ranging from Gloria Gaynor to Radiohead, the band can do just about anything technically. The lyrics generally are of the be-yourself variety. "I don't have a dark life," Freeman said. "I'm an animated person, and I want to paint the most colorful picture possible. … I incorporate every bit of my personality into my music."
A full-length album and bigger shows are on the horizon. "When you see how fast it is moving," Freeman said, "you can't help but fantasize about the potential."