The first time you see NBA star LeBron James in More Than a Game,  he's a grinning, gawky pre-teen, which is sort of endearing. Then you see that same awkward-looking kid dunk.


Even Spider-Man couldn't do it that easily.
If you're a basketball fan, you probably know what More Than a Game is about. It's a documentary by Kristopher Belman about James and childhood friends Dru Joyce III, Sian Cotton, and Willie McGee, who came from meager beginnings in the dying rust-belt burg of Akron, Ohio, and led the St. Vincent-St. Mary Fighting Irish to three Ohio state basketball championships. If the movie were just about LeBron, it would be a pretty uninteresting yarn, regardless of his super-heroic feats. Belman seems to have thought about this. The film does its best to point out that the other three players (and later four when Romeo Travis comes on at forward) added just as much to the Irish's success.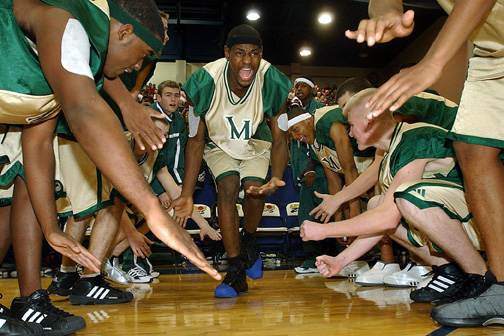 So really, the movie is about friends. They stick together despite the flack from the African-American community for going to the uppity Catholic school rather than the public one. They stick together when St. V's coach, Keith Dambrot, quits to take the helm at University of Akron. They stick together during the beginnings of the LeBron James Media Circus and even when he is suspended in the aftermath of the notorious incident involving an $80,000 Hummer bought for him for his 18th birthday by his unemployed mother, who got backing from a bank based on her son's future earning potential. Through all of this, the director really sells the idea that LeBron never forgot his friends.
For the purposes of his story, Belman does well to stick to the main points. It might have been more honest to point out the potential hazards of putting a 17-year-old prodigy on the cover of Sports Illustrated, but the director handles the consequences of the Fab Four's fame by showing ugly sides: unseemly displays of ego and showboating on and off the court, utter disregard for the leadership of Coach Dru Joyce Jr. (Joyce III's father and Dambrot's replacement), and, during the Fab Four's sophomore year, an ignominious loss to a lesser team in the state championship game. Despite all of the hero-worship throughout the film, Belman wants us to know that pride goes before a fall.
The failed championship run sets the team on its ear. Predictably, that's when they get down to business. Belman underscores this with a lot of clips of pre-game prayers and proverbial come-to-Jesus halftime talks, but he really sells it with the Fab Four's evolution into the Fab Five, when angry loner Travis joins the team. Despite his prowess on the court, Travis was an outsider, both unwilling and unable to crack the clique forged during the others' boyhoods. That all changes when the Fab Four realize they've been jerks to him, and, when he is finally accepted as a friend, the team totally explodes.
Belman's visual style matches the breathless hype surrounding the team, and if you've ever played high school basketball, you'll recognize the sweaty gyms, slushy weather, and sweatpants-wearin' parents intrinsic to that particular iteration of the sport. Fuzzy family photos are given peculiar HD depth with long-lensed zooms. Home-video footage of layups are intercut with high-quality shots of dunks, everything slamming to a pumping soundtrack. In between all of the rim explosions and scenes of rabid crowds, Belman serves up alternately humorous and apologetic interviews. If you've ever had to coach your own kid, you know the sadness of working him or her harder to avoid accusations of favoritism. Even if you haven't, you can see the pain on Coach Joyce's face when he talks about "Little Dru," framing it in the familiar tale of a sacrificed childhood. Travis' hurt over his initial exclusion is palpable, and the team's disappointment over their big loss is still a sore spot even after seven years.
Overall, the story is inspirational. Coach Joyce refers to the game as a vehicle for reaching greater heights. Given the positive outcomes for each of the players — three play pro ball, Cotton plays football at Walsh University, and McGee is obtaining a graduate degree in computer science — they took his philosophy to heart.
LeBron, while the star, was never totally a saint, however, and Belman tends to overlook minor details such as his petition to jump to the NBA before he graduated, which was what got him the national attention in the first place. The issue of the lavish gifts that caused him all of the problems during his senior year is accounted for, but if you've ever met an athletic wunderkind, you kind of wonder what relevant details have been conveniently obscured.
Barring these omissions, though, More Than a Game succeeds in tugging the heartstrings just enough to keep you interested in the message. It might even make you want to practice your jumpers.