Ben Perowsky is a New York-based jazz drummer who's worked with underground godfather John Zorn, film noir-inspired indie rockers Elysian Fields, and the experimental/soul hybrid group Joan As Police Woman. His early-'90s jazz/hip-hop/rock outfit Lost Tribe had the distinction of providing a rhythm section for Steely Dan man Walter Becker's touring band, and the honor of having Becker produce their debut CD (perversely released on New Age label Windham Hill). Moodswing Orchestra is the byproduct of a weekly ambient improv gig that Perowsky started in 2002 with turntablist/electronics whiz Markus Miller and pianist Glenn Patschka at a now-defunct Brooklyn club.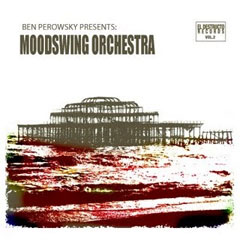 Besides the basic trio, the instrumentation includes tuba, clarinet, trumpet, and theremin, recorded in various locations, from musicians' homes to a church and a club basement. There's also a revolving cast of vocalists, most notably Antonio Carlos Jobim's daughter Bebel Jobim and Miho Hatori from food-obsessed trip-hoppers Cibo Matto. The resultant sonic bath of swirling moody ambience and sensuous vocalismo sounds superbly seductive, resonating to these 817-centric ears like nothing quite so much as Marcus Lawyer's 2006 scene snapshot, Top Secret…Shhh!, an album recorded under similar circumstances, though with a larger cast.
"Sweet Adelaide" sets the scene. Its confluence of bass clarinet, electric piano, trumpet, percussion clatter, and tuba ostinato behind the dream-like voice of Joan Wasser (the titular Police Woman) recalls Miles Davis' multi-layered '70s sound. On "1972," Miller's turntables add some vinyl crackle behind Doug Wieselman's flute solo to lend some period ambience. On "Till U Die," Nervous Cabaret frontman Elyas Khan sounds creepily effective channeling Ben Kingsley's gangster character from Sexy Beast. But Moodswing Orchestra's impact isn't about any individual track or performance. It's a total sonic environment that can serve as the soundtrack to any movie you care to create for it.