Though Holy Moly toured Europe this past summer, the cowpunk quartet somehow managed to write, record, and produce an album, Clickity Clack, whose official release will be celebrated Saturday at The Aardvark (2905 W. Berry St., by TCU, 817-926-7814). Like the band's previous two albums — an eponymous 2007 effort and last year's Drinkin', Druggin' & Lovin', which won album of the year honors in the 2009 Fort Worth Weekly Music Awards — Clickity Clack is rowdy, toe-tapping, and full-bodied either despite or because of the straightforward, no-nonsense instrumentation of guitars, bass, and drums.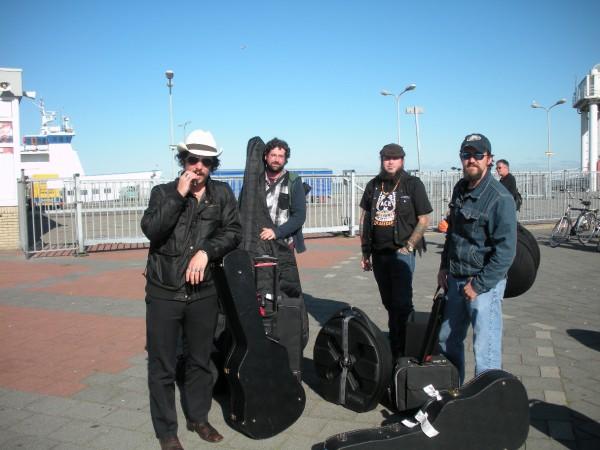 The album opens with a ringing triangle over which frontman Joe Rose, in his inimitable semi-yodel, sings, "Come and get it!" Most of the songs are uptempo shuffles, skipping happily and giddily — and somewhat drunkenly — over Rose's charming, often hilarious tales of growing up tough, growing old with the bottle, and relationships gone wrong — or right. "I don't need her to cook for me," Rose sings on one track. "I got a burger joint right here / … All I need in this big ol' world is my baby doll and beer." Bassist Jeremy Hull adds mournful heft to some of the tracks by bowing his upright. Another nice touch is the occasional appearance of a gospel-tinged organ. Solid, witty, rollicking, largely acoustic-based songs? Well performed? I'm sold. Joining the band at the Aardvark show will be another throwback-to-the-roarin'-'50s kinda C&W outfit, Austin's Ruby Dee and the Snakehandlers, and also bluesy, rootsy Fort Worth singer-songwriter Chase Christian. Visit www.myspace.com/cowpunkholymoly.
Just when you thought Caves Lounge (900 W. Division St., Arlington, 817-460-5510) couldn't get any cooler (seriously), along comes a show tonight (Wed., Oct. 14) by The Stooges tribute band Stoogeaphilia featuring members of The Great Tyrant and The Me-Thinks, two of the most well respected hard-rock outfits in North Texas. The band also counts among its members part-time Weekly scribe Ken Shimamoto. And if you think I'm mentioning the show just 'cause Ken's my buddy, then you know what to do with your genitalia. The bill includes another highly regarded hard-rock group but one that's rather reclusive, One-Fingered Fist. The best part: No cover. Visit www.myspace.com/stoogeaphilia. … The aforementioned moody, epic trio The Great Tyrant has two shows coming up over the next couple of days. The first is on Friday at Lola's Saloon Sixth (2736 W. 6th St., in the W. 7th Street corridor, 817-877-0666) with two equally experimental outfits, The Paperchase and The Personal Victories with George Quartz. The other Great Tyrant show is on Monday at the Sunshine Club Lounge (902 W. Division St., Arlington, 817-277-6252) with Fort Worth hardcore punks and käng metalists Tolar and Dallas' Embolization. The show is free. Visit www.myspace.com/thegreattyrant. … On Saturday at Biddison Sports Bar & Patio (403 W. Biddison St., two blocks east of Hemphill Street on the South Side), there'll be performances by a slew of 817 rappers and rap acts, including perennial Weekly Music Awards nominee Royal South, plus King Corleone, Killa Beezy, Texas Hood Click, Luis Perez, King Capone, 817 Innatainment, Paydro, and more. Beer and mixers will be for sale, but you have to BYOB of Courvoisier. The show will be from 11 p.m. 'til 1 a.m. Visit www.myspace.com/royal817south.
Contact HearSay at hearsay@fwweekly.com.