On an October morning, the 900 block of East Leuda Street on the city's Near Southeast Side is awash in gentle rain and cultural disconnects. On the north side of the street, an old man in overalls stands on the sagging, cluttered porch of an old frame house with a junked van in the yard. Vacant lots, some tall in weeds, alternate with worn, once well-built homes in various states of disrepair, fronted by cracked sidewalks. An untagged pit bull growls at a couple of strangers entering his territory.


Turn around, and the picture is different. The south side of the block holds three sparkling new wood-trimmed brick bungalows, designed in the Craftsman style of the 1930s and '40s with wide porches, manicured lawns, black wrought-iron fences, new sidewalks, and detached garages. Next to them is an older Craftsman home that was renovated a few years ago and appears well cared for. A few doors down is a similarly restored home. It is as if a block of historic Fairmount, the once-blighted Southside neighborhood that is now one of Fort Worth's brightest urban renaissance gems, had been lifted up whole and deposited there as a vision of what could be.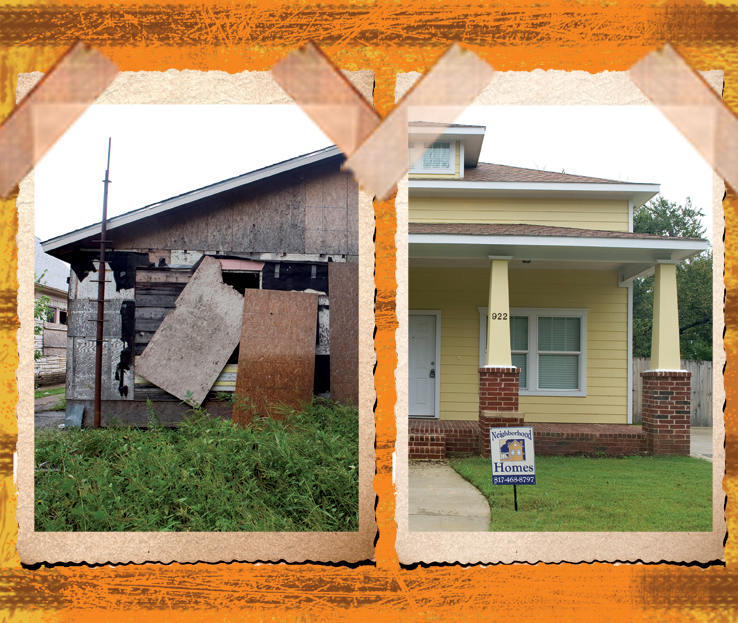 In fact, the two sides of Leuda are an apt illustration of what could be accomplished and what hasn't been, in more than a decade of efforts to revive this historic Near Southeast Side neighborhood, once a thriving social and economic hub of the city's African-American community. It's a story of how federal funding, recent private investment, and a long struggle by a local nonprofit have been stymied by personality clashes, missed opportunities, distrust by insiders, naivete by outsiders, and most of all, a city housing department that for years seemed to work against rather than for the future of Near Southeast.
A program to reduce crime in the area showed real results but has run out of federal funding. The nonprofit that has done the most over the last 12 years to rehabilitate housing there has effectively been shut down by the city and threatened with a lawsuit. That and other programs are at risk because of a far-reaching investigation into the city's misuse of federal housing funds on many fronts. New homes built by a trio of civic and development leaders took 18 months to sell – in part because the city has failed to enforce housing codes, with the result that new houses stand next to weed-filled lots and boarded-up, falling-down older structures.
And the one bright hope for the community, the Evans and Rosedale Business and Cultural District, a $12 million redevelopment project that began more than a decade ago and was supposed to spark a commercial and residential renaissance, has fallen victim to sloppy management by the city's disgraced former housing director. As a result, its funding may be on the federal chopping block before a single new commercial business has opened there.
Kathleen Hicks, the area's representative on the city council, believes the Near Southeast is on the rebound but acknowledged that progress there has been too slow. She apparently has specific culprits in mind but wouldn't name them.
"My predecessor on the council, Ralph McCloud, worked tirelessly to bring economic development to [this area.] Yet, over and over, his efforts were dismantled by those who did not necessarily have the best interests of the community in mind," she wrote in an e-mail and wouldn't elaborate.
Others also see hope that the beleaguered district will one day be as vibrant as its Fairmount neighbor. "With its location so close to downtown, along with the added importance of its cultural history, it will be a significant draw for future investors," said Assistant City Manager Fernando Costa, the former head of the city's planning department, who saw the cultural and economic rebirth of other long-depressed inner-city neighborhoods in his many years as a city planner. None of those came easy. And, he said, neither will Near Southeast. But now, "with strong new leadership in the housing department, the city has made a strong commitment to bring more businesses to the area and at the same time to promote affordable, quality housing," he said. "It is what the citizens there deserve, and it is what they will get."
Neighborhood residents such as Willie Stevenson have just one question: "When is that going to happen?"
The older, well-kept home next door to the new ones on Leuda was a successful rehabilitation project of the Near Southeast Community Development Corporation, a nonprofit set up in 1997 by Shirley and Johnny Lewis and other neighborhood homeowners. The aim was to restore the historical district "one house at a time" by building and renovating houses in the area, Shirley said. A former civil rights investigator with the U. S. Department of Housing and Urban Development, she became the group's executive director; her husband Johnny, now retired, has been a long-time volunteer with the CDC. The couple moved to the neighborhood in the early 1970s as what she calls urban pioneers, and they have been working to save the neighborhood ever since.
The CDC has restored or built a total of eight homes in the area, all designed in the Craftsman bungalow style of the 1920s to '40s, when the neighborhood was at its peak as the economic and cultural heart of Fort Worth's then-segregated African-American community. The work was paid for with grants from the city housing department using HUD funds aimed specifically at nonprofit community housing organizations. Qualified buyers got various kinds of financial help, including up to $20,000 for closing fees and down payments as well as low-interest, fixed-rate loans.
The Lewises' long struggle to bring progress to Near Southeast has been marked almost equally by hard-won successes and by recent, repeated clashes with the city. Shirley Lewis wanted quality housing. She wanted help from the city in cleaning up the vacant lots and dilapidated housing that still show up in blighted pockets across the area. Her vision was that homes built there should reflect the architecture of the area's heyday, an idea that was validated when the city created a historical overlay for the district in 2000. Until then the area was a mish-mash of styles, as some developers – including the city's own scandal-plagued in-house construction company – came in for a short time, threw up poorly built, cookie-cutter houses, and left the neighborhood to deal with the aftermath.
By 2000, Lewis' group was involved in its most ambitious undertaking yet – the federally funded Evans and Rosedale Business and Cultural District. The project is a joint city and community effort to wholly redevelop the Near Southeast's historic center through tax incentives and low-income loans to induce small businesses to move in and provide good-paying jobs. Better-employed residents would in turn be able to buy the new and restored houses planned for the surrounding neighborhood. It would be the renaissance that the Lewises and other black leaders – many of whom grew up in the neighborhood – had long dreamed of. As a member of the city-council-appointed Evans-Rosedale Advisory Board, Lewis was the principal neighborhood organizer behind the plan. She insisted that it include a history center and plaza to honor the contributions made to the city by its black citizens.
"I saw this as a destination, a historic district filled with shops, restaurants, hotels, grocery stores, barbershops, and jazz clubs, like in the past, that would draw tourists and locals alike and bring prosperity back to the neighborhood," Lewis said. She put in long hours on the board between 2000 and 2004. During those years, the first phase of the project was completed: a block at the corner of Evans Avenue and Rosedale Street redesigned around a spacious plaza with a "black history walk" of granite and bronze inlays commemorating significant African-American figures and events in the city's history.
---
The Near Southeast CDC also got another federal grant, this one from the Justice Department's Weed and Seed program, which funds law enforcement and crime prevention efforts, including positive programs for a community's youth. The Near Southeast CDC used the money for a neighborhood patrol officer and a community prosecutor – good investments, according to Fort Worth Police crime statistics, which show that crime in the area was reduced by almost 70 percent.
The CDC also used some of the Weed and Seed money to clean up hundreds of the area's trash-filled vacant lots, catching midnight dumpers on hidden cameras, organizing the community to fight new or renewing liquor store licenses, and creating activities for the area youth such as fishing trips, campouts, and field trips to nearby museums.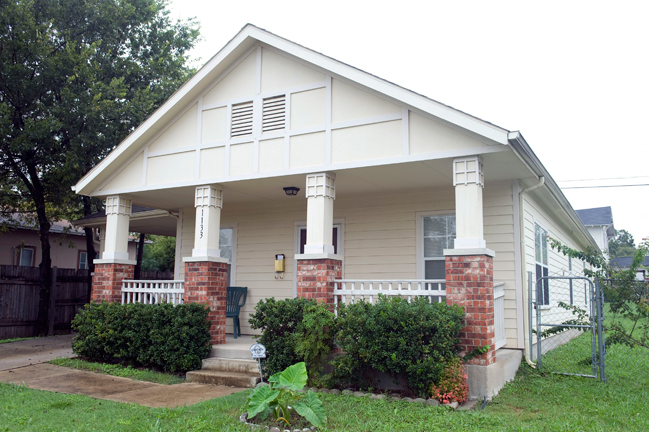 In 2006 the group was going strong. "We had an application for a $650,000 housing grant pending with the city and five buyers waiting, pre-screened, credit-approved, and we were only waiting on the funds," Lewis said.
By June of that year, Lewis had also accomplished something else important to the neighborhood: She found a Dallas developer, Bennett Miller, for the Evans-Rosedale project. The developer was ready to buy properties and start bringing in an anchor and small businesses, in the style of the early community. "He had business lined up, many of them black-owned," Lewis said. A former Fort Worth city planner confirmed that the developer had the capital and the track record needed for the project.
By early 2007, however, all that progress had started to fall apart. Things had turned sour for Lewis' group at city hall: Then-city housing director Jerome Walker pulled the grant application for her group, Lewis said, after she repulsed Walker's attempt to strong-arm her into giving the city about 45 lots the CDC owned in the area. The housing department also turned away Miller, and progress on Evans-Rosedale quickly ground to a halt.
Later that year, the Weed and Seed grant ran out. Justice Department funds are considered startup money; for programs to continue, local government has to take over the funding. The city picked up funding, but the emphasis on Near Southeast diminished, and then the city removed an important tool – the hidden cameras. "When the city took it over, it came out here and removed the cameras and took them to another neighborhood," Lewis said.
At Evans-Rosedale, only the plaza and two public buildings have been built. Not one new commercial enterprise has come in. Boarded-up houses and vacant lots spread eastward from the shining new plaza, properties bought by the city to be used for new housing and businesses that it told HUD would bring 100 new jobs into the area. The city has produced little new housing, and the only company that the city has located that might want to open a location there thus far is a Jack in the Box.
Lewis said the Near Southeast neighborhood association is opposed to the fast-food outlet and will fight the zoning change needed. "There's not one in the Cultural District, not one downtown, not one on Magnolia," she said, referring to other high-quality redevelopment areas. "This will be a drive-through joint, accessed from the I-35 access road at Rosedale. It will be low-wage and provide few jobs in a community with high unemployment and whose people suffer from high rates of diabetes and obesity.
"We need this like a hole in the head," she said. "Our neighborhood association is so dispirited."
And Lewis' problems continue to grow. The city, beset by HUD demands for repayment, recently threatened to sue Lewis' nonprofit over her alleged misuse of about $170,000 in federal funds four years ago – expenditures Walker approved but failed to document properly.
In a lengthy audit of the city housing department released in May 2007, HUD raked Fort Worth over the coals for the serious delays in the Evans-Rosedale project and threatened the city with loss of its Community Development Block Grant funds, from which a portion of the project is being financed. The auditor noted that the city received $3.8 million in CDBG funds between March 2000 and December 2005 to buy 78 properties – all of which are still standing empty. "This project has been under way for more than seven years with no benefit provided," the report said. Most such projects are completed within three years, the auditor wrote, and in this case, acquisition of properties that have been held unused for seven years indicates the city may be engaged in "land banking," an illegal activity under federal  regulations. The critical issue with HUD is the promised creation of new jobs, which have not yet materialized.
The city last year hired Cypress Equities, a subsidiary of the Dallas-based Staubach Company, to find an anchor and other businesses to move to the area, but that firm's only prospect to date has been the Jack in the Box.
Auditors found that the city housing department, under Walker's leadership, had violated so many HUD regulations on so many projects that the city has been forced to repay more than $500,000 and still owes $560,500, with the possibility of "additional costs" for almost a dozen violations still outstanding. Katie Worsham, director of the Fort Worth HUD office, said the agency is giving the city more time to make things right, now that the housing department, under new director Jay Chapa, is showing a "good- faith effort" to address problems.
Chapa fired Walker last year when he took over a combined housing and economic development department – and read the devastating HUD reports that had been piling up unaddressed on Walker's desk since 2007.
One of HUD's conclusions was that the city paid more than $178,000 to the Near Southeast CDC for work on the Evans-Rosedale project without documenting that the expenditures met HUD criteria. The city's reaction to that finding has thrown Lewis' group into a financial meltdown that threatens to destroy it entirely.
In July, the city council approved spending $50,000 to sue the nonprofit, claiming that Lewis took HUD money for the Evans-Rosedale project but didn't deliver on its economic development objectives – even though it was her group that brought the Dallas developer to the table in 2006.
Assistant City Attorney Gerald Pruitt said that no suit has been filed as yet and that "talks with Mrs. Lewis' attorney are ongoing."
---
Lewis hotly denies there was anything improper about the funds paid to her organization. "It's true I got the money, but I was paid that amount by Jerome [Walker] with his permission," she said. She provided copies of related invoices, check stubs, and e-mails to
Fort Worth Weekly
.
She started out as a volunteer on the Evans-Rosedale project, she said, but the city asked her to do more and more, and soon it took up all her time. She said she spent so much time helping to design the project, organizing the community, trying to find developers, and doing research for the black history walk that she, along with members of her group, were doing the city's job.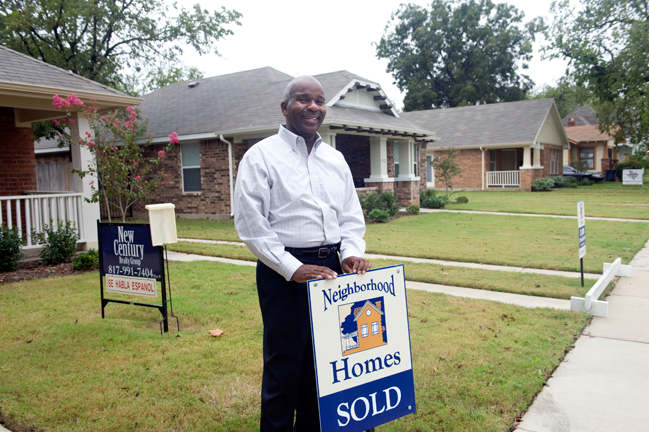 "I told [Walker] I'm doing the city's economic development work, can I at least be paid for my time and expenses?" He agreed to it, she said, and told me the money would come from federal CDBG funds for the project. "I submitted my expenses each week to Jerome, and I got a check right back." Lewis said she had no idea how Walker accounted for those expenditures – that wasn't her responsibility or area of expertise.
Christine Maguire, a former Fort Worth city planner who now works for the city of Garland, strongly supports Lewis' version. Maguire was in the city's economic and community development department's urban village division in 2002 and worked closely with Lewis on the Evans-Rosedale project, which had been given urban village status. "Those funds paid to the CDC were legitimate, but for some reason they were poorly accounted for," she said in a recent interview. "All Jerome [Walker] had to do was put that money under 'administrative costs,' and that would have passed HUD's scrutiny."
She dismissed the idea that Lewis' acceptance of such payments was a conflict of interest, since she was both director of a CDC receiving HUD money for projects in the area and a member of the Evans-Rosedale Advisory Committee. "In my opinion, there was no conflict … as neither the committee nor the CDC had authority to approve the payment or alter the CDC's contract with the city.
"It is common practice for the city to compensate nonprofit organizations that assist in administering programs and services important to the city," Maguire said in an e-mail. "The black and Hispanic chambers of commerce have for years received funding to provide economic development services. Fort Worth South receives an administrative fee each year from the [tax increment financing district] funds to 'administer' the Medical District TIF," she said. The Near Southeast CDC was a grassroots group with strong ties to the neighborhood association, she said, so it was "a logical choice … to lead the community planning effort."
About the time that Lewis' problems with the city began, Tom Struhs, a well-respected Fort Worth developer, and Ken Barr, a former Fort Worth mayor, entered the picture. They formed a limited partnership company, KT Land Management, LLC, bought 120 lots and abandoned houses in the Near Southeast neighborhood, and brought in Arlington builder Ron Hill. It was Hill who built the three new houses on Leuda.
The partners envision another Fairmount rising phoenix-like from the decay of the Near Southeast Side. "Tom and I saw this as an opportunity whose time had come," Barr said. And they wanted Lewis to join them as a full partner.
Struhs and Barr both give Lewis high praise for the houses her group has built and rehabilitated and for the results of the Weed and Seed program. With Lewis' expertise in qualifying low-income buyers and finding banks willing to lend to those buyers, Struhs said, she would have been a perfect fit for his organization. "I thought I could come to the table with something [capital and experience], and she came to the table with something … 12 years of hard work and a lot of successes." She also came with something else Struhs wanted:  the 45 or more lots that her organization owned.
Lewis indeed came close to joining forces with Struhs and Barr, until what she perceived as a serious breach of confidentiality by one or both of the men made her pull back.
Maguire, who initially encouraged the two groups to join forces, said she's not sure what went wrong but that it probably involved a loss of trust. "There were private negotiations going on between the three in 2006, and Jerome [Walker] came into a meeting with me and others, loudly proclaiming that Shirley was trying to get more money from Struhs than her lots were worth, a story I didn't believe," Maguire said.
Walker told her the same thing, Lewis said. And because she felt that Struhs and Barr had revealed to the housing director the content of their private negotiations, she called the deal off.
"Tom and Ken wanted my lots to build on," she said, but they wanted her to deed the lots to them at no cost. Then when the completed houses sold, the CDC would get three percent of the total sales price. "The lots have a value," she said, "and we weren't going to give them away. But I never tried to get more than they were worth.
"The only ones privy to those conversations were the three of us," she said. And she's convinced that one of them talked to Jerome. "I told Tom [Struhs] I couldn't do business with someone I can't trust," Lewis said.
Struhs denied that either he or Barr ever spoke to Jerome Walker about their discussions, but the damage was done.
Maguire said the loss is the neighborhood's. She had brought the two groups together, believing that they would be a perfect match to finally get things moving on the Near Southeast Side. She had worked with Struhs on his best-known project, the Trinity Bluff condo development along the Trinity River near downtown, and found him to be honest and a quality builder. "With his capital and his track record and [Lewis'] proven record of successes, it seemed to be only a win-win, and not just for them but for the neighborhood," she said. "It is another tragic setback for the community."
When Lewis backed out of the deal with Struhs in late 2006, Lewis said, "everything stopped dead." In February 2007, Walker called and told her he would approve her housing application "if you will give us every piece of property you own in the area." She refused.
Lewis said she felt that being pressured to trade the lots in return for approval of her application was improper – and figured she knew who would end up with the lots. "I asked him if he was going to give the lots to Struhs. He didn't answer," she said.
---
A few days later she got a letter from Walker with the offer on paper. When she still refused to give up the properties, the next letter she got from the housing department informed her that the city "would not be selling the land on Evans" to the Dallas developer. "We will seek out developers on our own," the letter said. Then the city denied her application for the $650,000 housing grant.
"Basically, they killed our housing deals and our economic development deals," she said. "And the Evans-Rosedale project may be dead as well.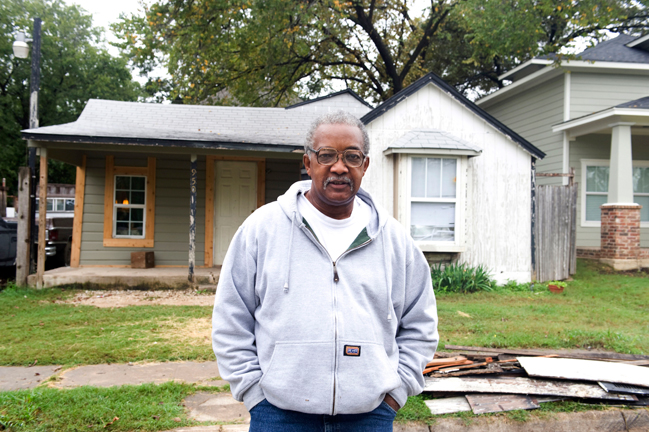 "When Jerome cancelled our grant, we had 25 people in the pipeline ready to be approved as homebuyers," Lewis said. The CDC had set up a "homebuyers' club," through which low-income people could learn how to clean up their credit, budget their funds, and open bank accounts so they could qualify for loans. "In March 2006, we had our first graduating class of 25 folks ready to buy a house," she said. "By the end of that year, we had builders and five banks ready to make fixed-rate mortgage loans as soon as we got the grant to start building houses. A year later, it fell apart. Now we are broke."
Lewis is convinced that some at city hall were pushing her toward failure and that Struhs and Barr are getting favored treatment from the city. After she refused to give up her properties, she said, she began to get tickets for the first time in more than a decade, for high grass on her vacant lots (which she said they keep cut) and for housing code violations on a vacant, boarded-up house that she owns.
Struhs, on the other hand, owns a dilapidated house in the neighborhood that's been in code violation since March 2007 but for which fines, according to city records, have been "abated" for the past two years, even though the house still carries a code violation notice as a "dangerous structure and a fire hazard."
Lewis' CDC also had to pay off liens on all the lots it bought from the city, including back taxes and liens for mowing and poor maintenance. By contrast, Struhs said that while he had to pay the back taxes, the city waived all other liens on city-owned properties that he bought.
The vision Hill, Struhs, and Barr share for a Near Southeast renaissance has hit the hard wall of reality. The three houses on Leuda took 18 months to sell, and even then Hill had to drop the price from $115,000 to $100,000, which doesn't surprise Lewis. It is not an area where you can make money building "on spec" – that is, on the hope of finding a buyer, she said. "You have to be in the neighborhood and cultivate buyers in these old neighborhoods, people who could never own a home in more affluent areas," she said.  "Then you qualify them [ahead of construction] and have them ready to move in when the home is completed." Often that means helping them with the same things that her potential owners learned in the CDC's homebuyers' club, she said.
Hill lays the blame on the economy. "We came in here when times were good," he said, "and then the housing market tanked." In spite of that, Hill plans to build six more houses in the area on lots owned by Struhs and Barr.
Barr said that he knew that redeveloping the Near Southeast wouldn't be easy. "Areas that deteriorate don't deteriorate overnight, and you can't rebuild them overnight," he said. "But we're still pretty committed to it."
It was during Barr's administration that the city began the Evans-Rosedale project, the first major stab at revitalizing the Near Southeast. Barr said he's seen steady progress there over the last decade, though not all of it is readily visible.
He and Struhs "thought we brought the knowledge and expertise that could help make it happen,"  the former mayor said. "As with many redevelopment projects, it's moved slower than we hoped it would."
"We've tried to do the right thing," Struhs said. "I've put my heart and soul into this thing with absolutely no chance of doing a business deal that makes money." Then he qualified that. "The truth is, I'm willing to take money that I made somewhere else and invest it in that community. And Lord knows when I would ever get any money out of it. … The fact that someone would come in and, out of the goodness of their own heart, try to do the right thing must look a little foreign."
Regardless of intent, the developers ticked off the community from the get-go with a move that Struhs referred to as "naive." He and his partners convinced Hicks to get the area renamed Terrell Heights, a change that angered some residents, who say they weren't consulted.
"We found out after the fact," said Lewis. "This [arbitrarily renaming the area] didn't go far to garner trust when two developers who live outside the community come in and overnight begin to dictate what we call ourselves."
Defending the move, Struhs said that "Near Southeast" isn't a neighborhood name likely to attract buyers. "What does that say? It just says it's closer than the southeast," he said. "Terrell [Street] runs right through the middle of this 2,000-lot community. … I said, you've got to give someone the impression that there is a sense of pride in this area – a place of value – so let's give it a name." He noted that many residents and their family members graduated from I. M. Terrell High School  (now long closed), so "Terrell Heights seemed like a natural fit."  He seemed genuinely bewildered that some residents were upset, as well as unmindful of the fact that a large portion of the area already had a name well-recognized by residents: the Evans and Rosedale Business and Cultural District.
In addition to building new homes, Hill has restored two large frame houses on Dashwood, a couple of blocks south of Leuda. The houses are lovely. The only problem is they sit on a block of blight, surrounded by dilapidated houses in various stages of disrepair – one was literally falling in on itself – and weed-filled vacant lots.
Resident Willie Stevenson, a contractor who is restoring a 1930s-era house just south of Dashwood as his family's residence, is cautiously optimistic. The house he's refinishing, he said, is old but solid. "A lot of these old houses are better built than the new ones," he said. He thinks the area "is on the mend, but there is still a lot the city could be doing to speed it up. I've heard so much about new streetlights, new curb and gutters, street repair – well, when is that going to happen?"
---
He said that the city needs to enforce its own codes on substandard structures and make more low-income loans available to fix up those buildings that can be salvaged. He's puzzled as to why so many dilapidated houses have been allowed to stand so long. Many, he said, belonged to people long dead whose children have moved away and abandoned the houses. "Why don't the owners either bring them up to code for the safety of the neighborhood or go ahead and tear them down and sell the lot?" he asked.
A short drive through the area shows that the issue of substandard housing is a huge one. In block after block, old houses stand dilapidated and boarded up, yards strewn with trash and knee-high in weeds.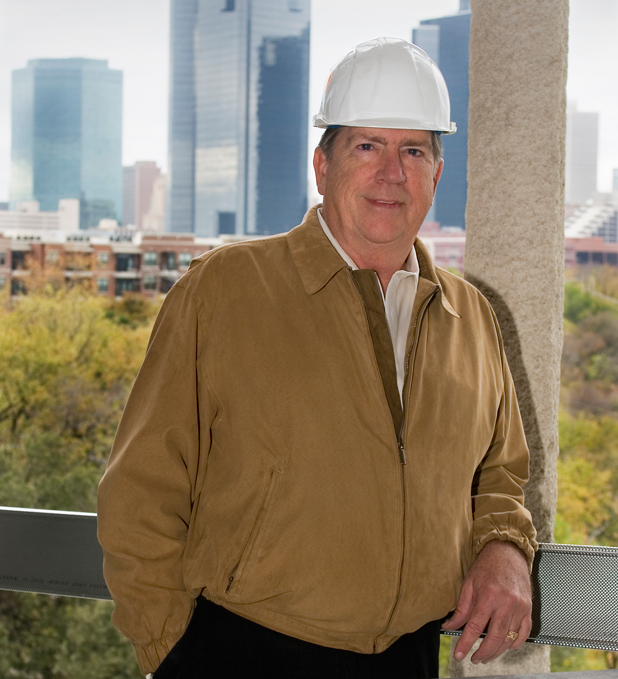 Not all, however, belong to absentee owners. One of the worst is at 911 Humbolt St., just north of Dashwood. It is the one owned by KT Land Management – Struhs' and Barr's company. Windows are boarded, the yard is trashy and weed-filled, and the interior has been gutted to its studs. The electric meter has been pulled, and a city code enforcement notice from May of this year notifies the owner that the decaying structure  is a health and fire hazard and has not been kept secure. For each day the owner fails to bring the house into compliance, a fine of up to $2,000 could be assessed.
A search of the city records shows the house has been cited for the same violations five times since early 2008, when KT bought it. But the city web site also shows that all of the violations have been "abated," meaning enforcement has been put on hold in this case. Code compliance officer Jerrie Ann Gonzalez said enforcement has been delayed because the structure has a "historical" designation due to its age and the area's historic overlay.
The city could force demolition if violations are not corrected, but Gonzalez said that the case is complicated. Forcing demolition would require code officers to make their case before city's Historic and Cultural Landmark Commission, which could  take three to six months. But that process hasn't been started, she said, because "We haven't been able to find the owner to notify him of the violations."
Her office is aware that KT Land Management owns the house, she said, "but we have not been able to locate a person with that company to notify."
Struhs said that he is not hard to find. The house, he said, was set on fire, and he recognizes that it is blight on the street. He  will tear it down when the historical commission allows him to, he said.
Shirley Lewis said she has no objection to private developers in her neighborhood. But they need to be willing to share in residents' vision rather than imposing their own views. "This is not about building houses, it's about rebuilding the fabric of the community," she said.
Struhs still has only high praise for Lewis. "On my wish list, Shirley would be given accolades for what she did, because if you go back 12 years, that was a mess over there, and she's done a lot of good. And if we ever are in the same room, I will always sing her praises. It takes pioneers like that to get things done. It's still such a slow process that it's maddening.
"I have really done what I thought was right. Not only by the community, but by Shirley," he said. "There's a lot of expense to do economic development. [The Near Southeast] is one place you could do it with hardly any expense because the infrastructure is all there. All you have to do is just start building houses."
Barr said Near Southeast is now where Fairmount was 20 years ago, and Mike Brennan, a planner with Fort Worth South Inc., agreed.
"I think it's very similar," Brennan said, and the historic overlay is important to the process. Having a historic designation already in place protects Near Southeast from being overrun by "the same cookie-cutter, crappy houses that are being built in the suburbs," he said. "To have that in place at the beginning of this renaissance … is critical. When they get new development, the new houses are going to complement the old, and it's going to strengthen the character that's already there."
There are differences, though.  "Evans Avenue used to be what Magnolia is … an avenue that was lined with restaurants and cultural institutions," he said. But before Fairmount's redevelopment began, several long-standing restaurants, offices, and retail shops were already in place. "In the Near Southeast, there isn't that existing level of economic activity, so it will probably take a little bit longer," he said.
Costa, the assistant city manager, said the Near Southeast "continues to suffer from a negative image in the minds of investors." But Lewis' efforts and the efforts of other groups are slowly changing that, he said. Habitat for Humanity has done quality work in the area, though not in the style of the older homes. And at least one other nonprofit housing group, Southeast Fort Worth Inc., is working there as well.
Andre McEwing, executive director of Southeast Fort Worth Inc., is using grants to refurbish six houses on Leuda. He told the Weekly that his group is also helping broker a deal involving two successful local restaurant owners who want to put in a new eatery in the old Drake's Cafeteria building.
Costa cited the decision of Struhs and Barr to build in the area as proof that the work by Lewis' and McEwing's groups is paying off. Costa was the city's planning director when the Evans-Rosedale project started and is the moving force behind the city's embrace of the "urban village" concept for inner-city neighborhoods, the pedestrian-friendly, mixed-use development idea that has worked so well in Fairmount and some other older neighborhoods.
He still sees the urban village idea as viable in the Near Southeast. "The Evans-Rosedale project will not be abandoned," he said. And while a Jack in the Box might "at first blush seem underwhelming for the first business to be attracted to the area," he said, " it is an important first step in the right direction."
Near Southeast residents, caught in the crossfire of all the controversies with little power to affect the outcome, just want to see some progress.
And they will see it, Costa said. Under Chapa's leadership, the housing department has been cleaned up, he said. "The citizens of Near Southeast have shown that they are committed to saving their community, and the city is committed to work hand in hand with them to bring prosperity to their neighborhood, because we must. The city belongs to its citizens."
You can reach Betty Brink at
bettybrink76@gmail.com
and Eric Griffey at
eric.griffey@fwweekly.com.