On the cover of her debut CD, Malaysian-born, Australian-bred bassist Linda Oh appears as a graphic novel heroine, silhouetted against a full moon, gazing out over the rooftops of her adopted home, New York City. Her performance on Entry is similarly super-heroic but not in the way you might expect. While the musicians in her trio all display exceptional ability, it's always harnessed in service of Oh's dark, moody compositions.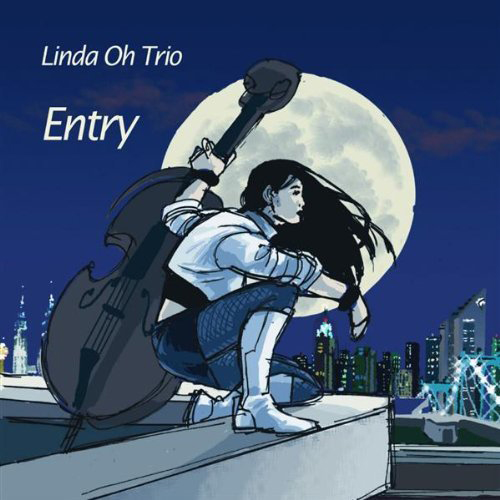 Oh started playing standup bass in college after alternating between bassoon and electric bass in school; she learned Red Hot Chili Peppers songs on her own while performing with her high school jazz band. (The version of the Chili Peppers' "Soul to Squeeze" that closes the album is so tastefully rendered that it's scarcely recognizable as their handiwork.) Possessing virtuoso technique – it's funny the way that bar seems to get raised every few years – she's more interested in making that big fiddle talk (and sing) than she is in showing off everything she can do on the axe.
Trumpeter Ambrose Akinmusire employs an acrid, Booker Little-like tone – heard to best advantage on his double-tracked introduction to "Numero Uno" – to convey his song of lyric melancholy. The leader's comments in the promo schmatter indicate that she asked Akinmusire to avoid his horn's high range in the interest of creating a unified sound. She was disinclined to similarly rein in drummer Obed Calvaire's monstrous, Billy Cobham-level chops, but luckily he's as musical as he is flashy, always conforming to the contours of the compositions.
Since we're talking jazz records here and not superhero cinema, there's no guarantee there'll be a sequel to Entry, but one hopes we'll hear more from Oh. She's already displaying an expressive voice of rare maturity.